It takes a village to raise your kids, and it takes a global village to raise your children. Through this series, "Mumma's Bindis", the author shares the stories of the joys of raising two young children in a humanist culture.  The central characters of this series are Urja (nickname Momo) and Ujaan, growing up in a Midwestern college town in North America. Born from the hearts of immigrant parents, they ferry between their hyphenated identities spread across two continents. Mumma's Bindis is the reality of children rooted to the soil they come from yet adapting every day to the dichotomies of the world they belong.  A mother recounting the bliss and dares of motherhood. This is the seventh episode of this series. 
Urja and Ujaan both know Mumma has only one God in her life. Unlike the other Gods that their aunts pray to on special occasions, Mumma's God (Thakur in Bengali) has a long beard and wavy hair and looks very handsome in a greyish white robe. This God it seems wrote many poems and even wrote a fat book of songs. Mumma keeps the book of songs by her bedside. At night she reads to Didi and Ujaan verses from a book of poems written by the God. They lie on the two sides of Mumma and listen to her reciting from "Shishu". It is about a little child who wishes he was a puppy instead of being his mother's baby. Sometimes he pretends he is a teacher and tries to teach alphabets to the household cat. And on other occasions he imagines hiding from his mother and camouflaging as a jasmine flower.  Mumma reads to them in a sweet voice:
"Khoka makey shudhay dekhey
Elem ami kotha thekey
Konkhaney tui kuriye peli amarey,
Ma shuney koi heshe knedey khokare tar bukey bnedhey
Ichhey hoye chhili moner majharey."
The little boy asks his mother –
'From where did I come?
Where did you find me dear?'
His mother smiles through tears of joy
Clasping him to her breast
'You hid in the wishes of my heart.'
Afterwards she turns to her left and her right to plant a kiss each on Ujaan and Didi's foreheads, whispering "You were the wish, the longing inside my heart." Ujaan falls asleep thinking of an ocean inside Mumma's heart, and him and Didi two littles wishes playing in the waves of that ocean.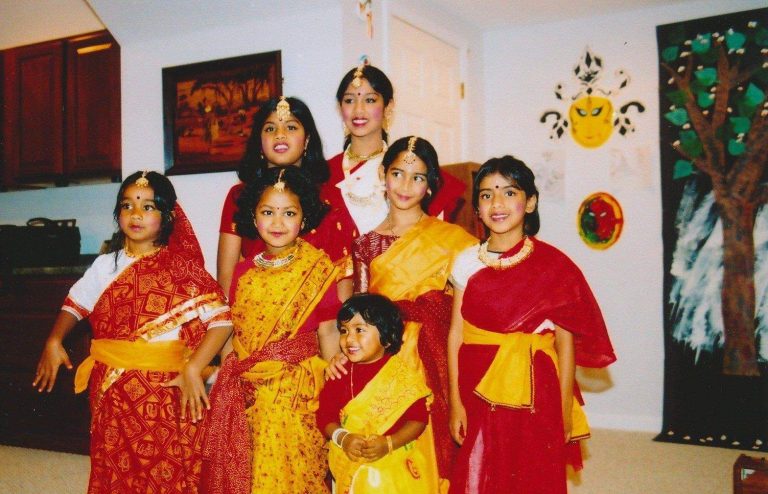 This year, the God's birthday came a day after Mother's Day. They had a little party at their house for him. Ujaan thought it was a little strange, since there was no cake and no candles to blow! Instead Didi and all her friends dressed up pretty in yellow and red sarees. Didi even got to put on lipstick! They danced and sang songs written by the God! The kids also drew pictures of him at different ages. The grown-ups painted, recited poems, and Mumma even brought out her wooden box-like instrument and played the black and white keys as all the Kaku-s and Mashi-s sang. Mumma had taught Ujaan the poem about the little boy who wanted to be a puppy. Baba had coached him about how to act a kukurchhana. But when the time came for him to perform, Ujaan was very shy. He tugged at Mumma's saree and whispered "Ujaan shushi boltey chaye na" (Ujaan doesn't want to recite shushi)!  Didi tried, the Mashi-s and Kaku-s all pleaded with hugs and kisses, but Ujaan's lips were sealed.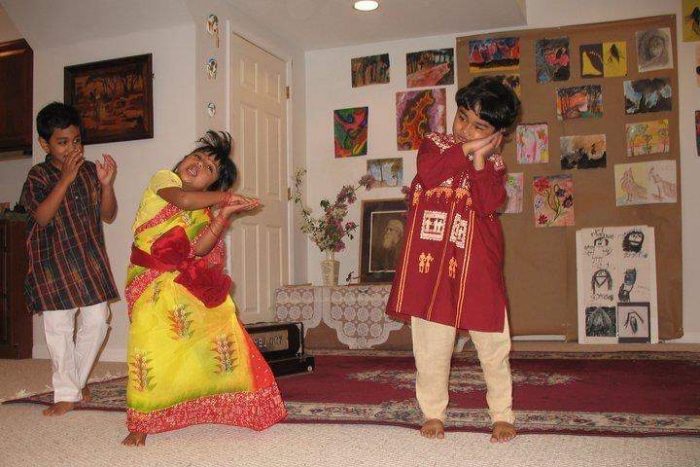 The next morning Ujaan woke up and put his arms around Mumma and started reciting 
"Jodi khoka na hoye aami hotem kukurcchana
Tobey pachhey tomar paatey
Ami mukh ditey jai bhaatey
Tumi kortey amay maana"!!
If I were a puppy instead of your baby
And I put my mouth on your dinner plate
Would you have shooed me away, Ma?
Mumma laughed and cried at the same time. "Why were you shy yesterday Buro?" "Why did you not want to say the poem?" Ujaan lifted his arms and climbed onto Mumma's lap: "you did not give me dinner last night Mumma!" "How come Ujaan? I thought Soma-mashi fed you! Didn't she give you a triangle sandwich?" Ujaan's eyes filled with sadness "But that was only a snake! You sang Ohinonaad's songs all day, and you forgot to give me dinner!" Oh my child, what a lapse, thought Mumma! The Mashi-s all laughed and scolded Mumma jokingly: surely, Rabindranath's songs fill your heart and even tummy, but there is no reason to think the same would apply for Ujaan!"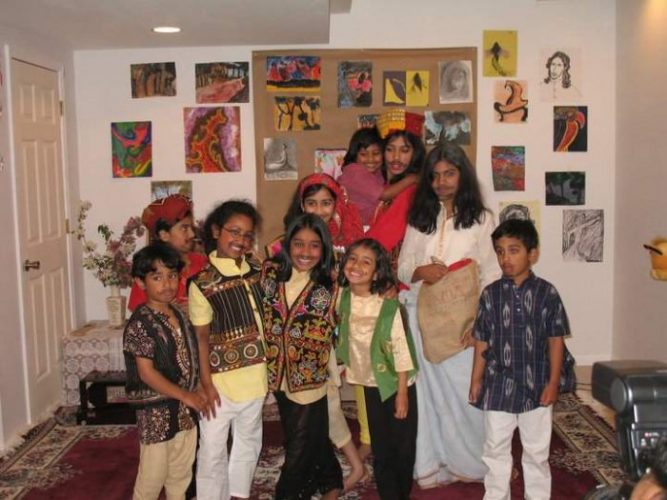 Every night before bedtime, Mumma lights a candle and Didi and Ujaan sing a song written by the God. They don't go to the temple to pray, but this song is their nightly prayer. Ujaan does not understand all the words, sometimes he plays with his toys while singing, sometimes he just follows what Didi does, but he loves the quiet that descends when they sing, and he loves how Dadu, Didan, Mumma, Baba, or whoever is around also joins in the singing
"Aguner poroshmoni chhoyao praney
E jibon punyo koro
E jibon punyo koro dahan daaney."
Purify my soul
with the purging touch of fire.
Ujaan wonders how one song can be everybody's song? But he doesn't ask, he just knows and feels it. So he falls asleep, feeling very safe and secure in the words of the God, whom Mumma calls Thakur.
Thakur: God in Bengali.
Shishu: child in Bengali. Also a collection of poems written by Rabindranath Tagore. Tagore was one of the greatest poets and philosophers of the late 19th and early 20th centuries. He was the first Asian to win the Nobel Prize in Literature.
Didi: elder sister in Bengali.
Kukurchhana: puppy in Bengali.
Shushi: Ujaan's version of "Shishu" the collection of poems by Rabindranath Tagore.
Mashi: maternal aunt in Bengali.
Kaku: paternal uncle in Bengali.
Buro: a petname in Bengali, meaning old boy.
Ohinonaad: Ujaan's version of Rabindranath.