It takes a village to raise your kids, and it takes a global village to raise your children. Through this series, "Mumma's Bindis", the author shares the stories of the joys of raising two young children in a humanist culture.  The central characters of this series are Urja (nickname Momo) and Ujaan, growing up in a Midwestern college town in North America. Born from the hearts of immigrant parents, they ferry between their hyphenated identities spread across two continents. Mumma's Bindis is the reality of children rooted to the soil they come from yet adapting every day to the dichotomies of the world they belong.  A mother recounting the bliss and dares of motherhood. This is the second episode of this series.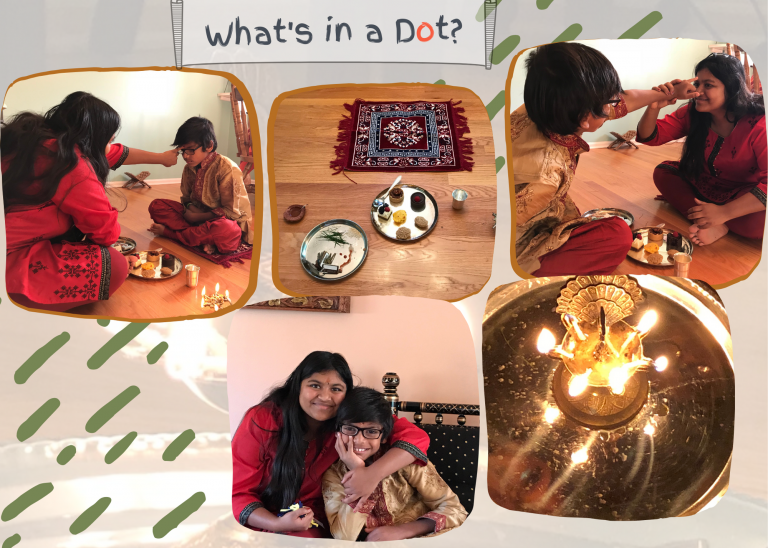 Ujaan knows "bhaiphnota" comes after Diwali, the day when he prepares the cotton wicks for the little clay lamps with Didi and Mumma. Ever since he lighted the fourteen little lamps, and watched them glow in the dark of the foyer sitting next to Didi, he has been asking: "Ma, is it bhaiphnota today?" Didi's field trip and his Tae-Kwon Do class came in between Diwali and Bhaiphnota. He was growing impatient. Every year Didi wears a saree for bhaiphnota, and rubs a piece of white wood on another round wooden toy.  Mumma calls out "munchkins, can you get me some dubbo (grass) please" while making the ceremonial luchi (puffed fried bread), begun bhaja (fried eggplant), and pnathar mangsho (mutton curry) for bhaiphnota dinner, and Didi usually runs out to get a handful of grass from the front lawn. This year Ujaan accompanied Didi, and with two scissors, together the four hands cut more "grass" than the lawnmower could!!!  
Last week Mumma asked Ujaan in private: "What do you want to give Didi for bhaiphnota?" Ujaan knew the answer right away: a bright red dress and dream light that will make stars on the bedroom ceiling when Didi goes to sleep. Didi has been talking about a dream light for weeks. "What am I getting for bhaiphnota?" he asks Mumma. "I'll have to ask Didi privately, " answered Ma.  Ujaan has been wondering since then what Didi asked Mumma to buy for him!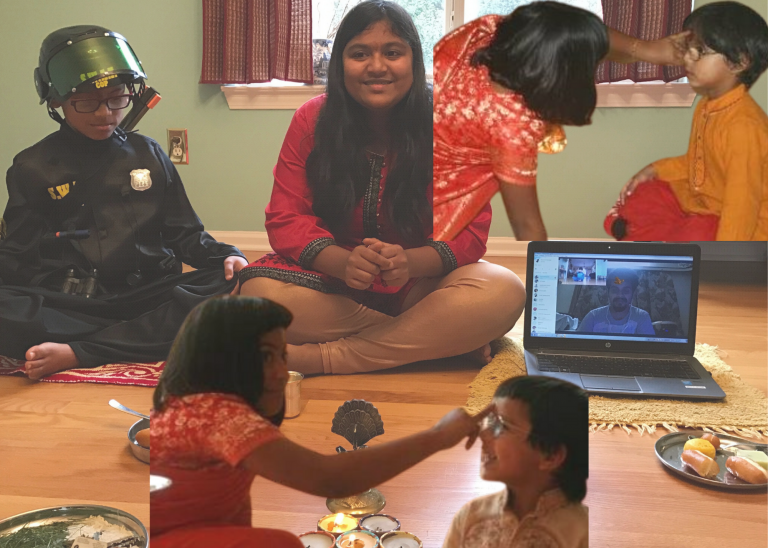 This evening, Didi put phnota on his forehead three times.  Ujaan sat in his ashan, next to the ashan on which Mumma's laptop sat with skype open for the brother who is away. Didi was a little nervous because she did not remember the poem that she is supposed to recite (you can't blame her, after all, it is only once a year that she gets to practice the poem).  But Ujaan was happy with the rosogolla (sweet & syrupy cheese ball) and the fruit tart that Didi treated her to.  And the muddy grass and the specks of rice that Didi sprinkled on his hair……man, what a cool game!!!! 
But the much-awaited part of the evening turned into dismay when Ujaan and Didi opened their gifts. Is this what Didi had wanted him to have? Sweatshirts and pajamas? Since when did Didi become so boring like Mumma? These are things that Mumma buys for him because Ujaan is outgrowing his clothes! He was so upset that he didn't want to look at Didi, but from the corner of his eyes, he could see Didi was also not happy & had the "you bought me these, Ujaan?" look in her eyes. 
Later at night, when the two of them were in bed side by side, and Mumma turned off the bedroom light, suddenly the room filled up with twinkling blue stars……..it looked like the night sky, with a sliver of moon on the ceiling. In ecstasy and delight, they sprang up from the bed, each reaching out to catch the stars above them. And they will someday, Mumma thought, watching them from a corner of the room.
So, what's in a dot? Is it the love between a brother and a sister, bonded by blood or perhaps just a chance meeting that was simply meant to be; the wish for a long life of happiness for each other wherever one is, be it near or twelve thousand miles away; the promise to stand by each other when there isn't anybody around to call by their nicknames; or is it simply wanting the same gift for each other, a dream light, or a lifetime of dreams, in private?
———- 
*The words in italics are commonplace terms of a Bengali household. Luchi, Begunbhaja, Mangshor Jhol, Rosogolla are Bengali delicacies and for any celebration, they are must need items on the menu.  Bhaiphnota celebration is very close to heart for all brothers and sisters of Bengal.