The lustrous natural green, the congenial ambience and the sickle-shaped stretch of river between the waterfront towns of Hooghly district, Chinsurah and Chandernagore, have constantly engrossed members from the Tagore household since the 1820s till the 1930s. Their innumerable visits to these riverbank towns, the unforgettable moments they spent in delightful conversations amidst nature, had left unseen memories in the dust of the streets, in the crowd of concretes. The twin towns seem to veil a lost milieu of a magnificent history. Away from the humdrum of Calcutta, these sleepy hamlets by the Ganges provided healing refreshment from the monotonous existence of city life. 
The gangetic breeze – unpolluted, natural and fresh – acted as the primary renewal agent for them. However, underneath the relaxing, 'hawa bodol' moments of the Tagore family members at Chandernagore, lies a busy, workaholic time spent. Especially by Jyotirindranath and Rabindranath, it was spent in artistic compositions and delineating various responsibilities towards the 'Adi Bhahmo Samaj'. The 'Brahmo Samaj' acted as the primary link between Jorasanko and Chandernagore. In 1828, the Zamindar of Telenipara, Chandernagore, Annadaprasad Bandyopadhay, established a branch of 'Brahmo Samaj' at Chandernagore. It was in this connection that Raja Rammohun Roy, Kalinath Raychowdhury and Prince Dwarakanath Tagore visited the place. Prince Dwarakanath, therefore, is the first member from the Tagore family who came to 'Lalkuthi', Bandyopadhay's residence at Hatkhola, Chandernagore. In "Chandannagore O Jorashankor Swornopokkhira", Amal Kumar Mitra sheds light on the relationship between the two families at Chandernagore: 
"Dwarakanath O Annadaprasad er parosporik somporko kromosho paribarik o purushanukromik bondhuttye prosharito hoi. Maharshi Devendranath er songe bilokkhon somporko gothito hoi Annodaprasad er dui putro Satyadayal O Satyaprassanor sathe. Sei somporker sutre Maharshi Chandernagore e Gongar dhare Hatkhola semante Satyaprassono Bandyopadhayer sompotti bhukto "'Riverview'" namok barite onekbar bhara niye rakhen. Ei tie Jorashakor nothite Barujjyeder Bagan name ullekhito"
[Gradually Dwarakanath and Annadaprasad became family friends and the friendship continued for generations. Debendranath developed a close intimate relationship with Annadaprasad's sons, Satyadayal and Satyaprasanno. Due to this, Debendranath often rented Satyaprasanno's house by the Ganges, 'Riverview', in the Hatkhola locality of Chandernagore. This house is noted in the documents of Jorasanko as the garden house of the Banerjees.]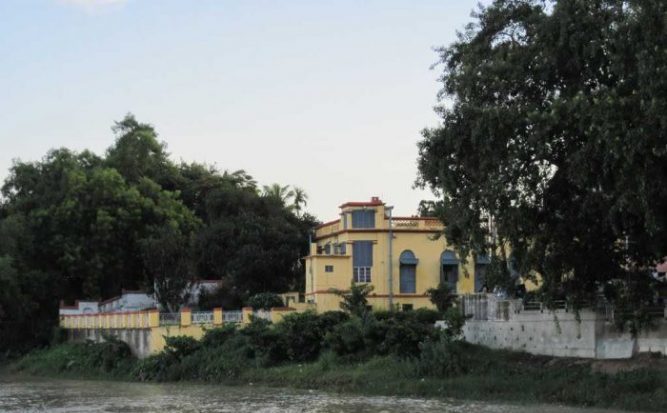 Apart from nestling in the picturesque natural landscape and maintaining family friendship with the Bandyopadhays, members from the Tagore household have always retained an amicable relationship with Chandernagore. For instance, when Promothonath Mitra, who was in charge of 'Nrityagopal Smriti Mandir' or Chandernagore Library, established in 1873, was trying to enhance the stock of the Library, it was Swarnakumari Devi who donated her books along with Sarala Debi, Bhudeb Mukhopadhyay and Nagendranath Basu. Intellectuals like Harihar Sett and Charu Chandra Roy from Chandernagore even got opportunities to contribute in 'Bharati', 'Twattobodhini' and 'Punyo' magazines of the Tagore household. 
The intrinsic relationship of the Tagore family with the waterfront towns was enhanced primarily by Jyotirindranath and later by Rabindranath. In fact, Rabindranath remained associated with Chandernagore almost till his last breath. This is largely because his compositions about the waterfront towns are borne out of his deep nostalgia for and association with the residences he occupied. Though some of the houses have no existence at present, the disappeared architectures became invisible insignia of a mini Jorasanko in French-ruled Chandernagore.
Maharshi Debendranath Tagore stayed at 'Riverview' thrice. Among his three visits – January to Feb 1878, April-May 1879 and December 1884 to March 1885 – the last stretch, which extended for four months, was an eventful one. A host of members from the Tagore family and friends of the Tagore's visited Maharshi at Hatkhola. For instance, when Maharshi granted Diksha to Priyanath Shastri at Chandernagore, Dwijendranath, Dipendranath and Rabindranath came to grace the occasion. On another occasion, Pratibha Sundari Debi came to meet him along with Rabindranath, who incidentally, was a frequenter at 'Riverview'. Apart from staying at 'Riverview' in Chandernagore, Maharshi also occupied Chinsurah's Dutta Lodge in the mid-1880s. In Jiban Smriti (1911) Rabindranath recalls:
"Pita takhon Chuchuray chilen. Sekhane amar ebong Jyotidadar dak porilo"('Rabindra Rachanabali',Vol IX, 443) [Father was staying at Chinsurah then. He beseeched the presence of Jyotidada and me]. 
Dutta Lodge was a villa in Chinsurah which was once owned by Madhab Dutta, a wealthy resident of Calcutta. Later the owner or his relatives decided to rent this charming house by the Ganges for the holidaymakers and subsequently, the house of Madhab Dutta came to be popularly known as Dutta Lodge. The mansion is on the Bhudeb Mukhapadhyay Road near Bakultala in Chinsurah, a road right beside the bank of the river, and not far from the two famous residences of Kalikananda Abadhut and Bankim Chandra Chattopadhay, two great Bengali novelists of all time. Incidentally, Bankim Chandra Chattopadhay composed 'Bande Mataram' in his house at Chinsurah, close to Dutta Lodge. 
In his article 'Chuchuray Rabindranath' Subhendu Majumdar, Professor, local historian and researcher, traces Debendranath Tagore's first visit to Chinsurah after Rabindranath's marriage in December 1883. Debendranath Tagore preferred to move out of Calcutta in his houseboat and rented Dutta Lodge, near the Ganges, in Chinsurah for some days. Recollecting his formative years at Chandernagore in his memoir Smritite Sekal (2009), Jogendra Kumar Chattopadhay recalls: "[…]Maharshi kichudin Chunchurar Hooghly College er uttore ebong Bhudeb babur batir dakkhine gangar upore ekta khub boro baganbarite bas koriten. Tnahar ekkhani prakando bajra chilo, sei bajra koria tini pratyaha beraiten".
[For a few days, Maharshi was residing at a very big garden house by the Ganges, in the north of Hooghly College and in the south of the residence of Bhudeb babu. He had a massive houseboat on which he regularly rambled on the Ganges].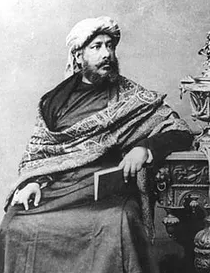 Though Jogendranath saw Debendranath while going to Hooghly College at Chinsurah, now known as Hooghly Mohsin College, from Chandernagore in small boats, he specifically did not mention the year. It is in this house at Chinsurah where Maharshi summoned Rabindranath and Jyotirindranath. 
However, there is a difference in opinion between two eminent critics of Rabindranath – Amitrasudan Bhattacharya and Prasanta Kumar Pal – as regards the exact dates of the meetings. In his article, "Pothe Probashe Kobir Lekhoni", published in Dainik Statesman, Durga Puja Special Issue, 50, Bhattacharya opines that Rabindranath came to meet his father at Dutta Lodge: "29th Kartik O 24th Agrahayan, 1292, (13th November O 8th December, 1885), Rabindranath Chuchuray babar songe dekha korte jan[…]1st Poush, 15th December kabi k abaro dekhi pitar songe sakkhater jonyo Chuchuray jete. Atohpor 6th Poush O 8th Poush (20th December and 22nd December) abaro kobi pitar songe sakkhat korte Chuchuray giyechilen". [On 13th November and 8th December, 1885, Rabindranath came to Chinsurah to visit his father…on 15th December the poet again came to meet his father. After that on 20th and 22nd December Tagore visited his father once again].
The principal reason for Tagore's recurrent visit to Dutta Lodge was to discuss business related issues with his father. On the basis of the diary of accounts ('cash-boi') of the Tagore family, Prasanta Kumar Pal opines that Rabindranath and his brother along with Indira Debi visited Maharshi in December 1884. An entry in the diary of accounts mentions of an expenditure in December 1884 for the purpose of a family visit to Chinsurah to meet Maharshi:
"Srijukto Chotobabu mohashayer (Jyotirindranath) O Rabibabu mahashayer O Indira Devi prabhritir Chuchurar batite srijukto Kartababu mahashayer nikot jatayat er train bhara o gari bhara prabhriti byay Panchoi Poush [Sukro 19th December]…" (Pal, 'Rabijibani', Vol II , 298) 
[The expenditure on train fare and car fare on 19th December, Friday, for the purpose of a visit paid to the head of the family (Maharshi Debendranath Tagore) in Chinsurah, by Chotobabu (Jyotirindranath Tagore), Rabibabu (Rabindranath Tagore) and Indira Devi et al].
Time and again Rabindranath and Jyotirindranath came to Chinsurah and it is very difficult to pinpoint a particular year. Again within a year there were multiple visits. Moreover, Maharshi shifted to and from Chinsurah many times in 1886. For example, owing to illness Maharshi was brought back from Bombay to Chinsurah, wherefrom after a year, he went to Darjeeling in May 1887. As he could not withstand the cold climate at Darjeeling and eventually fell sick, he was again brought back to Chinsurah in June 1887. ('Rabijibani', Vol III, 69). It was during this time, Rabindranath and other members of the Tagore family often came to Chinsurah. In 'Kabir Abash' (2014) there is another seminal record of a gathering organized on 29th January, 1887, for a ceremonious felicitation of Maharshi Debendranath Tagore by the members of the 'Sadharan Brahmo Samaj', a division of Brahmoism formed in 1878. 
Thousands of people came to visit and seek advice from Maharshi and Rabindranath was in charge of arranging a proper welcome and a delicious lunch session for them (Bhattacharya, 56-57). Incidentally, for Maghotsav (main festival of the Brahmo Samaj observed in the month of 'magh', mid Jan-mid Feb).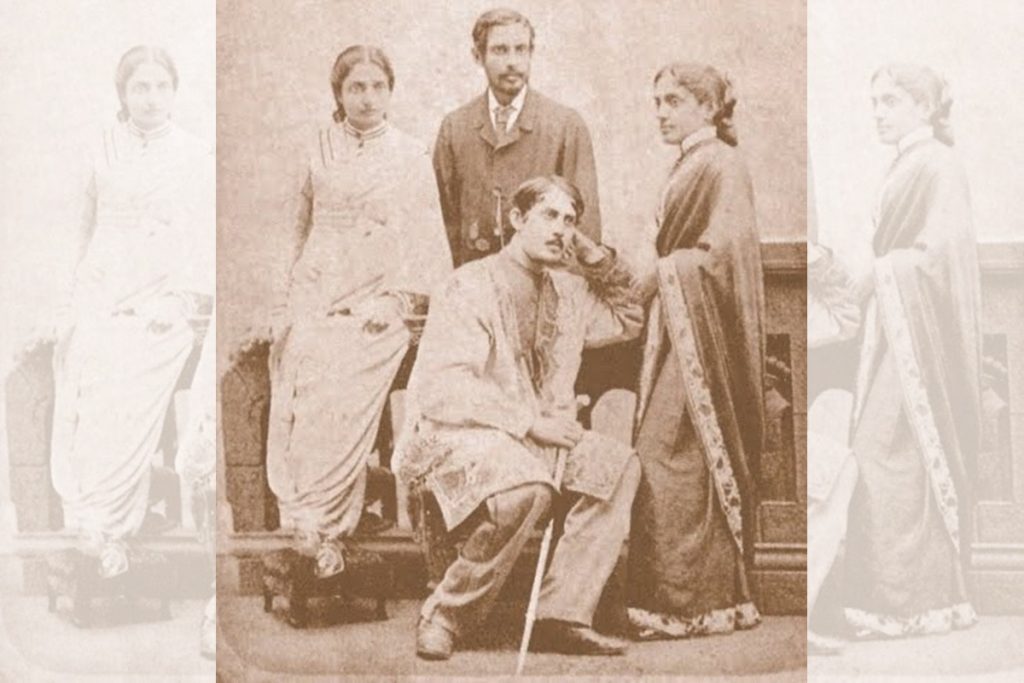 In 1887 Tagore composed twenty six songs and rendered them to Debendranath in Dutta Lodge. Debendranath was spellbound by the captivating music of his songs and in his elation gifted young Tagore a cheque of five hundred rupees. Debendranath lamented the British coloniser's lack of knowledge of the native language to grasp the unfailing essence of the songs. Rabindranath recalls his father's words in Jiban Smriti: "Desher raja jodi desher bhasha janito o sahityer ador bujhito, tobe kabi ke to tahara purashkar dito. Rajar dik hoite jakhon tahar kono sambhabana nai takhon amakei se kaj korite hoibe' ( qtd. in 'Rabindra Rachanabali', Vol IX, 443) 
[Had the Monarch of the country known the language of his subjects and appreciated their literary practices, he would have adorned you with a reward. Since the Monarch makes no allowance to learn the native language, I must take charge to perform the responsibility on behalf of the monarch.] 
Interestingly enough, Debendranath's version opens up a new dialogue in coloniser-colonised relationships. In comparison to massive efforts taken by the colonisers and native intellectuals in imparting foreign education to native populace, minimum efforts, for instance Willam Jones's efforts, were shown by the coloniser to learn the vernacular. This one way traffic created a vacuum in mutual exchange and dialogue.
Subhendu Majumdar travels in time and brings back this era of the Tagore household in his short story 'Notun Bouthan' (2012) published in a Bengali newspaper, 'Pratyahik Khabor'. The short story is moulded more with historical facts than with fantasy, for the readers witness the preparations for and journey of the members of the Tagore family to Chinsurah to meet Maharshi at Dutta Lodge in 1887. Rabindranath, his brother Jyotirindranath, his sister-in-law Gyanodanandini, his sisters, nephews and nieces in Majumdar's story come to Chinsurah sailing through the Ganges on a 'bajra'. 
Maghotsav has provided a scope of reunion for the members of the divided Brahmo Samaj at Thakurbari and all of them agreed on the point of paying a short visit to Maharshi Debendranath Tagore, who was unable to attend the celebrations due to his ill health. The entire journey is replete with a recollection of the moments and memories of Tagore spent around the waterfront towns. While crossing Chandernagore, they could see Moran Sahib's Bungalow where Jyotirindranath, Kadambari and Rabindranath stayed for a long time around 1881-1883. The story ends with an enthralled Maharshi, listening to the songs Rabindranath composed for Maghotsav and rewarding his son with a cheque of five hundred rupees while Rabindranath is lost in the memories of his deceased 'Bouthan', Kadambari. 
Within its short space, Majumdar's story pertinently points out the multiplicity  of  Tagore's  Sandhya  Sangeet.  One  of  the  songs,  "Nayano  tomare  payna dekhite/royecho noyone noyone", could be interpreted as a divine song, speaking of the omniscient and omnipresent God. And also as a love song, giving vent to Rabindranath's agonised psyche tormented by the loss of his soulmate, Kadambari. In remembering her, Rabindranath Tagore remembers the mystical time he spent with her in Chandernagore. Though the records of incidents mentioned in the story do not always follow a chronological path, Majumdar's creation exists as a torn page of Thakurbari's unspoken memoir blurring the barrier between facts and fiction.