It is one of my favourite fruits. I love all varieties of mangoes, but Langda tops the list followed by Himsagar, Malgoa, Gulab Khaas and Alphonso…in that order. It was around June 2006, during my trip to Chennai, that I tasted Malgova or Malgoa for the first time. It was sweet, fleshy without fibres, with a slim and tiny seed inside. Loved it! That taste lingers still. Search for it in the Kolkata markets has been fruitless!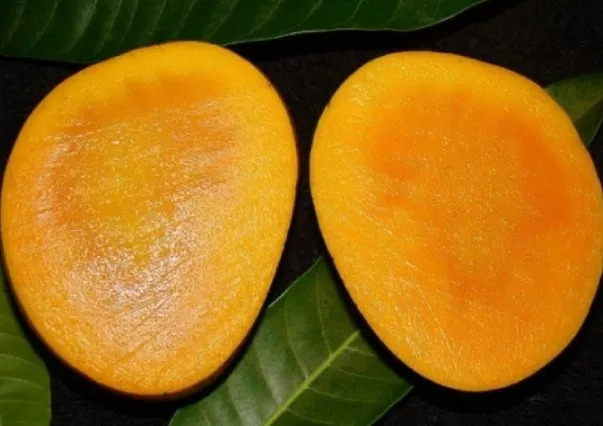 Malgova or Malgoa is a popular mango cultivar grown mainly in Tamil Nadu and Karnataka and in other parts of southern India.  Talking of Malgoa brings to mind the luscious, juicy, fragrant and fleshy Dudhia Langdas from Digha near Patna. This was during my growing up years. Those days Digha was not the congested neighbourhood it is now. The mango orchards dedicated to Langda were spread across acres of land. The word Dudhia has been derived from the word 'dudh' or milk as the flesh of this mango cultivar is pale yellow in colour. It is aromatic and has a thin skin, is fleshy, flavourful and sweet. Such was our love for Dudhia Langdas that our family of six would squeeze into our Morris Minor and drive down early morning to take our pick of the fresh lot. My father did not buy in dozens but in hundreds…two hundred would be the usual count. 
With the arrival of Dudhia Langdas in our house, the day would begin with a bowl of rich creamy milk, finely sliced mangoes and muri (puffed rice)…all mixed together and slurped with relish. How heavenly it was! Post lunch and dinner they would be served as desserts. My mother was a great cook, and she would often make Bhapa Aam Doi (steamed yogurt with mango pulp), Aam Kheer (finely sliced mango was added to thickened milk and served chilled), and mango milk shake.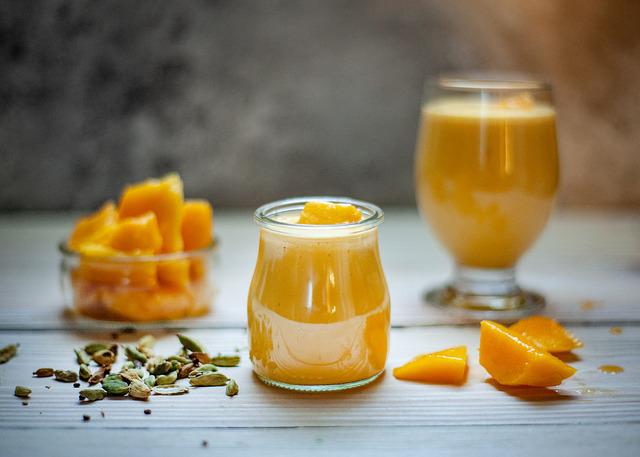 Not just ripe mangoes but raw mangoes too, would find their way to our kitchen for my mother to make chutneys, Aam Pora Shorbot (a cool sherbet made with roasted raw mango pulp), Kancha Aam Makha( grated mango mixed with kasundi or mustard sauce, sugar, salt and chopped green chillies)   and a variety of sweet and sour pickles to last through the year. When I moved to Calcutta and into my marital home, I was treated to a delectable variety of mango-based recipes… Mango Fool, Kancha Aam Diye Maachher Dimer Shukno (a dry curry prepared with fish roe and raw mango), Kancha Aamer Payesh (a dessert prepared with grated raw mango and sweet thickened milk) and chicken and mango salad.
Mango, the summertime treat, rules the Indian markets and graces the tables of almost every Indian home, but for a short period of time. There are over 1500 varieties of mangoes that grow in India, each having a distinct taste, shape and colour…from the rose-red Gulab Khaas or Sindhura; the parrot-beak Totapuri; the famous Ratnagiri Alphonso or the Langdas from Bihar and West Bengal.
No other fruit enjoys such popularity. Mangoes originated in India over 4,000 years ago and are considered to be a sacred fruit. Mangoes spread gradually throughout Asia and then to the rest of the world. Today, Asia grows 75 per cent of the mangoes in the world.
Also read: The Smart Library at New Town Kolkata
Mangoes have not only inspired a variety of recipes but the arts as well. The amli or the paisley motif used in block prints, woven designs on fabrics and in architectural design elements, is believed to have been inspired by the shape of a mango.
Come summer and the 'king' of fruits inspires the F & B outlets in the city of Kolkata to create a variety of 'mangolicious' recipes. Akshay Chawla, General Manager of The Astor, Kolkata says, "As temperatures soar we look forward to serving our patrons at the Kabab-e-Que with varied coolers and a specially curated menu, where we use Mango to add intriguing tropical vibes." Inclusion of mango in the menu surely heightens the flavours of the summer time treats. One can start with their Mexican Quesadillas with Mango Salsa and sour cream, then move on to a creamy Mango Risotto prepared with fresh mango juice, cream cheese and garlic and Mango Leaf Wrapped Patrani Bhetki and end on a sweet note with a decadent Mango Chili Mousse. A specially curated Mango Mania menu was available at Kebab-e-Que till 15th June!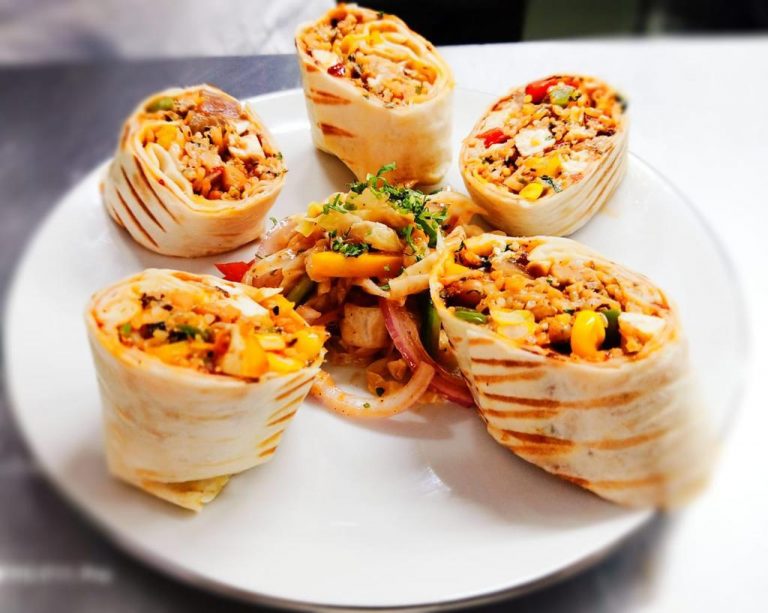 Sonika Dey, of Bunaphile experimented with mango "to satiate the food palate of our patrons." To celebrate summer they have incorporated thirst quenchers, bites and desserts "where mango takes the centre stage and our patrons can enjoy and experience an authentic mango-rich meal," says Sonika. At Bunaphile's Mango Festival, meals start with a Mango Freak Shake or a Kancha Aam Mojito and then move onto treats like Chilli Mango Sauce, which incorporates a spicy kick served alongside a bed of mashed potatoes, mango salad and garlic bread; Pork Chops with Mango Salsa  that is spicy and nice. The Grilled Fish in a Chilli Mango Glaze served with mashed potatoes, mango salad and garlic bread is the scene stealer! Finish off your meal with the airy Mango Mania Waffle. 
Not just Astor and Bunaphile, other cafes and restaurants are also experimenting with  mango, though the result may not always be palatable. To list all of them here is a tough task. I would, however, like to mention Atom Yumm, a new entrant, at which I relished every morsel of the creamy Mango Red Chilli Pasta flavoured with just the right amount of mango bites. The combination was terrific!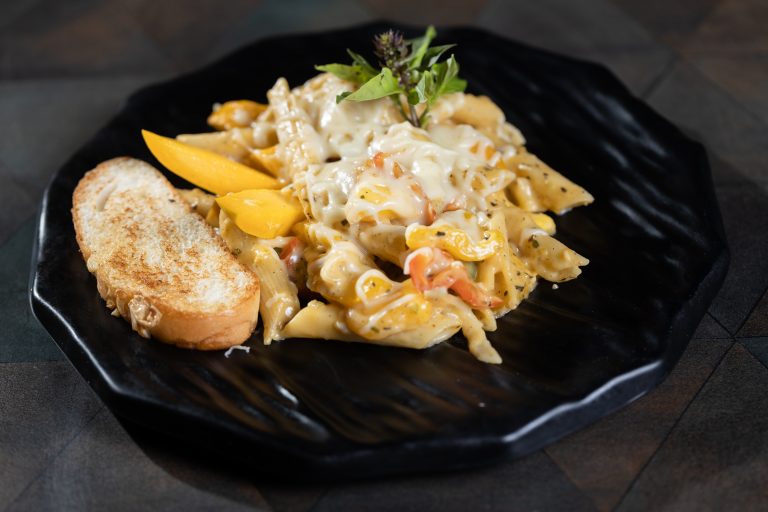 Mangoes start arriving in the market at the end of May, while the Malda   Langdas come in the first week of June followed by those from Bihar. It is interesting to note that the mango of Malda district finds mention in the Hindu epic Mahabharata. Various historical facts show that the cultivation of mangoes started before the Pala and Sena Dynasty. Even Hwen T'sang, the Chinese traveller, has mentioned in his travelogues about the mangoes of Gaur (roughly the Malda-Murshidabad region). It is said that Humayun was so fond of mangoes of Gaur that he renamed it Jannatabad and stayed there for three months. Even Nawab Murshid Quli Khan's obsession with mangoes is believed to have made him send armed guards to safeguard the mangoes of the trees reserved for his use. 
In fact, barring a small strip of land that is marked as unsuitable for growing mangoes, because of excessive proportion of sand in the soil, almost every other part of Malda district is under mango cultivation. There is nothing called off season in Malda with different varieties of mango making an appearance all year round.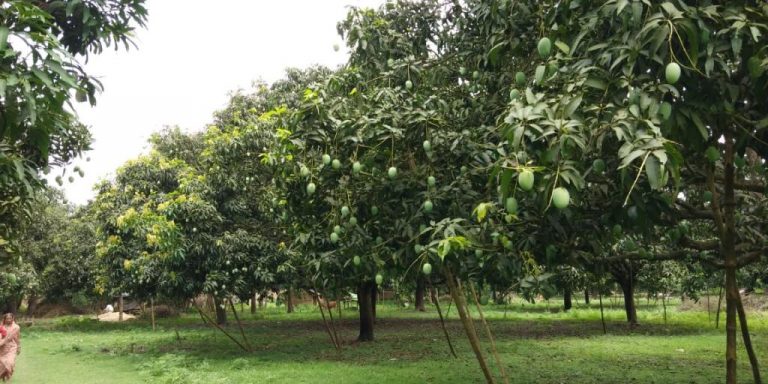 According to the locals, it starts off with Gopal Bhog and Brindaban followed by the Langda, Himsagar, Kishan Bhog, Kalapahar, Bombai and finally the large Fazli. The last mango is Aswini which commands an astronomical price as it is the only mango available during that season. The name Fazli, is said to have been derived from Fazli Babu, who was associated with Arapur village, where it is cultivated. 
Even Langda has a story of its own.  In Hindi the word means 'lame'. Langda mango is believed to have originated in Banaras (now Varanasi), and according to veteran mango cultivator, Padma Shri Haji Kalimullah Khan, "this variety of mangoes got its name around 250-300 years ago. There was a lame farmer in Banaras who ate a mango and planted the seed in his home ground. This lame farmer was known as langda by his peers and friends in his village. I heard this story from my maternal uncle," informs Khan. Interestingly, Haji Kalimullah Khan has his name recorded in the Limca Book of Records for rearing a unique tree called 'Anarkali' with more than 300 varieties of mangoes. But that's another story that needs to be told later along with that of Dr. Pijush Kanti Majumdar who introduced the mango cultivar Amrapali. As for now, relish your mangoes!