Few years ago, I saw a documentary film on San Diego, a smart city in the USA. It was shown on the National Geographic TV Channel. The film highlighted how a well designed public library can be a game changer for recreating community life in a city. The city has a huge library with multiple tiers of book shelves spanning several floors and overlooks a central atrium where multiple activities take place. These include  an Information Desk that lists all forthcoming events in the city, a Help Desk  for e-Books, Seminar Rooms and a food court. The film, available on YouTube, left a lasting impression on me and helped me create a multi-functional smart library in New Town later.
In conceptualizing a new library for Smart City New Town, Kolkata, I also drew from my memories of the British Council Library (BCL) in Kolkata. I was a regular visitor to the library during my years at the Presidency College. The BCL was then located on two floors of a building in  Shakespeare Sarani. The coffee corner, the English language workshop room, the CD stacks with empty folders that had to be produced to the staff for issuing the CD, the reference sections, the photocopying facility and other desktops for surfing the web, all added to the value system for the library members. I grew my conviction from there too that a library must have more than just books. Indeed, in these days of e-Books and Kindles, Amazons and Flipkarts, going to a library just to get a book does not make much sense. The ambiance matters. Wi-Fi connectivity and interior design matters. Smart kiosks for issuing and returning books using RFID tags matter. All of these find a place in the New Town Library.
When we finally decided to have a smart public library in New Town, we planned to build it in the Nazrul Tirtha building. Nazrul Tirtha is built on a 2 acre plot located almost at the entrance to New Town from Sector V, Salt Lake, on a 10-lane road. It has a beautifully designed architecture that also runs three movie halls, one open air theatre (OAT), art gallery, Radio Station and a museum dedicated to poet Kazi Nazrul Islam. The iconic building is now a familiar sight with its gray and black monolith windowless facade. A few lines of Nazrul's famous poetry "Bidrohi" are embedded on the front wall. The building has won several awards for its design. When we started thinking about a spot for the library, the building already had organic footfalls. We felt that instead of creating a new destination, we would locate the library on two floors of Nazrul Tirtha. That way we can attract movie goers, the audience of cultural shows at the OAT, or food lovers visiting the Nababiana restaurant to the new library.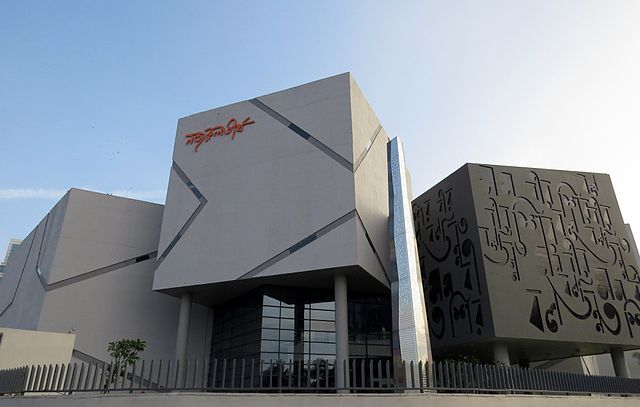 The library is so bright and cheerful with intelligent graphics, fantastic lighting and white furniture that it is difficult not to love it at first sight. There is a children's section where young readers like to curl with comic books on circular seats. The library has a Kindle section with eBooks of one's choice that can be downloaded. There is a reading room with movable ladders to reach the top shelves and three cozy workshop rooms. The smart kiosks for issuing and receiving books also include letter-box like devices where members can deposit their books beyond library hours and get a receipt. Since all books have RFID tags, the process works seamlessly. 
Also read: Help Children Cope with Bullying
The initial design was kickstarted during a team meeting of Hidco where I drew a few sketches to indicate how I wanted the layout to be. Hidco is the State Government Corporation that built New Town and Nazrul Tirtha. I proposed to create spaces for language training and photography courses, career guidance and start-up mentoring as these activities would bring people in contact with books in the library and sooner or later they would become members at the library.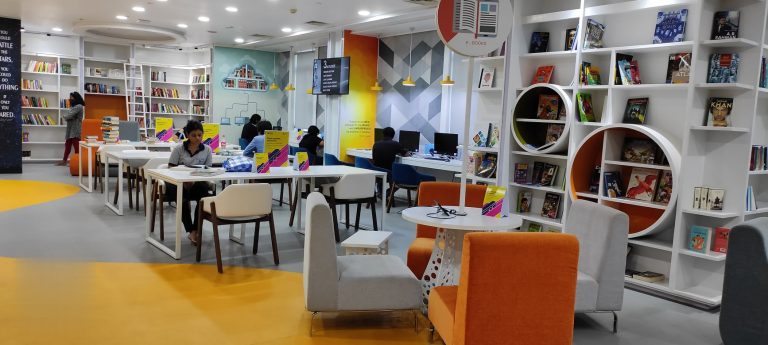 An Advisory Team was created with a former Director General of the National Library at its head. It also included stakeholders including resident mothers of school-going children, information technology experts, architects and engineers to guide the development of the Smart Library. We requested the members to offer suggestions on books to be purchased. Modalities of procuring the books from distributors as well as book fairs were discussed. We also connected with representatives of Amazon Kindle for linking the Kindles with eBooks on scale. The IIT Kharagpur was engaged in a tech tie-up for linking the library with the National Digital Library. Several months after the opening of the library in 2019, we signed an MoU with the British Council Library and now there is a corner in the library where British books from the BCL are displayed.
Since the library is now established and running, we are focused on promoting and popularizing the space. We put up stalls at the various fairs that take place in New Town. Which also includes the New Town Book Fair. Social Media campaigns are a continuous process. We have introduced foreign language (French and German) courses at the library. I took classes on beginner's French for members, free, for a month. Career counseling, public speaking, book launches, Zoom/Online interactions with authors, children's camps and more are held at the AV rooms at the library. Some of these are paid courses, some free. Very recently, a new photography course has started and I too have enrolled as a trainee participant.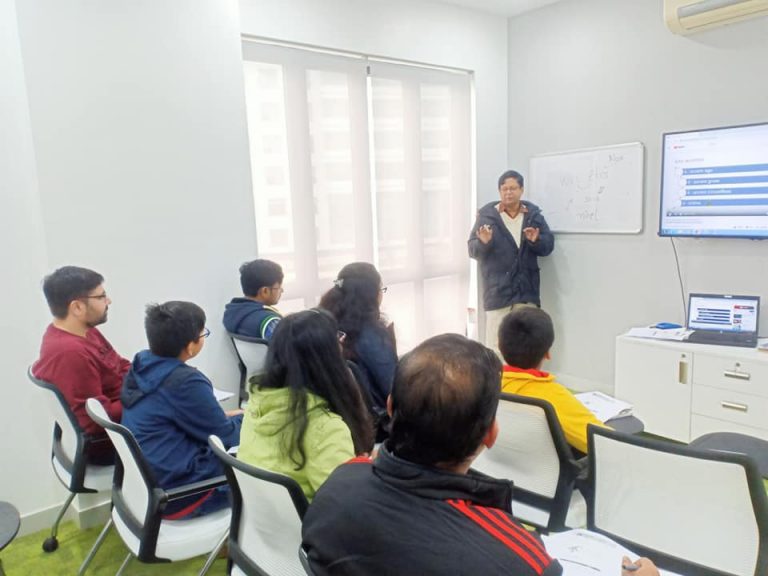 We have been successful in making people visit the library again. The library now has more than 1,400 members and 14,000 books. I have seen senior citizens spend a lot of time reading the day's newspapers or the current magazines. Young students spend a lot of time with their laptops and notebooks in the library, so much so that we are thinking of imposing a laptop fee as they appear to use the library space not for reading books but as a WorkPod!  
Overall, inspired by the San Diego example, we are happy to make New Town Smart library a community space for all ages. I would invite the readers of thespacei.ink to visit the library website at http://newtownlibrary.in/ and Facebook Page https://www.facebook.com/newtownlibrary.official/ for further information.
Images courtesy: Debashis Sen, Wikipedia, New Town Library Facebook page.