Kalimpong, "the ridge where we play," in the Lepcha language, is the headquarters of the newly established Kalimpong District (Feb 2017).  One must only drive three to four kilometers out of this sprawling, congested hill town to experience the vibrant green and lush forests of trees and bamboo, the tranquil pastoral beauty where life still moves slowly, and the profusion of wildflowers that assail the senses.  Colorful and abundant potted flowers frame each rural home, no matter how humble, providing another dimension of charm to the already lush landscape which, between April to November, includes views of the mighty Kanchenjunga range.
The district offers a perfect range of temperatures for both tropical as well as temperate flowers to bloom.  These include all kinds of lilies – Asian, Amaryllis and Cala in bright yellows, creams, pinks, rich oranges, and an almost magenta black.  The wild double lilies with blood red patterns on the overlapping, curled flaming orange or yellow petals simply took my breath away.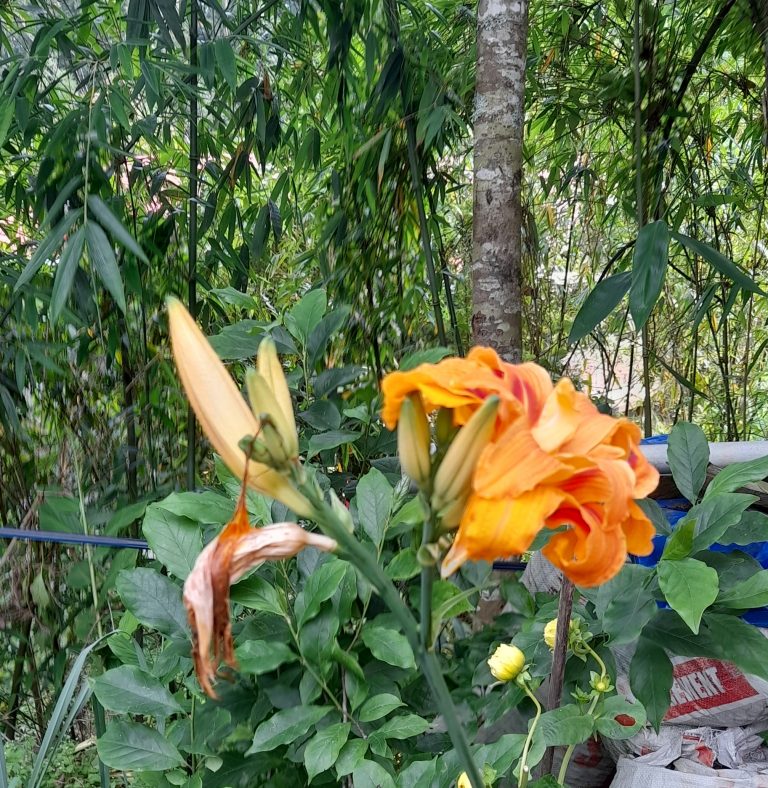 There are pink, lilac, and blue Hydrangeas, Fuchsias in pale pink, shocking pink, white and deep purples, open wild red Roses, Geraniums, Jasmine, wild orchids, Himalayan Hibiscus, Cherry blossoms in October and November, and fields of deep red Rhododendron from the end of March to mid-April in the higher ranges.  There are over twenty-five types of Azaleas in the district. Some farmers are considering planting continuous rows of Azalea hedges that will look like ribbons unfurling.  They think, besides enhancing the beauty of the already resplendent scenery, could boost tourism.  Homestays, encouraged by the Ministry of Tourism, do provide many local people with additional income.  Azalea runs, just like bird watching already is, could be a seasonal draw.
The region is also home to numerous varieties of succulents.  A rooftop nursery in nearby Lopchu had more than one hundred varieties of succulents for sale to the tourists who pass as they visit the Lamahatta gardens and sacred waterbody that rests at the top of the forest.  The tall rows and strings of red, white, green, yellow and blue prayer flags, and the stone pathways laid out through the verdant forest of giant, graceful ferns and lofty pine trees is a popular tourist destination.  As the district is home to many micro-climates there are over 370 species of animals, fungi, and plants, which includes rich bird life.  As the area is home to so many micro-climates, there are forests that have turquoise, dark blue and mauve bamboo.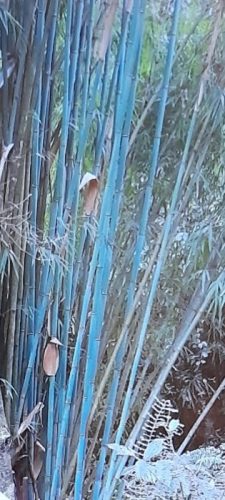 The Lepcha, also called Rongkup are the indigenous people of the region and bordering states and countries of Sikkim, Nepal, Tibet and Bhutan.  They are divided into many clans, each of which reveres its own sacred lakes and mountain peaks.  "Beloved children of the Rong and of God," the Lepcha are an agricultural community and also raise cows, goats, sheep, and chickens.  Their knowledge of plants and flowers is both intuitive and deep and their traditional knowledge of its medicinal and other uses has been passed down over the generations.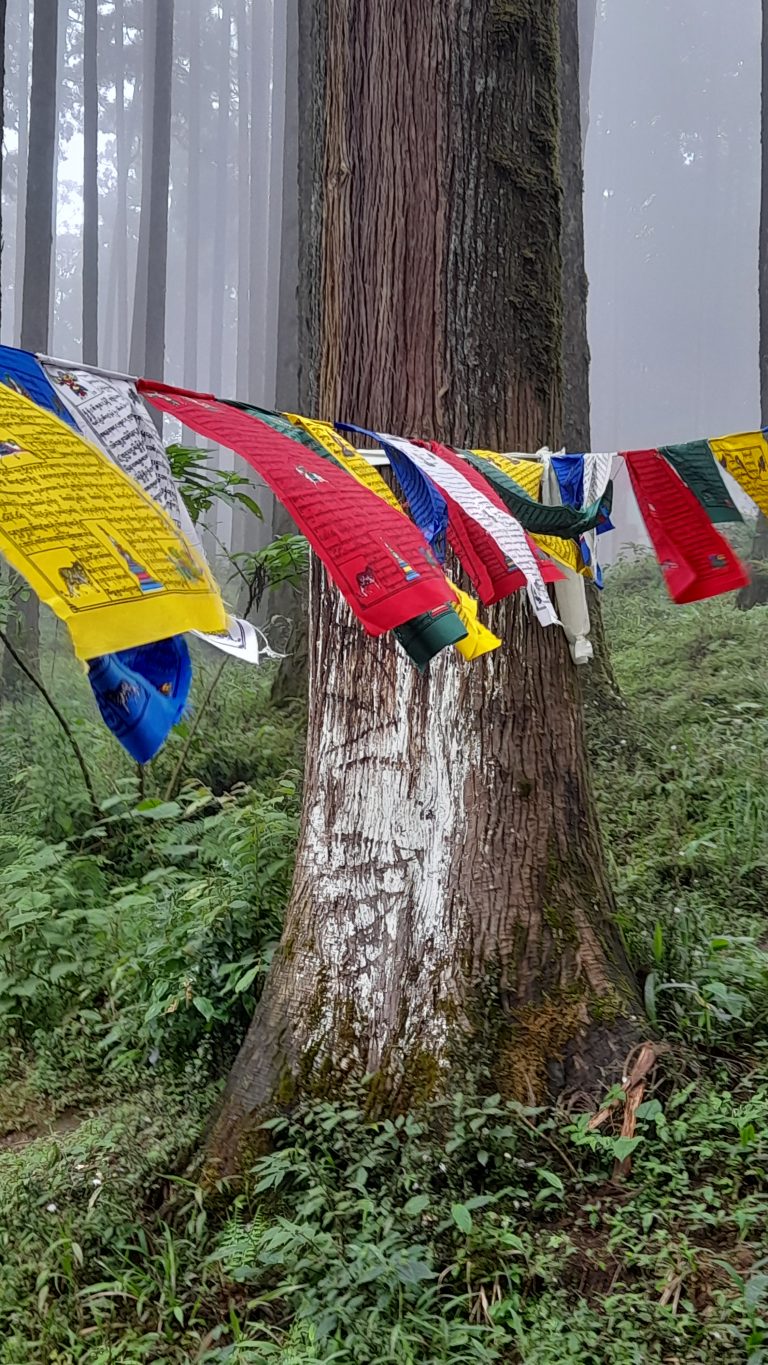 The love for flowers is so evident in the way in which each home cultivates and displays them.  Traditionally baskets woven from roots and ferns encased flowers that hung from their homes.  There are still a few traditional homes, called "li," made of wood and bamboo that are raised on stilts about 5 feet off the ground, with room for livestock beneath the dwelling to provide further warmth to the home. Most homes today are made with bamboo, plaster, and corrugated sheets.  While orchids are still grown in these woven baskets, most of the flowers in window boxes are now potted in plastic planters and are arranged in a style that recalls Kalimpong's colonial past.  Even the humblest of homes have beautiful plants on their steps, terrace or windows.  Some have arrangements of multiple layers of plants – I saw a house featuring 6 levels of flowering plants.  Even in homes that were under construction, I noticed that the potted plants had already been selected and arranged, demonstrating that they are an essential part of the home, not an after-thought.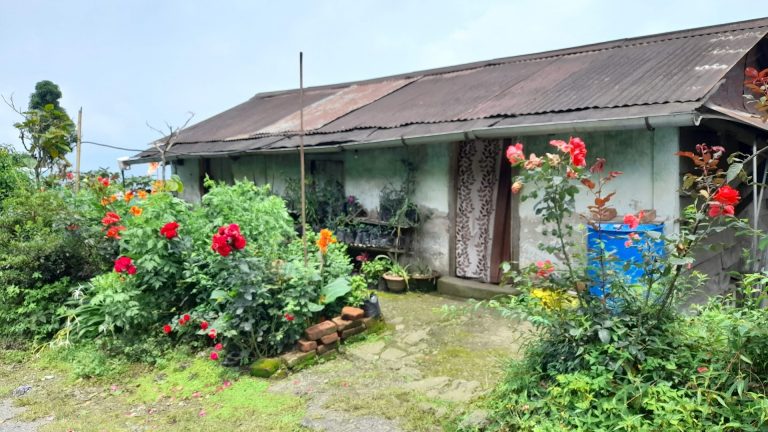 The locals are immensely proud of their blooms and cultivate as many varieties as they can.  They gift each other cuttings as a gesture of affection, as a show of gratitude and on festive occasions.  They take keen interest in the colors and varieties that they are growing.  The flowers are not only decorative, but also selected for the bees they attract.  The best honey comes from bees that feed on both wild and cultivated plants and crops.  Honey, made primarily for home consumption.  It is very flavorful and rich in texture because of the varied sources of nectar.  Honey is also an essential ingredient in traditional medicinal preparations. There are three seasons for honey collection – Spring, post monsoon and late Autumn.  It is the Spring honey that is most complex in taste and tones, as it is drawn from a variety of wild-flowers and crops.  The post monsoon honey is not as layered.  The late Autumn honey has a different complexity because it lacks the flavors provided by wild orchids but can suggest tones of citrus that flowers in that season.  The Lepchas are the most discerning consumers and can identify the sources of the flowers and plants in their honey. 
The flowers adorning each home are an unsung delight of this magical part of our country.  For those who get to taste the local Spring flower infused honey, what could be sweeter?
All images used in this article are by the author.