… [O]f all the American cities that Tagore visited during his trips to the United States in none did he stay longer or make more friends than he did in Urbana, Illinois.
– Harold M. Hurwitz[1]
Urbana, one of the twin cities that are home to flagship higher education institutions of the state of Illinois, has a unique connection with Rabindranath Tagore. Urbana lays claim to two 'firsts' and one 'sole' event from Tagore's life and travels. It was in Urbana that Tagore delivered his first public lecture in the United States, on November 10, 1912. The lecture, on the subject of the Upanishads and entitled 'World Realisation,' was his first public speaking experience in English. And it was also in Urbana that Tagore rented a house and stayed for several months: November 1912 to March 1913. The venue of his first lectures, the oldest Unitarian Church that has since evolved into the Channing-Murray Foundation, is on the national register of historic buildings[2]. The foundation has saved the lectern used by Tagore during his lectures and hosts an Annual Tagore Festival in collaboration with the University of Illinois and the local community to commemorate Tagore's visit to Urbana. The house (at 508 High Street, in the historic district of Urbana, Illinois) that the Tagores (the poet, his son Rathindranath, and his daughter-in-law Pratima) had rented has recently been acquired by Drs. Kajal Mukhopadhyay and Mousumi Duttaray, who plan to preserve the building in the form of a museum/homestead and a cultural center.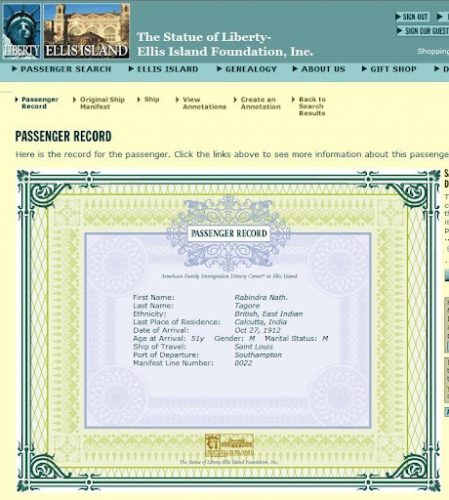 Tagore visited Urbana twice again, in 1916-17 and in 1920, as part of extensive lecture tours across the United States. However, those visits were shorter and virtually indistinguishable from the flurry of the rest of his busy lecture schedule. The 1912 visit was personal: the poet was the parent of an Illini, as Rathindranath had studied for his B.S. in Agricultural Sciences at the University of Illinois from 1906 to 1909 and took graduate courses until March 1913.
Rabindranath Tagore visited the United States for the first time in 1912.  His ship 'Saint Louis' (port of departure: Southampton, 19 October 1912) landed in Ellis Island on October 27, 1912.  In the ship's manifest, his contact and address in the US is entered as 'Friend H. W. Foote, 25 Beacon Street, Boston.'[3] (See Appendix 1)
According to Pal, and Dutta & Robinson, Tagore stayed in Herald Square Hotel, from where he wrote a letter on the day of his arrival to his friend Rothenstein in England.
"We have landed in New York this morning and passed through the ordeals of the custom house.  My turban attracted the notice of a newspaper interviewer and he attacked me with questions but I was almost as silent as my turban.  This was my first taste of America – the custom house and the interviewer."[4]
Tagore left for Urbana on 31 October 1912.
Tagore reached Urbana on November 1, 1912.  On October 1, the Daily Illini had announced his imminent arrival:
POET TO VISIT UNIVERSITY: FAMOUS INDIAN WRITER COMING SOON
Rabindranath Tagore, who is recognized as the foremost poet of India, is soon to pay the University a visit. The date for his visit has not yet been definitely learned but at present Mr. Tagore, his son, R. N. Tagore, and wife are in England where they are being entertained by English writers and artists.[5]
The Daily Illini reported their arrival on November 2: 'India's first poet arrives.  Son, a Former Student, Will resume Studies'[6].  According to Hurwitz, several faculty members and students from the University of Illinois received Rabindranath, Rathindranath, and Pratima Tagore upon their arrival; there were at least two former students of Santiniketan who were pursuing graduate studies in Illinois at that time.  Morgan Brooks – Professor of Electrical Engineering at the University of Illinois, who had visited Tagore in his ancestral home at Jorasanko, Calcutta – hosted Rabindranath, while Dr. A. R. Seymour and his wife Maycee were hosts to Rathindranath and his wife Pratima.  In a letter dated November 5, 1912, Rabindranath wrote to Dr. Maitra in Calcutta: "We have rented an entire house for one year"[7]. Prashantakumar Pal conjectures that the Tagores probably moved into the house on 508 High Street in Urbana around the time of this letter.
In a letter dated 8 November 1912 to Ajit Kumar Chakrabarty, Rabindranath wrote that the Urbana sky reminded him of his native Bengal: 'the same light, the same spotless blue hue …'[8] Rathindranath, in his account of the poet's days in Urbana, describes him busy at work, as soon as they were able to settle down in the rented residence:
We got a house not far from my college and soon settled down. I was happy to see Father start working immediately. I knew that as long as he remained busy at his desk he would
not think of moving and I might get a spell at the University to finish my thesis. It is not easy to set up a house in America and my wife who had never been there before had a difficult time. But she had two persons to help her—Bankim Roy, a former teacher at Santiniketan, and Somendra Dev Barman, one of our students. The Seymours were of course a great help.
Father was writing Sadhana. As each chapter was written I had to get it typed. But since there were constant additions and alterations typing became an expensive item in our budget. So I bought a portable machine and did the typing myself. I had to type and retype each chapter so many times that by the time I finished I knew almost the whole book by heart.[9]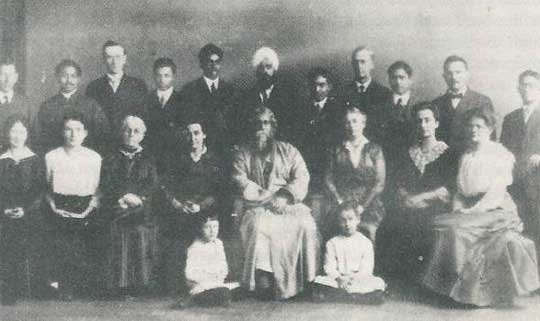 Public engagements began filling up the poet's time in the Midwest soon enough. In a letter postmarked 19 February 1913, Cambridge Massachusetts, Tagore described his 'lecturing' experience to his eldest daughter Madhurilata:
For a long time after arriving in America I kept quietly to a corner of a room in a small town called Urbana, unavailable to everyone.  But the people of this country have a mania for listening to lectures.  Those around me were constantly insisting on my giving a lecture.  To begin with I remained firm, because I was absolutely certain that if I were to lecture in the English language, I could not possibly keep my dignity. … In the end I could not refuse a request to say something to an Urbana club called the Unity Club.  It is a small kind of place, not very formidable and with a limited membership, and I somehow accepted.  Then, after writing out my talk and going there, I found the hall packed with people.  Escape was impossible.  When my reading was over everyone congratulated me.  That gave me courage and I went on to read five papers to that group, one after the other.  Since then, invitations to speak have not stopped[10].
The first lecture Tagore delivered to the Unity Club was at the Urbana Unitarian Church, on November 10, 1912. A report appeared in Champaign County News on November 13, 1912:
Mr. Tagore of India on Sunday evening delivered a sermon of the series on the ancient theological books of the world.  He spoke on "Religious Ideals of Ancient India," treating in particular the Upanishads, the sacred scriptures of India.  Next Sunday he expects to continue the same theme[11]. 
Prashantakumar Pal lists the titles of lectures delivered as follows[12]:
November 10: 'World Realisation,' which would be revised and renamed 'The Relation of the Individual to the Universe,' and included in Sadhana: the Realisation of Life (1913).
November 17: 'Self-Realisation,' later revised as 'Soul Consciousness' and included in Sadhana.
November 24: 'Realization of Brahma'
December 1: 'The Problem of Evil'
In addition to the above four lectures, there are a fifth and a sixth lecture listed in a handwritten note (possibly by Arthur Seymour) that is preserved at the University of Illinois Archives[13]. The note is entitled "Mr. Tagore's Lectures" and the two extra lectures are listed as:
5. 'Realization in Love'
6. 'Problem of Self'
Prashantakumar Pal's account of the number of lectures is slightly ambiguous; he mentions 'two' lectures on December 1, even though he lists a total of four topics. It is possible Rabindranath delivered two lectures on 'the problem of evil' on December 1, which could explain the 'five' lectures Tagore mentions in the letter to his daughter.  Or, Rabindranath could have delivered lectures on all six topics as listed in the handwritten note, which could account for the five lectures (not counting his introductory lecture) he mentions in his letter to his daughter Madhurilata.
The number of lectures notwithstanding, it can be stated with some degree of certainty that it was in Urbana that Rabindranath delivered formal lectures in English for the first time ever.  He had spent just a few days in New York in a hotel, and there is no evidence (yet) of his having made any public appearance.  The fact that Rabindranath was not comfortable speaking formally in English is mentioned by Rathindranath in a letter he wrote to Maycee Seymour in July 1912:
It is very kind of Prof. Seymour to think of arranging for father to lecture at University.  But father is very adverse to any sort of public life and am sure would not like to give any lectures while he is there, moreover he is not used to speaking in English[14].
That Rathindranath did not imagine his father's discomfort at speaking formally in English is made clear by the poet's own account of the lectures, in the letter cited above, and to a letter dated December 2, 1912, to his friend Rothenstein in England as well:
You will be surprised to learn that I have read four papers in the Unity Club here on four consecutive Sundays. It has not been an easy task for me to express my thoughts in English, especially thoughts which are not familiar to the audience here[15].

Rabindranath left Urbana for Chicago on Sunday February 19, 1913, or on Wednesday February 22. Prashantakumar Pal cites several sources that report conflicting dates for his arrival at Chicago. There are newspaper reports of two lectures that Tagore gave in Chicago: at the University of Chicago on Thursday January 23, and at the Abraham Lincoln Center on Sunday January 26.
Rabindranath left for Rochester, NY on January 28, 1913, to attend the joint Congress of National Federation of Religious Liberals and Free Religious Association of America[16]. From Rochester, he traveled to Boston, and came back to Urbana on March 3, 1913[17], and returned to Chicago at the end of March. In a letter dated early April 1913 to Rothenstein, Rabindranath writes:
Our date of departure has been fixed.  Our steamer Olympic will start from New York on 12 April, so we shall reach London by the middle of the month[18].
The next letter to Rothenstein is dated April 28, 1913, from England.
Tagore in Urbana, 1916-17
Rabindranath's second visit to Urbana in 1916-17 is better documented, and there is little ambiguity in the information regarding his activities. He arrived on December 22, 1916, and left either on December 31, 1916, or on January 1, 1917. According to Hurwitz, he was scheduled to give only one talk but ended up delivering several lectures, at the University and at the Unitarian Church. His lectures at the University were on the topic of nationalism and were later revised and included in Nationalism (New York and London: Macmillan, 1917). A report on the first page of the Daily Illini on January 4, 1917 (see Appendix 2) covered his visit.