We are at the point in historic time when the grand old Eighteenth Century was giving way to the Century of Enlightenment— the Nineteenth Century. By this time there were a number of educational institutes in Kolkata, the capital of British India. There were among others, the Civil Engineering College at Shibpur, The Presidency College, Scottish Church College, Bethune College, Loreto House and Calcutta University.  
Though these premier institutes played a key role in awakening the minds of Indians and introducing them to the vast storehouse of western science and philosophy, Rabindranath Tagore was not satisfied with their curriculum as it did not include the arts. Gurudeva always emphasized the distinctive value of music and dance in his scheme of education. According to him, the language of sound and movement was the highest means of self-expression without which people remain inarticulate and communication is incomplete. In protest against the system of education introduced by the British, Tagore set up his own school at Santiniketan at the turn of the century. 
Rabindranath's school, Brahmacharyashrama, at Santiniketan, formally opened on 22 December 1901. Music and dance was an important part of the curriculum right from the beginning, but at the very early stage the music taught there was mostly songs composed by Rabindranath Tagore while the dance consisted of spontaneous creations or Bhava Nritya (emotional dance renderings). Every evening the students, faculty and Gurudev himself gathered at a hall and everyone was encouraged to sing, dance and give vent to their spontaneous artistic expressions. Both the Fine Arts and the Performing Arts were encouraged and endorsed by Tagore.
At that time there were no great classical gurus as teachers and the inclusion of song and dance in the curriculum of Tagore's educational institute faced a great deal of criticism. The general conservative educated elite associated classical dance and music with courtesans and their compatriots.
But undaunted, Tagore went forth, establishing the greatness and glory of music and dance. He invited many great gurus to come and teach at his institute and also sent his students and family members to receive formal training in the performing arts. He composed songs and dance dramas for important events, thereby keeping the arts forever innovative and vibrant. 
Tagore loved and encouraged all types of dance and music, opening the doors for the whole world to meet in the arena of Sangita, a word that denotes song, music and dance. As a composer Tagore was influenced by different genres – Indian classical, folk, and even Western classical. In dance forms he introduced the lilting Manipuri and later the vigorous Kathakali. But he marveled at witnessing many other dance forms – Indian classical, folk as well as foreign – and often composed lyrics to accompany these dance forms. Witnessing the folk dance of Shaurashtra in which cymbals are used he composed 'Dui haate kaaler mandira'. Envisioning the dance of Nataraj he wrote 'Nrityero taale taale'. In fact, a new style of dance was created in Santiniketan through experimentation with styles borrowed from various traditions and cultures, both Indian and foreign.
Santiniketan revolutionized Bengali and, by extension, Indian perceptions of culture by challenging social prejudices against the performing arts. The students broke a taboo when they began to participate in performances on the public stage. In short, in Santiniketan the performing arts gained a new respectability. 
Sangit Bhavana (Institute of Dance, Drama and Music), of Visva-Bharati University, Santiniketan, started functioning as a part of Kala Bhavana in 1919 and as a separate institution in 1933. It was established by the Nobel laureate Rabindranath Tagore himself.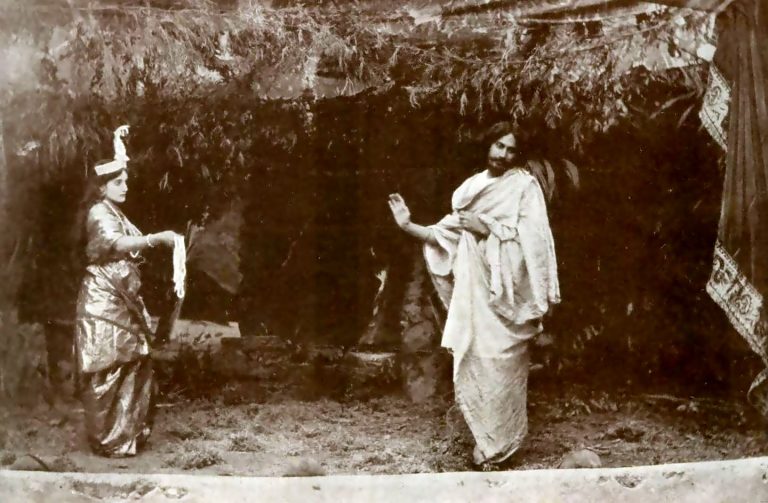 Dinendranath Tagore (Dinu Thakur), grandson of Dwijendranath Tagore, the poet's eldest brother, was brought up in the enriching cultural environment of Jorasanko Thakur Bari and was a talented musician familiar with both Hindustani classical music and music in western culture. He was particularly good with musical notations and was in-charge of the music department of Sangit Bhavana from the earliest years. Bhimrao Hasurkar Sastri introduced the teaching of Hindustani classical music in Santiniketan. He was the second adhakshya of the music department from 1923 to 1927. Thereafter, Dinendranath Tagore once again took charge.
Bhatkhande Music Institute set up by renowned musicologist and pioneer in classical music training, Vishnu Narayan Bhatkhande, in Lucknow, provided well-trained Hindustani classical music acharyas to Visva Bharati for many years.
In fact the eminent names in the musical arena such as Dinendranath Tagore, Bhimrao Hasurkar Sastri, Indira Devi Chaudhurani, Santidev Ghosh, Sushil Kumar Bhanja Choudhuri and Sailajaranjan Majumdar laid down rich traditions in earlier years of Sangit Bhavana. In later years the traditions were upheld by such persons as Kanika Banerjee and Nilima Sen. In addition to those who studied at Santiniketan and remained back as notable teachers, some of the students who emerged as popular singers, beyond Santiniketan are Suchitra Mitra, Subinoy Roy, Sumitra Guha and Rezwana Chowdhury Bannya.
For the Santiniketan community, Tagore's songs were a constant source of joy and solace. They were integral to each aspect of Santiniketan's unique way of life and cultural identity. Not surprisingly, the teaching of music and dance received a fresh impetus when Visva-Bharati was founded. A new musical and dance tradition evolved.  
In 1919, Rabindranath decided to include Manipuri dance in the curriculum of Santiniketan after witnessing a dance performance in Sylhet. He requested Birendra Kishore Manikya Bahadur, the king of Tripura, to send a Manipuri dance teacher and the latter sent Rajkumar Buddhimanta Singh to Santiniketan. Later, Nileswar Mukherjee also joined Santiniketan as a teacher of Manipuri dance.
Rabindranath Tagore was attracted to Kathakali mainly because of its rhythmic dance components like kalasam and sari, together with its gestural abhinaya. He sent his favourite student Santideb Ghosh, twice to South India to get in touch with Kerala Kalamandalam. In 1939 Poet Vallathol visited Santiniketan. Rabindranath requested him to send a Kathakali teacher to Santiniketan. Guru Kelu Nair was the first Kathakali teacher at Santiniketan from 1937 to 1941. Subsequently, Haridasan Nair, Balakrishnan Menon, Keshava Poduval, Unni Krishna Kuruppu and Mohan Krishnan Poduval were some of the eminent kathakali teachers at Santiniketan. In later years, Kalamandalam Govindan Kutty was associated with both Kolkata and Santiniketan.
Mrinalini Sarabhai (then Mrinalini Swaminathan, 20 years old), studied Kathakali under Guru Kelu Nair and Manipuri under Guru Ambui Singh at Santiniketan. As an extremely creative person she was always on the lookout for new forms in traditional techniques to express herself. When Tagore gave her the leading role in his dance drama 'Chandalika' she was thrilled, more so because she was given the liberty to do the Bharatanatyam choreography by herself. 'Dance it as you wish,' Tagore said. It was the first time that Bharatnatyam was introduced in Tagore's dance drama.
 The Kandyan dance of Ceylon and the dance-dramas of Java and Bali represented the 'Asian mind' for Tagore. The hybrid form of Tagore's dance drama developed over time. Pratima Devi called it a product of 'chemical synthesis' of several traditional Asian dance forms and modern European dance. Kathakali and Manipuri formed the base and there were additives from the modern European styles of Rudolf Laban, Kurt Jooss and Mary Wigman. Tagore's niece Shrimati Tagore introduced many of these to Santiniketan after training in Europe for three years. A Japanese dancer named Maki choreographed a part of the dance drama 'Chitrangada'. 
'Shyama', the last dance drama created by Tagore showcased various dance forms. Shyama and her friends danced Manipuri, Bajrasena Bharatanatyam, the Kotwal Kandyan dance, the Praharis Kathakali, Uttiyo Kathak and the Ahirinis folk dance. The entire dance drama was a unique blend of western concepts of choreography, Indian and Ceylonese dance forms and a unique Buddhist theme.
Undoubtedly, a new style of dance was created through experimentation with styles borrowed from various traditions and cultures. Traditional Manipuri and Kathakali styles and also non-Indian dance forms such as the Ceylonese Kandy dance were incorporated into this new dance style that had an identity of its own. Such syncretism was a hallmark of Visva- Bharati's distinctive cultural outlook.
Even to this day Sangit Bhavana focuses on the realms of music and dance. It has two Departments- Hindustani Classical Music and Rabindra Sangit, Dance and Drama. The courses vary from Postgraduate to undergraduate study and from diplomas to certificate courses. There are also short term casual courses for foreign students. Almost all forms and styles of Indian music and dance are taught and practiced here. In fact, Sangit Bhavana imparts training in Rabindra Sangit, Hindustani classical vocal and instrumental music (esraj, sitar, tabla, pakhavaj), Manipuri and Kathakali dance styles, dramas and Tagore's own musical dance-dramas. For exceptionally talented post-graduates, there is scope for research.
The main building of today's Sangit Bhavana is built in a unique architectural style. It has a central raised courtyard that is often converted into a stage which overlooks the ground where the audience sits. The two storied structures surrounding the courtyard and across the lawn are the classrooms. In fact the building is a unique combination of the traditional and modern, ethnic and sophisticated.
Sangit Bhavana has also been organizing regular functions and festivals like Bengali New Year's Day, Tagore Week (Rabindra Saptaha) centering around Tagore's birthday, Varshamangal, congregational services of Poush, Spring Festivals, and many more. These are held within the Bhavana and also in Gour Prangan and other unique venues within the University grounds. 
Tagore through his Sangit Bhavana pioneered the inclusion of the Performing Arts within the education system and University curriculum. Soon other Universities followed the lead, thus establishing the Arts as an integral and indispensable component of institutionalized education.
Images courtesy: Wikimedia Commons and Visva Bharati