Summer of 2021. The mercury reads 34 degrees. The t-shirt sticks to my skin and feels thick with sweat. My mouth is dry, burning with an uneasy feeling while the heat wave sulks in through the window. The summer afternoon feels squeamish and drowsy. The feeling persists throughout the day while the sun lazily sets in the west every evening. Adding to my woes was the post-COVID weakness on most quarantined days. While I recovered, my mother used to prepare some homemade immunity booster drinks for us. The concoction of herbs, fruits and vegetables, if prepared with the right proportions, can be beneficial to our immune system.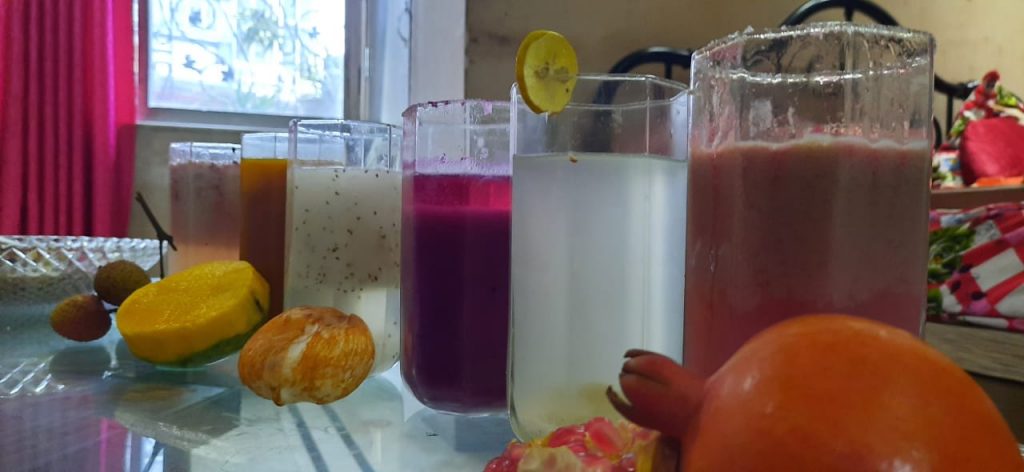 Since then I have been searching for drinks that can help me recover my lost strength. In this process I realized the importance of Indian coolers or the traditional Indian sharbat that can help us maintain our body temperature and good health. These are some simple coolers you can make at home with the limited ingredients available because of the lockdown. For the health and immune conscious people out there, these coolers are life savers. 
Tulsi, mint, aloe vera, lemongrass, lemons, wheat grass, tomatoes, cucumbers, pomegranates, papaya, water apple and phalsa grow in abundance in our garden apart from the seasonal vegetables mother plants regularly. These can be used to make refreshing herbal coolers as well.
The Indian sharbat dates back to the times of the Mughal emperors. Jahangir loved to indulge in falooda sherbaat. And Babur asked his people to use fresh ice from the Himalayas to prepare his royal refreshing drinks; drinks fit for the Gods indeed.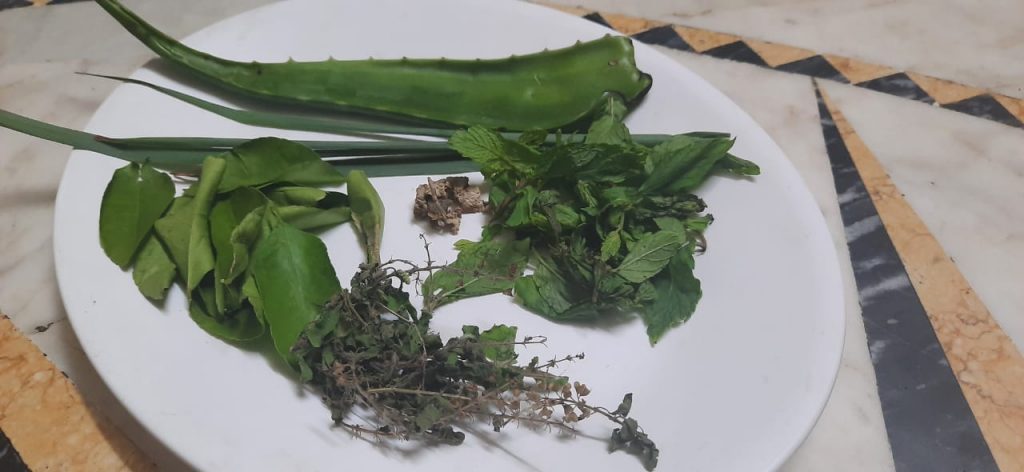 Fruity drinks and yoghurt based drinks
Aam panna, bael or wood apple panna, sattu drink, jaljeera shikanji, lemonade, lassi and fruit juices were the ideal drinks for us while growing up. With different ingredients, you can make mocktails, smoothies, juice, lemonade, shikanji, iced tea, and milkshakes. The spices and method of preparation differs, as well as the taste, so I tried everything all at once. Mocktails and immunity boosting summer coolers can be either milk or yoghurt based or juice and soda based. It is better to use pulpy fruits for the dairy based drinks. 
You can add lemon juice, ginger, salt, cumin, honey, mint and ice with the fruit of your choice to prepare fruit shikanji. If you add yogurt instead of the fruit then you get spiced buttermilk, chaas or Neer moru, a popular drink in the south. Since I am a big fruit lover, I prefer my drinks to be fruity.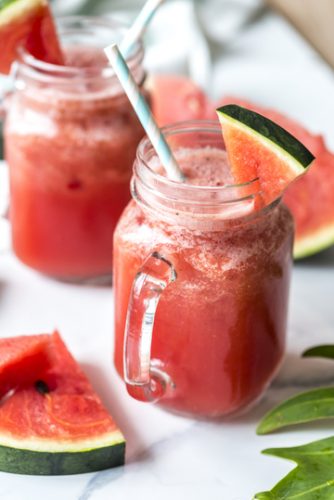 To make spiced lemonades you can use lemon juice, or gondhoraj if you have them, mint, honey or jaggery, black salt, chaat masala, cumin powder and ice. If you add soda instead of yogurt you get soda lemonade, same as spiced soda shikanji. In Bengal, Gondhoraj ghol is famous for its tangy spicy and fragrant mellowed taste, so this can be your kind of drink.
Beetroot, apple, carrot, ginger and lemon juice is another great combination for boosting your immunity. Take equal proportions of orange juice and carrot juice, add a pinch of finely chopped ginger, black salt and lemon juice. You can add sugar if you like your drinks sweet. I prefer not to.
Apple, cucumber, lemon and ginger also make a really tangy and refreshing coolant.  Here's my take on it. 
Ingredients:
Apple juice – 200 ml
Cucumber juice – 100 ml
Lemon juice – four teaspoon
Black salt – One teaspoon 
Sugar – optional 
A pinch of finely chopped ginger (or a few drops of ginger juice) 
Mix everything well and pour over ice. 
I remember my grandmother's story of surviving on imli gollis when Cholera had hit India. While the entire neighbourhood was struggling with deaths and her family was hospitalized, as a child she had to eat only imli and roam around the bazaar the whole day, which in fact kept her safe. Whenever I crave imli, I remember this story and wonder if the cure for corona can be hidden in some mysterious herb in this world and we could be free from our fears soon. Alas! We can only dream.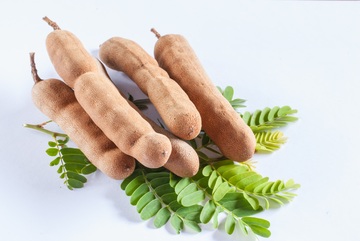 You can also try my version of jeera imli cooler (cumin tamarind drink), the one that leaves you drooling for more. 
When I read about Imli ka amlana, I was hooked to this drink for its fragrance and taste. You need tamarind pulp roasted in black salt, spices, jaggery or honey and mint mixed with chilled water to savour its tongue twisting taste. 
A simpler version of this is made with tamarind, sugarcane jaggery, black salt and cumin powder. 
Explore the goodness of Indian herbs
This summer explore the goodness of Indian herbs and spices like tulsi, mint, aloe vera and make yourself a glass of best immunity boosting summer coolers.
Be creative and enjoy making these with your family. However, make sure to avoid ice if you are prone to catching cold or have a soar throat. 
This article is based on the local drinks which can be used, the nutritional factors are generic, and this hasn't been recommended by any Doctor or Dietician. If you are allergic to certain ingredients, fruits, spices or vegetables, avoid drinking the sherbets.
Images courtesy: Sufia Khatoon and Pxhere