After the crescent moon was sighted, masjids around India announced Eid last Friday. Children in the neighbourhood were heard shouting 'chand raat mubarak' and running down the stairs. Buildings were illuminated with festive lights. Men were busy shopping ingredients for the grand feast of Eid that was to follow. The women were busy preparing the festival food, cleaning, decorating the house. We did lose our loved ones and this Eid wasn't without a sense of loss and mourning but we welcomed it with hope in our hearts.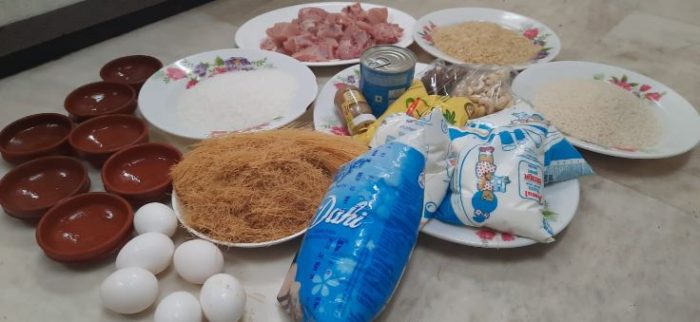 Usually Eid is celebrated for three days in our community. Mother meticulously prepares the menu, lines up the ingredients and sends food over to close friends and relatives. She decided, it will be rich in taste and light on the tummy this year. For Eid breakfast, we had phirni, sewai, lacha paratha and beef tikiya (or tikka). Lunch was dum chicken biryani and for dinner she cooked kesar paratha with Kasuri methi chicken.
Not to forget the bowls of ice cream, homemade marble cake and coffee for evening conversations. On the second day it was coconut pulao and chicken Korma and zarda, my sister's favourite, while on the third day, spicy chilli chicken with parathas.
Every year my siblings and I clean the rooms, change bed sheets and curtains, dust the furniture, sanitize the doors and mop the floors. Only the scent of fresh flowers, Eid shopping in the markets and the gleeful get together of guests and friends was missed this time.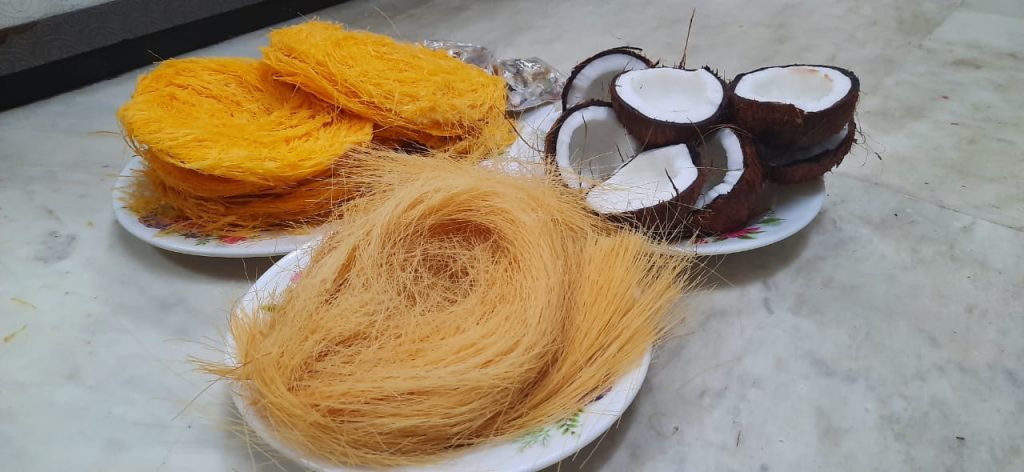 When we were young, it was mandatory to apply mehndi on chand raat. Sometimes our cousin sisters would come over and somehow with shaking hands and crooked lines, we would apply it on each other's palms, while sitting restlessly for hours and listening to bollywood songs on high volume. We would keep it on all night long to get that right shade of mehndi colour and fragrance. Our Eid shopping would start during Ramadan, mother would take us to different markets and buy similar styled clothes in different colours. I remember all of us including our cousins would wear the same dresses and look like a band of singers ready to perform. I still look at those pictures in the family album and smile. 
Then the next day we would visit nani's and some relatives' homes to collect our Eidi and gorge on sweets, run around chowk bazaar, play games and listen to stories, it was the best kind of Eid we used to have. 
At home father used to invite his clients and their families for a huge feast of Eid. Mother used to cook murgh musallam, mutton dum biryani, beef and chicken tikkas, chaap, parathas and tonnes of zarda. She would set the table, cook everything by herself and entertain the guests as well.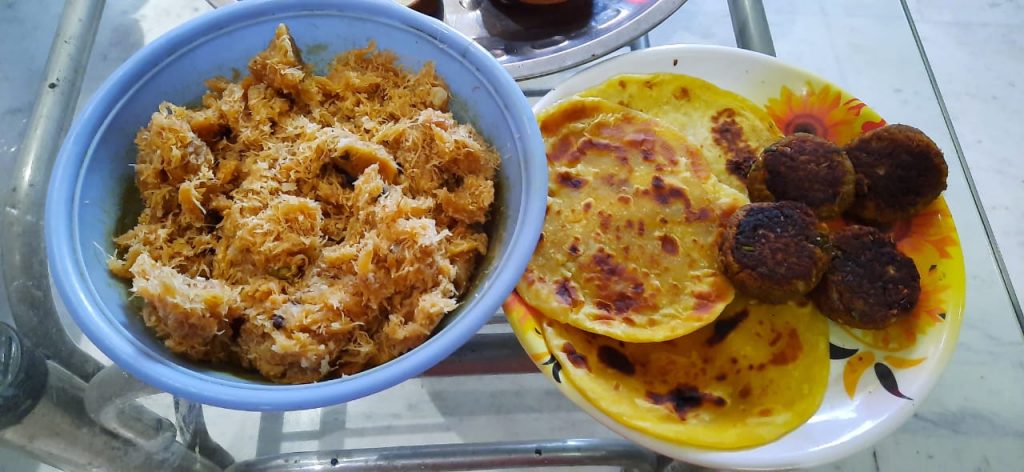 It has been raining the whole week, the cold nights and the smell of mother arranging the preparations in the kitchen is comforting. Cooking these dishes is a delicate matter, requires skilled hands and years of experience. No wonder mothers are the best chefs in the world.
Mother starts with Phirni. She soaks Kamini rice for two to three hours, dries and grinds it to make a fine powder. This mixture is soaked in warm water and cooked on low heat. She adds milk when phirni thickens while constantly stirring it with a wooden spoon. Phirni burns easily if you stop stirring. For 250gms of rice usually 1.5 litres of milk is required. Later half kilo sugar, 1 tin of condensed milk, cashew and mawaa mixture is added and cooked for another 10 mins. It is then poured in clay bowls and décorated with dry fruits and varak or fine silver foil sheets. All kinds of fruit flavours can be used in phirni, even kesar but nothing tastes better than the traditional phirni.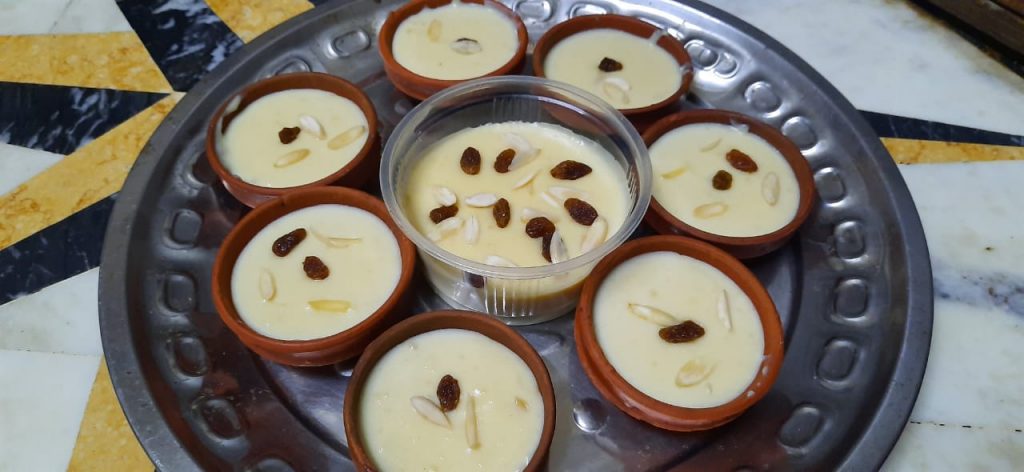 We all sleep a little after finishing the work. We wake up early, wash ourselves; wear our new clothes (thank goodness for online shopping and offer Eid ki namaz). Like last year, this year the namaz is offered at home. After the namaz, we greet Eid Mubarak by embracing each other three times, and sit down to eat our delicious breakfast together. We used to plan movies or catch up with friends on the second and third day, and the first day was spent at home. Anyways we miss those times while enjoying our food on the dastarkhan. Mother later cooks dum chicken biryani and we start feeling hungry again. 
Mother's fragrant Coconut Pulao is a unique dish. Not many people have heard about it. It tastes sweet and juicy and coupled with tangy chicken rezala, each mouthful bursts with flavours.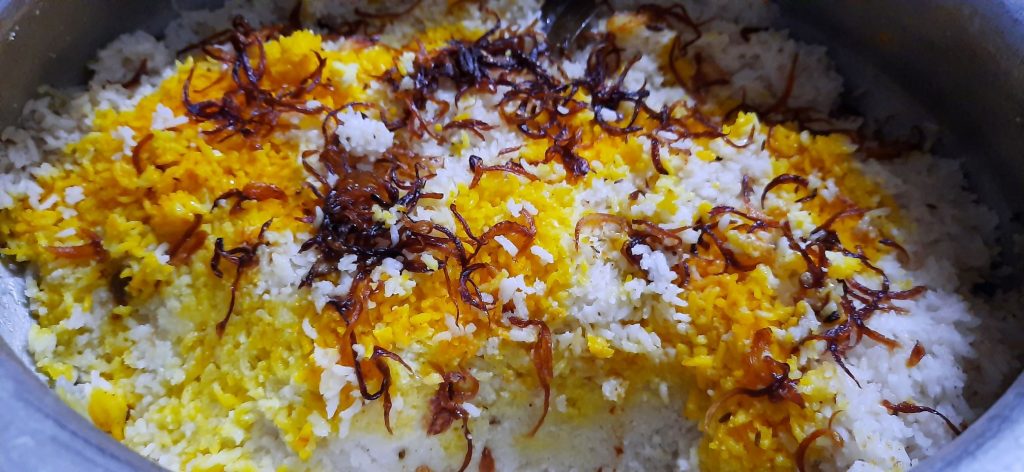 She uses soaked and dried Kamini rice. She fries onions till golden brown in desi ghee and keeps it aside and adds whole garam masala like cinnamon, cardamom, cloves, bay leaf, cashews and raisins and keeps stirring it till it is fragrant. In this she adds rice and stirs for 15 mins till the coconut milk dries up. You have to add water three times the amount of rice (if 250gms rice then add 750ml water). Add salt, ground garam masala powder and cover it. When it is ready add rose water and kewra water and keep it on dum for another 15mins. In the end,k add atar and zafran in warm milk and sprinkle it over the rice. For 1 kg rice, you have to use the milk of 6 to 7 coconuts.
Sweet zarda was my nani's favourite along with mangoes. Since Nani passed away in Ramadan a couple of years back, mother has been cooking zarda and feeding the poor in her memory. Throughout Ramadan zakat and fitra is an act of sharing your wealth with the less privileged in the community, it is a kind of kindness that warms the heart. We do our bit like other families.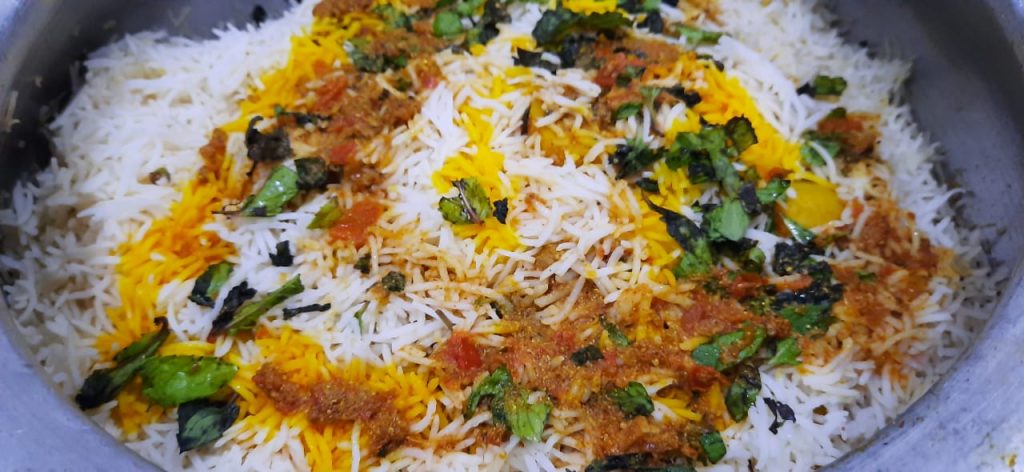 Zarda is made with fragrant basmati rice. Mother boils the water, adds zafran or food colour and the soaked rice in it, when rice is half cooked, she drains the water. In a thick-bottomed pan she adds ghee, whole garam masala and when it is fragrant she adds 250ml water, 750gms sugar and makes a sugar syrup. When it is thickened, she adds the zafran coloured rice, mixes it well and adds dry fruits. Thereafter the zarda must be kept on dum on low heat for 20mins or more. After turning the heat off, mawaa is added to the rice and served warm. 
On the night of Eid we sleep peacefully, cherishing the time spent making memories with our family, valuing those who add substance to our lives. A mellow wind rustles the leaves in our garden. The night sky comes alive with the celebratory firecrackers. A crescent moon spreads the light of love, harmony and warmth.