It is past 4pm, mother starts her preparations for Iftari (iftar food) in the kitchen after offering her asr namaz. The kitchen comes alive, her hands estimate the ingredients, carefully measures the time required to make the different dishes and plan the menu of the day.
The night before she soaks a bowl of kala chana or Bengal gram and moong and masoor dal to make dal vada and piyaji or onion fritters. She makes salad to be mixed with the cooked and soaked gram. If gram is cooked with meat and potatoes then eaten with mixed salad with a dash of lemon, it tastes spicy and tangy in the mouth. While soaked gram with salad tastes like any healthy salad on a normal day. But during Ramadan gram is cooked for the whole month in most homes. It is a rich source of protein and fibre and helps rejuvenate the rozeddars after a long day of fasting.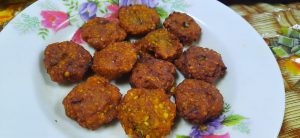 I remember I used to have silly arguments with my dadi when I was younger over who would get the larger portion of the gram salad every evening. Mother used to make kabuli chana salad with potatoes dipped in tangy and spicy tamarind water which is one mouth watering dish. This dish reminds me of the chawk bazaar in Belgachia, my nani's home, where kabuli chana chaat was sold in roadside stalls with tangy tamarind liquid. My cousins and I would keep sneaking out of the house to eat the chaats sold in the bazaar and it was worth getting the punishment for later.
Traditionally iftar food is distributed among the poor. Some of it is also sent to the local masjid and to the neighbours as a token of gratitude.  Before the pandemic, masjids all over used to host iftar gatherings and congregations for taraweeh.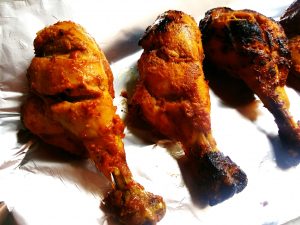 This year though everyone has avoided praying together, especially taraweeh to avoid the spreading of the virus, but I hear the Quran recitation by the imam from the speakers and people calling one another on the streets to head back home to pray. Mother, after offering isha prayer, stands on the jai namaz to read the taraweeh namaz and pray for everyone's good health.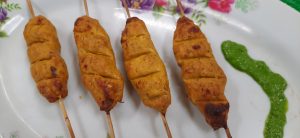 There was a leather tannery in our old house which had a small courtyard with a well in the middle. In those days, iftari used to be a huge affair. Our family used to feed some 400 or more workers from the tannery, making sure everyone sat together to break the fast and share the blessings. We would prepare fruit salads, snacks, sherbets and so many things the whole day. It used to be a significant tradition for our family back then. 
This year we planned to have a whole kebab platter for iftar one day to elevate the sullen mood somewhat. Seekh kebab, boti kebab, kathi kebab, fish kebab, chicken tikkas and juicy chicken tangree kebabs. So we all sat down and mixed the spices, prepared side dishes, salads, heated the oven and grill, let the ingredients set for some hours and cooked it to perfection. The whole house was engulfed in the rich aroma of kebabs.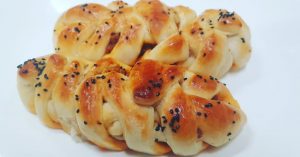 Another week mother treats us to dahi vada, dhokla, dosa, chicken nuggets and chicken naan. Now these snacks have distinct flavour and take enough time to prepare. The dahi vada batter needs to be beaten by hand to make it fluffy; fluffy enough for it to float on water. Usually a tiny bit of it is dropped in water to test its state of readiness. When it floats to the surface, the batter is fried. You have to then add in your curd, spices, tamarind water, salt, lemon, sugar and coriander chutney. Asafoetida is an important ingredient in dahi vada. It is mixed in the water used to soak the fried vadas.  Dhokla batter needs to rest for some hours to reach that fluffy texture. I often fail to make it fluffy enough and I guess it needs more practice. Chicken stuffed naan is my favourite dish; the shredded spicy chicken inside the fluffy naan is really filling, you don't need to eat anything else after this.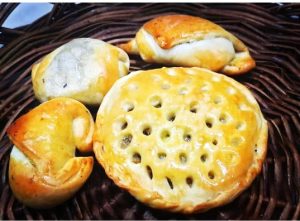 Since my mother runs a home cooked food business, getting treated to her amazing baked goodness like chicken bread, stuffed braided chicken bread, garlic bread, chicken seekh kebab rolls, chicken croissants, kati chicken kebab puffs and other items is heavenly. 
I can never miss mother's chicken haleem. I devour at least five to six bowls after iftari, it is the only thing that I look forward to the whole year. Not to forget patishapta filled with oozing sweetened coconut filling, salivating and delicious.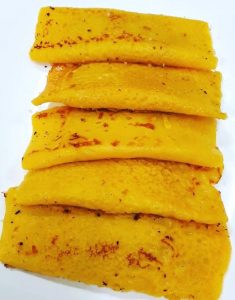 The zafran zarda is a reminder of shab-e-baraat, a time when everyone prays the whole night to ask for forgiveness, which happens 15 days before the month of Ramadan. During this time mother used to cook halwas of all kinds, gajar halwa, kadu halwa, papri, zarda, gram halwa, suji ka jamawat, lodge sweet, muskat ka halwa, atta halwa, barfi and watermelon halwa. 
It was cooked in huge containers to be distributed to the poor, the workers in the family, friends and neighbours and we used to eat the halwas during iftari every evening.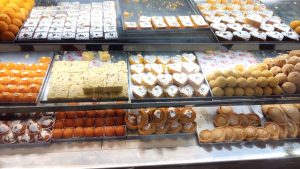 Though the streets are less crowded now it still feels nice to look forward to Eid, to see the lights, the decorations and the spirit of not giving in to fear in the midst of such a calamity. Though many of us are suffering from the disease, many have lost the battle, many families are mourning, many are also recovering and holding on to hope and the little joys of life.
During Ramadan after hours of fasting, sitting down with the whole family around the dastarkhan, uttering the dua to break the fast and savouring the taste of mother's food is a blessing. The food we have is also a testimony of tradition passed down through generations, kept alive in memories, carried forward like stories and cherished as a part of the family's history. This food is an anchor that binds us to our roots.  
Images courtesy: Sufia Khatoon