Food is not just a source of nutrition for our bodies. It is a rich source of memories, family bonds, love, friendship, comfort and affection. The new crescent moon signifies the first day of Ramadan, the most auspicious month for Muslims around the world. The days when we pray, fast, repent, abstain, and cleanse our bodies and mind to be more mindful of God, focus on our spiritual growth and attain His mercy. The importance of eating Sehri food together with our families, making sure to fast from dawn until dusk and breaking our fast with family, friends and even strangers is considered a blessing. It is a time to be grateful to God for everything and sharing our love and food with everybody to facilitate brotherhood. 
On the night before the first day of Ramadan, the muezzin in Kustia Masjid calls everyone at 3;00 am, 'it is time for sehri, please wake up, prepare for fasting and prayer'. 
I hear the neighbours calling out to each other from their windows with excitement, making sure everyone is awake. Even in a pandemic, they sound hopeful and look forward to a month when prayers will give strength to those who are suffering and slowly heal the world. 
I remember some 20 years back, I was some 10 years old or more with my younger siblings, fast asleep, snuggled inside our thick blankets, in the chilly winter nights, pleading to sleep for a few minutes more, when mother would call us all to eat sehri. We will wake up to steaming lachha, a kind of raw vermicelli which can be savoured with hot milk cooked in dry fruits. Raw lachha has to be eaten immediately as soon as the hot milk is poured over it, while roasted vermicelli or sewai has to be cooked with milk, ghee, dry fruits, condensed milk, mawaa, etc. on low heat for at least 15 mins to be served hot with more milk later. The taste varies for both the dishes but their sweetened goodness is meant to be enjoyed with family and friends. You can spot hundreds of makeshift stalls with stacks of homemade lachha and sewai during Ramadan in Kolkata.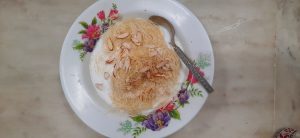 It is a dessert rich in flavour and calories which helps to sustain our energy levels for longer hours during fasting. Some believe fasting is beneficial for our health and it helps the body to heal and strengthen the immune system. 
In our family we usually give packets of lachha, sewai, sweet and dry fruits as gifts to the extended family, neighbours and friends to celebrate Eid-ul-fitar. 
Sometimes we eat a bowl of bhapa pitha and chitoi pitha with hot milk, which mother prepares with rice flour. This I really love devouring, because winter was always meant for steamed home cooked pithas. The delectable taste of soft pithas soaked in the winter chill, still makes my mouth water. 
The chushi pitha kheer or jawdana sewai was always a favourite treat for sehri because it was made with immense love. Whenever my nani came to stay with us, she always had the habit of sitting with a lump of dough and rolling it into small seed-like shapes on her fingers and dropping them in a big bowl to dry in the sun, while narrating stories of fairies and goblins to us in the courtyard. Mother would cook the dried jawdana sewai with milk and dry fruits for us later.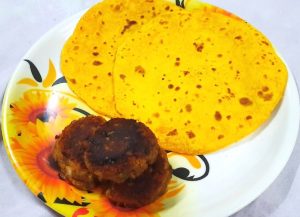 At times we eat puri jalebi, halwa paratha, at times bundia with milk and kheer with roti. Phirni is never missed out, especially the milk cakes and rabri in the wee hours of the night is a heavenly experience. For the whole month we look forward to eating mouth watering dishes, the butter naan cooked on chula with chicken rezala dipped in wholesome cream, is one satisfying dish. If you have this, you don't need to eat anything else, you just have to let the taste of it linger in your mouth and feel your mouth give out that satisfactory grin to yourself the whole day. 
The sweet kesar paratha with tikiya reminds me of those times when all the cousins and the elders would eat together in our family. Mother usually prepares tikiya after mincing the cooked meat and dal, adding egg, garam masala, coriander and frying it to perfection. Usually beef and goat meat is preferred for the tikiyas to taste juicy but kasuri methi chicken tikiya is also a family favourite during Ramadan. 
The sweet rotis which my aunts would prepare on the chula in the dimly lit kitchen, while all my cousins would wait patiently and nani would feed all of us sitting in a circle, one by one. It was a reward for not being naughty and also completing roza for the whole day. Some dear ones have passed away from our lives, but the memories of their warmth still linger whenever we celebrate life with good food.
The dishes consumed during Ramadan are highly rich in calories which allow the rozedars to work the whole day without feeling exhausted. It is advised to never exert oneself during fasting, to allow the body, mind and soul to recuperate and heal on its own.
After sehri we all would pray for fajr namaz. I remember me and my siblings would stand behind our mother and nani and follow the movement of their hands and body to offer namaz after sehri. Those were simpler times with simple people and their simple needs, which made life more beautiful.
Ramadan in the times of pandemic
This year people wearing masks are lining up at the food stalls to buy hing puri with sweet dal dish, jalebi and imrati, sweet milk with halwa, kabaa parathas, rice pudding, phirni, etc. I can sense fear, I can also sense negligence but then life is indeed a strange phenomenon, it refuses to stop. I pray that the pandemic can end soon and people can survive the dangers engulfing us all.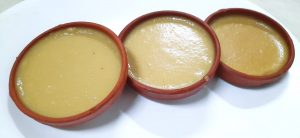 There are a number of new food stalls here and there inviting people to try everything. The haleem stall is a hit, you can smell the lentil and broken wheat mixture with meat and spices cooking in large pots. The longer it takes to cook, the better the taste. It is only during Ramadan that one gets to taste different kinds of haleem, prepared with five kinds of dal and meat. 
However mother cooked this amazing chicken haleem for us at home. 
She uses masoor, chana, uraad, moong, maskalia dal, kamini rice and wheat soaked overnight, and then she boils all the pulses with turmeric and salt. Then she prepares meat separately, you can choose chicken, beef or goat's meat to prepare haleem. The meat has to be cooked with garam masala, ginger, and garlic paste with green chillies. She then adds fried onions, roasted cashew nuts and white sesame seeds mixture in the haleem and dash of lemon juice for that tangy taste.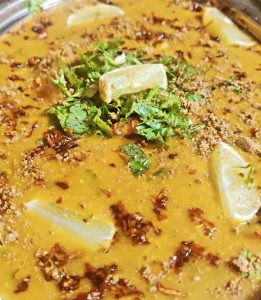 Mother insists on cooking everything at home for our safety. This year Ramadan feels different. I have never felt this alienation before but this is the reality of our times now. We all still manage to smile, I still demand the larger share from the sweets, both my siblings are home and I am grateful to see the family together and safe.
It is the third week of Ramadan, fajr azaan is bellowing from the microphone and this year everyone is praying at home. I can hear the muezzin uttering the duas in the green domed masjid near the coconut tree. From my window I can see some children fussing and going back to sleep, the fairy lights lighting the streets to celebrate alvida jumma, the last Friday of Ramadan. I can smell the fragrance of April rain showers mixed with loban, incense sticks and hope in the air.
Image courtesy: Sufia Khatoon