Come Christmas and we siblings would eagerly take part in preparing the mix for cakes. It would involve beating the egg whites into a stiff, fluffy mess; yolks, butter and sugar would follow next, and finally the refined flour mixed with baking powder and a little salt, vanilla essence, cashew nuts and raisins. The mix would be beaten till bubbles formed. Excitement was perceivable. Baking tins would be lined with buttered paper and more than a dozen small cakes would be baked, one for each of us, and the rest for our friends who dropped by and those who participated in the process of baking. It was almost like a community event! But as we moved to our respective workplaces, the practice stopped and it was to the local confectioners that we went. For we must have cakes on Christmas. But gone are the days when we would rejoice in sharing our cakes with friends and family.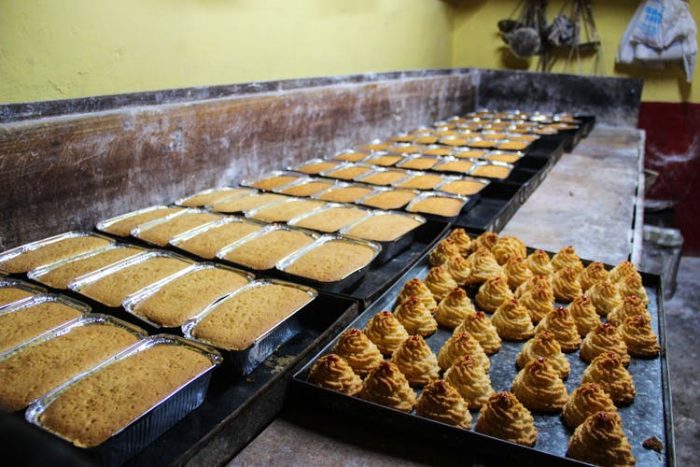 The tradition of baking cakes for Christmas and sharing them with friends, neighbours and relatives is slowly dying. "There was a time when we lived in a joint family, and we could follow the customs, but now with the nuclear family set up and our full-fledged involvement in our bakery business we are unable to follow traditions," states Debra Saldanha Alexander of Saldanba Bakery Even Sandra Fernandes, retired teacher, does not follow the custom of baking cakes for Christmas. "When my mother-in-law was there, ingredients would be taken to a local baker at Collin Street, and we would wait for our turn to have our cakes baked. Name tags would be inserted as the tins were placed inside the oven to avoid being interchanged, says she. Though she continued the tradition of baking Christmas cakes for a while, she stopped doing so due to her hectic teaching schedule, instead she opted to buy from the local bakers… "I prefer to buy from Abdul, my trusted baker who delivers my orders to my doorstep, it is more convenient, and safe during Cold times," she adds.
During the Covid-19 outbreak in 2020 many regulars who had their Christmas cakes baked at local community bakeries, spread across Kolkata in the Behala,  Taltalla, Beckbagan, New Market, Collin Street and Park Circus areas, stopped giving orders. These bakeries witnessed a sharp drop in business, but this year seems to be brighter and as Abdul, (referred by Sandra fernandes) says, orders are still pouring in. "This year I will be delivering about two thousand pieces across Tollygunge. Park Circus and Ballygunge." Abdul is part of the workforce at the Khetab Ali Bakery near New Market. At Bimala Bakery in Behala Chowrasta the story is the same. Last year, due to the pandemic, their business suffered. This year, they are booked from December 18 onwards, and will be entertaining a large number of families to come with their ingredients and bake their Christmas cakes. It is a sixty-year old bakery established by Balkrishna Saha, and this year they will have over five hundred families lining up to bake their Christmas cakes, amongst which there will be Christians, Hindus, and Muslims. This  year, it is proving to be a busy time for many local bakeries.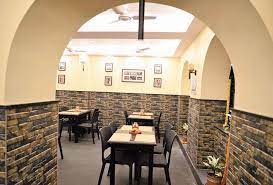 When I visited Mary Ward Café and Bakery at the Kolkata Mary Ward Social Centre (KMWSC), a wing of the Loreto Congregation in South Asia, in Convent Lane, the mood was upbeat. They opened their bookings from December 17, and expect to bake over 400 kgs of Christmas cakes. The process will begin daily from 6am and continue till 11am. "People from all over Kolkata come to bake here," informs Samata Bali, HR & Livelihood Lead, KMWSC. Mary Ward Cafe and Bakery maintains a very high standard of cleanliness because of which it is a much preferred bakery, and also because the earnings from this bakery are used for funding the skills unit and the Food ATM, which feeds the poor. A special area is marked where their patrons come and sit with their families to wait for their turn to bake. All ingredients are handed over to the staff at the bakery who do the mixing, arranging and baking.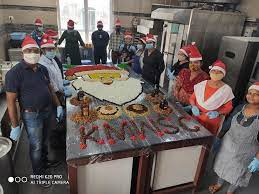 Teresa Gupta who does her baking at the Mary Ward Cafe and Bakery, has been carrying forward the family tradition of baking Christmas cakes." I actually get around 60 pieces of cakes, mainly to give, as has been the tradition in our family. Earlier, the numbers were higher, but now with our present-day nuclear family system numbers have reduced," says Teresa.
The story of Christmas cakes-popularly known as plum cakes can be traced back to medieval England, where it was a popular tradition to observe a period of fasting and abstinence from every kind of indulgence in the weeks leading to Christmas. This practice was supposed to prepare the body for the overindulgence and excesses of Christmas. As was the custom, on the eve of Christmas a rich porridge was cooked and eaten to 'line the stomach' for the upcoming feast The porridge was supposedly prepared with oats, dried fruits, spices, honey, and sometimes even meat. This was perhaps the precursor to the Christmas, or plum, cakes. With the passage of time, more ingredients were added to the porridge, and it started to resemble its current form. It was, as is believed, in the 16th century that oats were replaced with flour, and eggs and butter were also added to the mixture.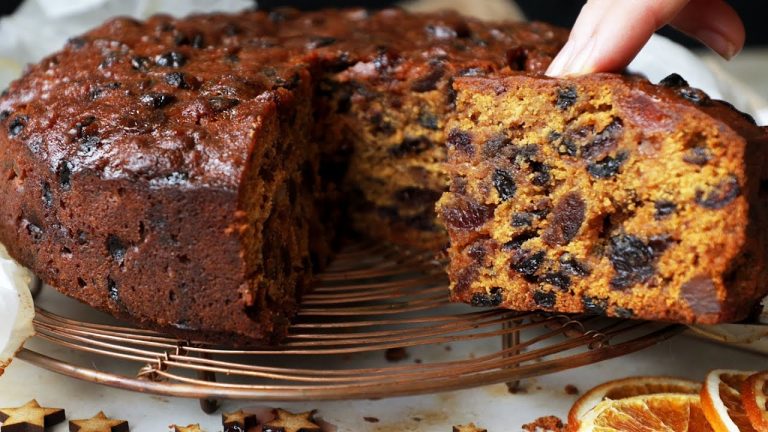 The taste of Christmas cakes varies from one family to another as the ingredients used also vary. For example, the ones prepared by Minoti Biswas's family, no alcohol was used in the cake mix. Each family has a different recipe to which they adhere, but the spirit of giving remains unchanged in every family. This holds true for Elizabeth Das, a dedicated nurse, who in spite of her financial challenges (both her son and daughter-in-law lost their jobs during the pandemic) will be baking twenty-five Christmas cakes at her local baker. Of these she will keep two for her family and the rest will be given away as gifts. She recalls how as a child she would accompany her mother Teresa Sebastian, to a baker in Beckbagan. "My mother would make over 100 plum cakes to give to our relatives, friends and neighbours. I have tried to hold on to my family's tradition and I am sure my daughter-in-law will carry it forward as well," states Elizabeth.
The custom of baking Christmas cakes will never die as also the spirit of giving. Only Christmas can bring all communities together as is evident in the long queue of buyers at Nahoum and Sons and the Saldanha Bakery, at which Hindus and Muslims outnumber the Christians!
Images courtesy: Arundhati Gupta and Youtube