Kolkata has geared up to welcome the spirit of Christmas with several litres of 'high spirits' and literally so.  High-quality rum, brandy, wine, gin, and other alcoholic and non-alcoholic beverages went into large quantities of dry fruits, nuts, grains, tutti frutti and spices for some serious oozy-boozy Christmas cake. Various venues across the city hosted cake-mixing ceremonies to set the mood for the festive season. This elaborate mixing process lends the traditional Christmas cake its unique flavour, aroma and texture with the fruits soaking in the spirits.
Christmas is just about four weeks away, but the preparations have started much in advance. From the second week of November, Kolkata went into a cake-mixing mode, with numerous activities being conducted at hotels, resorts and cafes. "Cake-mixing has always been a private event confined to individual homes," says Iona Louise Kundu, Founder-Chairperson, Mentaid, " my mother would prepare the mix for more than 50 one-pound cakes," she continues… "And, we brothers and sisters would be given charge of taking turns to watch over the dry fruits that were washed before the actual mixing." Iona informs that no friends or relatives participated in the actual cake-mixing where all the dry fruits would be steeped in wine and rum for weeks before the actual baking. "It was a joyous occasion where the accent lay in the 'spirit of giving' as most of the Christmas cakes that were baked were gifted away to relatives, friends and neighbours." She laments the fact that she has not been able to keep up the tradition any more, ever since the pandemic disrupted proper planning. Teresa, a resident of CIT Road, is still carrying on the tradition of cake-mixing…"I mix fresh fruits, raisins, cherries (after washing and drying) with rum, brandy and gin and steep them for twenty days before they go for baking." The Christmas cakes that she bakes are "mainly for giving".   
The tradition of the cake-mixing ceremony dates back to the 17th century when the fresh, seasonal harvests of fruits and nuts were used for making the traditional plum cake. A portion of the mix was kept aside for the next harvest season, with the hope that the coming year would bring with it another abundant harvest. This ceremony metamorphosed into a close family affair, and then into a public affair as we get to witness now in Kolkata. The occasion of cake-mixing sees an invited gathering. The year 2020 stole away the spirit of Christmas joy with Covid-19 restrictions and the news of deaths from all over the country, the celebratory mood had dampened. But this year, there were happy tidings with reputed hotels hosting cake-mixing ceremonies followed by feasting! The LaLIT Great Eastern, J.W. Marriott, The Hyatt Regency, The Vedic Village Spa Resort, The Fern Residency and the Bunaphile Café, have all  hosted cake-mixing events in recent weeks.
At the LaLiT Great Eastern, cake-mixing was celebrated with their valued patrons and guests staying at the hotel. Every year, two months before Christmas, they celebrate the ritual of 'cake-mixing' at The BAKERY. For mixing, they keep all kinds of dry-fruits, tutti frutti, cherries and other ingredients, which in turn go into making fruit cakes and plum cakes. These fruits are mixed with premium quality liquor and fruit juices, and soaked for two months to bring out the desired and authentic taste of the favourite Great Eastern Christmas Cakes. J.W. Marriott too saw a select gathering of patrons, hotel staff and special invitees all of whom had a tremendous task of mixing an assorted 225 kg of fruits with 67 litres of brandy and rum! For 40 days, the mix will be allowed to steep before their special Christmas cakes, Christmas puddings and Dundee cakes come out of the oven.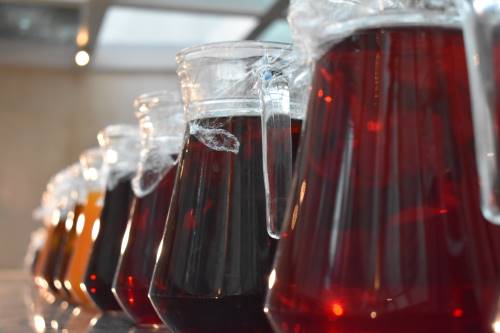 The most unique part of the cake-mixing ritual in Kolkata is that  it cuts across caste, creed and religion! "Everyone comes together to spread good cheer and celebrate the spirit of Christmas," says Luna Chatterjee, social influencer, brand strategist and ideator, who helped host two cake-mixing events at The Fern Residency and at Bunaphile, the new entrant in the café business. Sonika Dey, owner of the Bunaphile Café, was happy to host its first cake-mixing ceremony. "This is an occasion that symbolises warmth, bonding, friendship, happiness and good fortune for all," says Sonika, and quickly adds, "I can say for sure, that this tradition will continue at this cafe for years to come." 
These days, people from different walks of life come together for this ritual of cake-mixing. Though it is essentially a Christian tradition, the Christmas spirit of giving and sharing has now touched people of all communities, making it a secular celebration where everyone can take part and enjoy themselves. Minoti Biswas, a retired teacher and a social worker, remembers her childhood at Beckbagan, where she grew up amidst people of all religions.  Keeping this in mind, her father used to give strict instructions before cake-mixing, that only fruit juices but no alcohol should be used to prepare the mix. "Christmas was all about giving," recalls Minoti. "Most of the Christmas cakes would be distributed amongst our friends, relatives and neighbours. As many of our neighbours did not touch alcohol, alcohol was not used at all."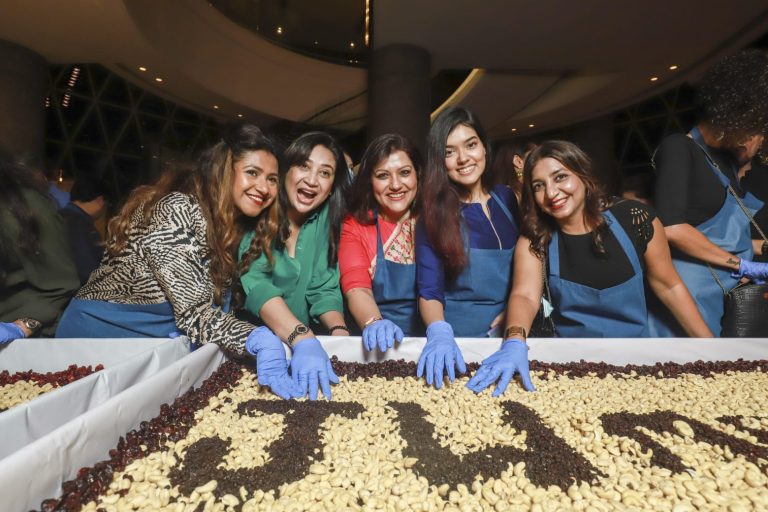 For every Kolkatan, Christmas is the time to relish a 'cake'…even  neighbourhood grocery stores and tea shops in the city stock up with 'cakes' sourced from local bakeries, thus cake-mixing in recent years has taken on a celebratory colour with many add-ons. Rajib Roy Choudhury, Sr General Manager of Vedic Village Spa Resort, decided to invite the special children of Artemis Fountain Foundation to join in the cake-mixing ritual. "We used about 15 kg of different types of fruits, nuts, peels and spices and soaked it all in rum, wine, syrups and fruit juices," informs Mr Roy Choudhury. To initiate the mixing and steeping, Father Franklin, a Diocesan priest was present along with other celebrity invitees. On this occasion, the children of Artemis Fountain Foundation were given gifts and treated to a sumptuous meal.
From being a household ritual, cake-mixing has now become a popular event with which Christmas is welcomed in Kolkata. Then everyone waits eagerly to treat themselves to delicious plum puddings, fruit and Dundee cakes. 
Images courtesy: Arundhati Gupta