Before Dadasaheb Phalke made Rajah Harishchandra, Ramchandra Gopal Torne made Pundalik (1912) with a running time of 22 minutes. He sent his film overseas for processing. Before Torne's Pundalik, Harishchandra Sakharam Bhatvadekar (Save Dada) filmed a wrestling bout in 1899. Jyotish Sarkar of Kolkata filmed the Anti-Partition Day events in 1905. Phalke produced, directed, processed and distributed his film without any outside help. He also refused invitations by overseas financers to go abroad and make films for them.
Hiralal Sen of Kolkata would and should have been rightly recognized as the Father of Indian Cinema as his filmmaking precedes that of Dadasaheb Phalke. But not a single document in paper, photographs, reels of film or people remain as proof of his monumental work comprising 40 films including his picturization of a full-length play Alibaba and The Forty Thieves (1903), a popular play produced by Amarendra Nath Dutta's Classic Theatre. 
Dadasaheb Phalke's first feature film Rajah Harishchandra was made in 1913. So, the official recognition of Phalke as the "Father of Indian Cinema" is perhaps right technically and legally speaking. The Dadasaheb Phalke award for lifetime contribution to cinema, was instituted in his honour by the Government of India in 1969. The award is the highest official recognition for film personalities in the country. A postage stamp bearing his likeness was released by Indian Postal Service to honour him in 1971. An honorary award from the Dadasaheb Phalke Academy Mumbai was introduced in the year 2001, for lifetime achievement in Indian cinema.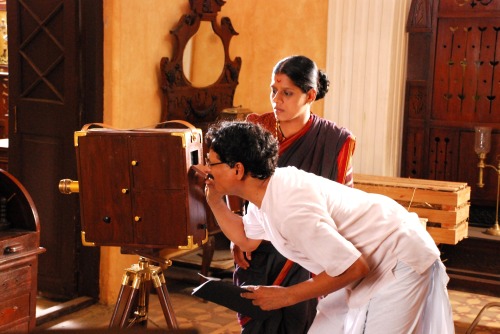 In 2009, the Marathi film Harishchandrachi Factory directed by theatre veteran Paresh Mokashi narrates in fictional format, Dadasaheb Phalke's struggle in making Raja Harishchandra in 1913. It was also selected as India's official entry to the Academy Awards in the Best Foreign Language Category but lost out in one of the rounds towards the end.
Harishchandrachi Factory marked the debut of Mokashi into the world of feature films. Noted film historian Sanjit Narwekar criticised the film roundly for its romanticisation of the struggle Phalke had to go through and turning it into a kind of comedy instead of approaching it as a faithful recounting of authentic history. He also pointed out some historical inaccuracies which he ought to be an expert on, having won the National Award for Best Writing on Cinema for his work on the History of Marathi Cinema.
But the audience loved the film because it was a beautiful melting pot of entertainment, education and information for the masses. Harishchandrachi Factory (Marathi) is the result of Paresh Mokashi's research and recreation of history through fiction. The film was India's sole official entry to the 82nd Academy Awards but lost out before reaching the finals. Mokashi says, "I never had the Oscars in mind. Marathi was the obvious choice because it is my mother tongue, and I work in Marathi theatre. Most importantly, Dadasaheb Phalke was a Maharasthrian."
"My research informs me that he was a very witty person with a sharp sense of humour. He took on all kinds of problems in his stride without complaining and refused to be bogged down by fear of failure. Here was a man who had achieved so much, took so many risks yet was never emotional. It is this aspect of his life that appealed to me," says Mokashi.
The film opens when Dadasaheb Phalke has abandoned his well-established printing press after a tiff with his business partner, promising to himself that he would never go back to the business of printing again. With two growing boys and a wife to take care of, he wanders around the streets of Dadar where he lived, looking for a job. He accidentally stumbles across a tent theatre that is screening a silent motion picture called Life of Christ (1910). From then on, he was obsessed with the idea of making the first Indian motion picture, Raja Harishchandra.
"He was sincere, progressive, short-tempered, but spunky. I got footage filmed by Saraswatibai, Phalke's wife, and also shots of Phalke directing his first film. I read up two biographies on Phalke. This gave me an idea about his personality," says Nandu Madhav, who has essayed the role of the eccentric genius, Phalke. He adds that Phalke's entire unit was arrested on the first day of the shooting because they were using gadgets no one knew anything about!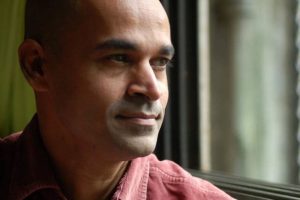 Paresh Mokashi, a young man of few words, never stepped into the world of films before because he was deeply involved in Marathi theatre. He had no training or initiation into making films. Remembering his choice of such a difficult subject for his first film, Mokashi said, "When I read Phalke's biography by Bapu Watve, I could see a screenplay, complete with visuals. I felt I had to make this story into a film. Putting it on stage would have been too limiting. When it went to the Oscars, never mind that it did not make it to the final, I understood the power of the subject. I had no idea about the film going to the Oscars at all."
Harishchandrachi Factory does not appear like a historical film at all, but evolves into an entertaining film that informs and enlightens without dragging the narrative into pedantic philosophy. It is not like a biographical documentary either. that often becomes a chronological document of sequenced events in the subject's life. It has all the features of a mainstream film that, though made in Marathi, has universal appeal.
Why the word 'factory' for a film on the making of India's first film? When Phalke is all set to recruit people for his first film, some people tell him that their families do not like the idea of working on a film set as filmmaking is a socially unacceptable profession. "Just tell them we are joining a factory," he says and everything will be fine. When he advertises for the crew, every kind of applicants come in till he decides not to put up advertisements any more.
Unlike typical biopic films, Mokashi used light humoured adventure style for the film. The film gathered wide critical acclaim and Mokashi was praised for the narrative style. The film also participated in several national and international film festivals.
Explaining why he gave the film a black humour tone, Mokashi said in an interview ten years ago, "I never imposed my style on the film. The humour came out of the biography. Phalke was a very interesting, eccentric, scientific person with a unique sense of humour. I had certain ideas about the making of the film, so I stuck to that. The still-frame treatment that I used has been handled by plenty of masters. It's just that it has become very rare these days. It matched the period feel and the old style of filmmaking. Just because a camera can be moved around like a cricket ball, everyone assumes it's the main facility a camera can offer. All you see these days are pans, tilts and tracks and trolleys," which was true then but not necessarily so in this day and age of digital and online filming and editing almost in a virtual world. So, this film remains as an archival memory of a time when films were shot in studios with large cameras and cranes and so on.
In January 2011, Mokashi inaugurated the 5th National Book Exhibition at Nagpur and mentioned that if he hadn't read Dadasaheb Phalke's biography in 2005, he would not have made the film ever. At the same time, he added that given a chance he would change everything about the film.
That said, the fact remains that the essence of the film's appeal lies in the way it succeeds in getting across the passion and singular obsession of a man for the audience, that, after a point, gets involved in what is happening on screen. The closing shot ends with a toy parrot made of wood with hinges that can be made to move its wings with the person holding the toy. This follows the tremendous success of the film Rajah Harishchandra showing how 'movement' in pictures inspired 'moving' innovations in other fields too. A beautiful closure indeed. Warts, if any, are completely forgotten in the cheerful mood the film generates.
Mokashi went back to theatre and did not make many films other than being linked to some organizational collaborations after this one. He made a short film in Marathi called Elizabeth Ekadashi in 2015 which opened to rave reviews. But with Harishchandrachi Factory, his name will remain in the archive.