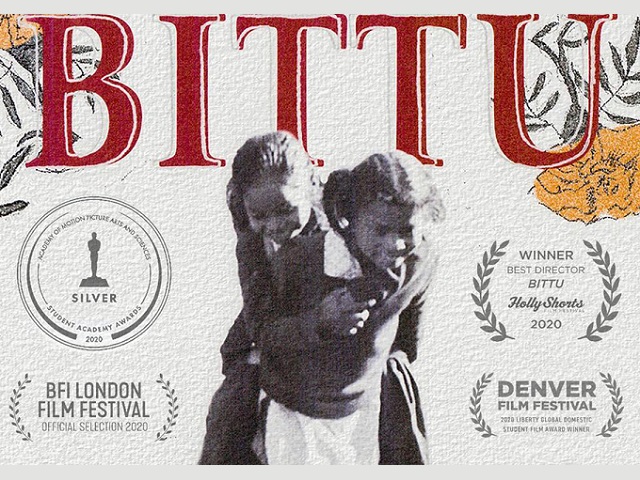 Bittu is a little girl who is the protagonist of a 17-minute short fiction film Bittu. It is certainly not a children's film but it presents a world we know little about from the perspective of this girl and her best friend Chand who study in the same school in the Himalayas. Their antics remind us of simple childhood games today's city children know little about.
Bittu is very naughty, smiling at adults with that dimple in her chin, dancing away to some young city-bred studs who throw coins in front of the two girls, and the only meaning she knows of the word "chakka" is a sixer in a cricket match. She probably does not know that the word chakka also means transgender. Her uniform topped with the red sweater which everyone wears, is not quite clean nor is her uniform washed and ironed properly. The young boys teasing the two girls with coins is a pointer to how cruel these city-bred smarties are who poke fun out of girls they think belong to a lower class (rich/poor) (urban/rural) than they do as their perverted form of amusement.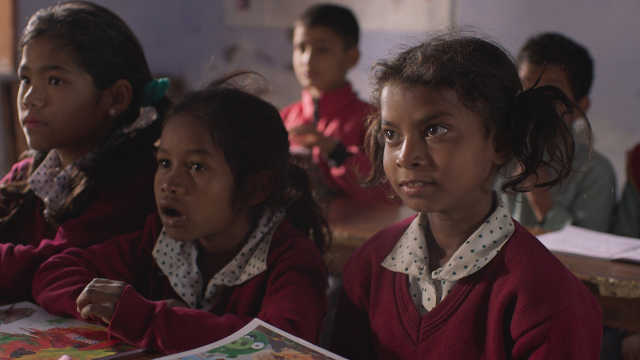 This sets the mood of the film that revels in underlying contrasts in the country we live in. The picturesque landscape of the hills, the blue of the skies stand in sharp contrast with the subsistence-led lives of Bittu and Chand who are not given any family backdrop perhaps taken as a given. There is the contrast between the brashness of the city youths and the naive innocence of the little girls who are familiar with Hindi films and their songs but do not quite understand them.
Bittu's hair is forever slipping out of her plaits tied with red ribbons, her uniform worn any which way and her appearance raises doubts about whether she ever took a bath. Chand is her best friend and the quieter between the two. They attend the village school. The only thing that matters to the nine-year-old Bittu is her close bonding with her best friend Chand. But Chand is not half as naughty, as bold or as aggressive as Bittu. Her only game is that she often does "katti" with Bittu as she knows that it is the only thing that can bring Bittu back to her.
This "katti" "batti" element has disappeared from our cities where children are stuck more to mobiles and tabs than to friends. But it brings back our childhood when katti-batti hung over our innocent heads like the sword of Damocles. The film brings back this mood which sustains in small towns and villages till today.
In the village school, where the headmistress is concerned about the kids, Bittu is pulled up every now and then because she is very naughty, disobedient and not interested in studies. The young teacher tries his best to make her wash her face with soap and water but there is little that can make her straight. She is so attached to Chand that she once threatens the little girl about jumping off the school van if Chand does not do 'batti' with her.
This beautiful rhythm of life expressed through Bittu and her bold aggression, underlined with a lot of anger her teachers are unable to rein in, is crushed in the cold and hillly spots of Koti village in the Himalayas. The lyricism of life created by the beautiful, low-key music on the soundtrack is crushed with the tragedy of an accidental food poisoning of the school children. The film does not harp on the violence and marginalises this to the friendship of the two girls but is given only that much footage that suffices to reflect the tragedy of Bittu's life.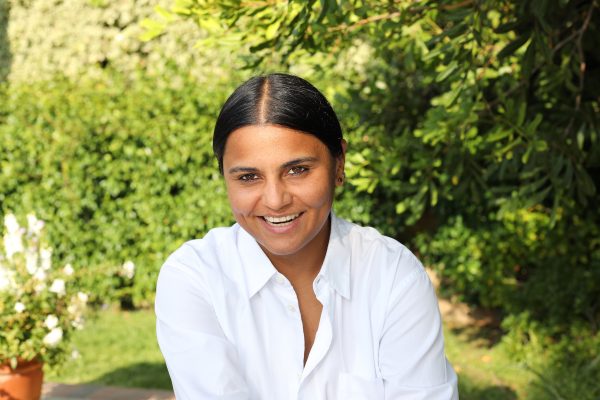 This is Karishna Dev Dube's debut short film which she made as part of her thesis as a student of Cinema in New York. The film is presented by Ekta Kapoor, Guneet Monga, and writer-director Tahira Kashyap Khurrana under the banner Indian Women Rising (IWR), a Cinema collective aimed at discovering and encouraging Indian female talent. Bittu released in 2020 in the USA, received a 47th Student Academy Award along with an Oscar. It was a special film for the Indian Women Rising Collective and urged everyone to 'rise together'. The film has now been shortlisted in the Live Action Short Film category at the forthcoming Academy Awards 2021. Karishma Dev Dube also previously bagged the prestigious Director's Guild of America (DGA) Student Award for Outstanding Directorial Achievement in the Asian American Category for Bittu.
According to Karishma, she was inspired by a tragedy that happened in a school in Bihar way back in 2013. But she waited for seven years, allowed the idea to germinate and settle at the back of her mind which she turned into a screenplay and a film presents her interpretation of the tragedy reflected through a close friendship between two little girls. Bittu was born not as a picturisation of a tragedy but as a glimpse into a life and world we are ignorant about.
The cinematography, music, production design, and editing are perfectly matched with the scenario of the entire film. Saurabh Saraswat is perhaps the only actor who belongs to the profession and performs well as the young dedicated teacher. What stands out is that Dube very successfully avoids any 'message' through her statement as much as she steers away from any sentimentalisation or melodrama and of course, any romanticising of poverty or critiquing of the education system though the film is a pointer to the lop-sided picture of development that exists in the country after more than seven decades of Independence. Bittu twirls a stone-wrapped cloth in her hand, swings it again and again and throws it with force at a vehicle speeding by, the grief shadowed now by the anger she is born with and into.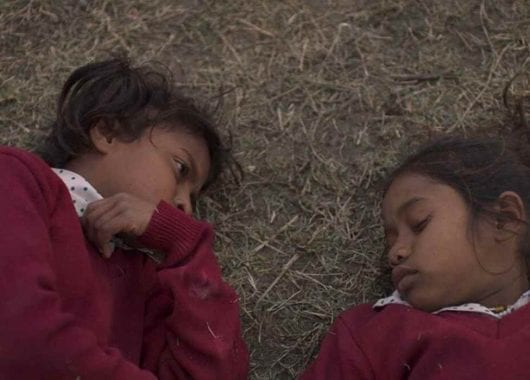 The two girls who portray Bittu and Chand are Rani Kumari and Renu Kumari. They had never before this, faced a movie camera yet looked as if they were real girls walking out of the story and then, after mesmerising us, walked back into it. The haunting memory of those two girls, holding each other's fingers, side by side against the wintery ambience of that remote village, with Bittu lying beside Chand, trying to wake her by holding her lifeless finger with her own warm one.