Japan embraced several hundred Indian revolutionaries from 1900 to 1945, providing shelter and material support to Anushilan Party and Ghadar Party activists who had death penalties hanging over their heads in British India. Among them was Rash Behari Bose. 
The story of Rash Behari Bose starts in the 1890s when he, as a little boy, began to dream the giant dream of an Independent India. Self-exiled in Japan after escaping from Calcutta under the name of 'P. N. Tagore' in a Japanese ship 'Shanuka Maru' on May 12, 1915, he reached Japan via Singapore, and became a Japanese citizen on July 2, 1923. He gave the call 'Asia for Asians', founded the Indian Independence League, and later founded the Indian National Army (Azad Hind Fauj) with Mohan Singh on September 1, 1942, rescuing thousands of captured Indian soldiers by his intervention with Japan and providing a lifeline to several million POW Indian soldiers in the 1940s.
Prasun Roy in his book, A Samurai Dream of Azad Hind—Rash Behari Bose, published by Vitasta Publishing, has chronicled the story of Rash Behari Bose and also the story of thousands of other men and women involved in the armed struggle to free India and the extensive support network they created, not only throughout  India, but globally. The book was launched at Starmark, South City Mall on June 17, 2022. Priced at Rs. 595/-  the book is now available at all outlets of Starmark.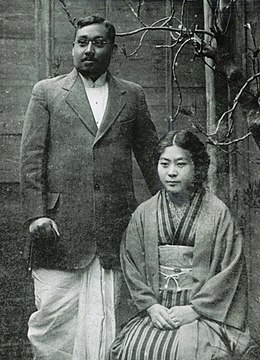 Prasun Roy, is based in Kolkata and writes in varied genre, including narrative non-fiction,  biography, adventure, mystery, thrillers and young adult fiction. Here's an excerpt from his interview with Arundhati Gupta.
Arundhati: How and when did you develop an interest in heroes of our freedom movement, particularly those from Bengal?
Prasun: In search of writing something meaningful for a larger audience, I first thought of working on the unsung heroes of this country. In a land where predominantly 3 or 4 names of freedom fighters are known across the country, there are so many unsung heroes about whom we are forgetting with the passage of time. I felt, as an author, I must try to do my bit to change that. I am not a historian or a scholarly researcher. Writing is my passion and I do that with complete honesty. This book too is an outcome of that honest endeavour.
Arundhati: Why did you choose to write about Rash Behari Bose? 
Prasun: Rash Behari Bose has been largely forgotten. But he worked out a large-scale collaboration across the country and outside the country for an armed retaliation similar to the Sepoy Mutinee. In 1915, he was the one who could convince native soldiers within 26 cantonments of the British Indian Army to revolt against the imperial rulers. During the Second World War, he was the man who cemented the foundation of Indian Independence League (IIL) and the Indian National Army (INA) formed with prisoners of war who were Indian soldiers of the British army, and convinced Japan to support the INA and treat them with the honour they deserved. He was no ordinary man, but, unfortunately, today he is barely known within India. So, I wanted to do something to spread the word about this hero of India. 
Arundhati: How long did it take to write this book? Who guided you the most in your research?
Prasun: I started working on the book about 2.5 years back. In my urge to make the book relevant and interesting to the young as well as matured readers, I adopted a fictional story-telling method of narrative for a non-fiction subject. Most of my work is based on secondary research, primarily books and brainstorming with my publisher.
Arundhati: When you started writing this book, who did you have in mind as the target readers?
Prasun: As I mentioned earlier, I wanted to reach out to both young and matured readers. Moreover, I also wanted to take the saga of Rash Behari Bose beyond the borders of Bengal across the country. He is someone who deserves a national commemoration. For that, people across India and abroad must be able to read and know about him.
Arundhati: Which other heroes would you like to write about?
Prasun: I am planning to write about Bagha Jatin and Deshbandhu Chittaranjan Das, or even those involved in the Alipore Bomb Case. Just like Rash Behari Bose, they are individuals who deserve to be nationally acclaimed, but have unfortunately become forgotten.