It's  been  a  long,  tough  year  for  everyone,  but  for  many,  the  pain,  loss  and  heartbreak  has  been  insufferable.  On  one  side  the  pandemic  ravaged  lives,  and  on  the  other,  extreme  and  intense  hatred  for  fellow  humans  saw  new  heights.  Not  only  on  social  media  platforms,  but  in  real  life  too.  And  amidst  the  pall  of  gloom  that  surrounded  us  most  part  of  the  year,  it  was  hard  to  find  hope  and  keep  the  faith, especially  in  humanity,  alive.  But  fortunately,  even  in  utter  hopelessness  and  from  the  ashes  of  distress,   stories  of  unity  and  kindness  emerged.   Whether  it  was  people  assisting  one  another  during  the  peak  of  the  pandemic,  or  strong  statements  by  sportspersons  calling  out  racism  and  discrimination  on  the  sports  field – these  flickers  of  hope  kept  the  flame  of  humanity,  aglow.  
Kindness  and  brotherhood  are  cornerstones  of  society  even  outside  a  human  crisis.  This  message  has  been  reinforced  time  and  again,  whether  by  the  fourteenth  Dalai  Lama  who  urged  people  to  be  kind,  and  said,  "Be  kind  whenever  possible.  It  is  always  possible."  Or  during  the  recently  concluded  IPL,  Robin  Uthappa  of  Chennai  Super  Kings  franchise  asserted  its  urgency,  when  he  said  after  his  match-winning  performance,  "Let's  be  kind.  The  world  needs  it."    And  while  it's  always  a  good  time  to  be  kind,  in  our  current  situation,  when  we're  experiencing  a  spike  in  mental  health  issues,  kindness  acts  as  an  antidote  to  the  stress  resulting  from  trauma  and  anxiety  of  the  unprecedented  times,  the  loneliness  suffered  by  individuals  forced  into  social  isolation  cut  off  from  loved  ones  for  long  periods  when  the  need  for  a  community  support  system  is  absolutely  crucial.  
It's  no  surprise  then  that  universally  valued  prosocial  behaviour  that  includes  helping,  sharing  and  volunteering  with  intent  to  benefit  others,  not  only  improves  an  individual's  mental  health,   it  also  has  a  significant  impact  on  community  wellbeing  and  is  the  need  of  the  hour.  Unfortunately   the  quality  of  kindness  humans  need  today is  receding.  A  study  published  in  Psychology  Today  showed  a  40  percent  drop  in  empathy  levels  among  college  students  post  2000.  One  of  the  reasons  for  this  drop  pointed  towards  decline  in  outdoor  activities  and  free  play,  an  area  where  children  connected  with  one  another  and  learn  to  support  and  care  for  their  teammates.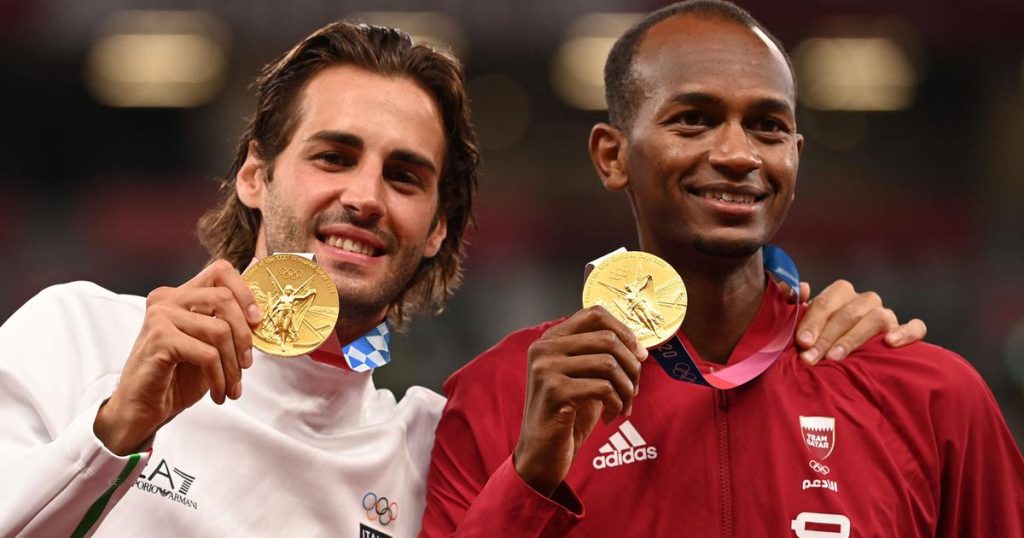 Sport  is  a  great  teacher,  where   children  learn  some  important  values  on  the  field,  one  of  them  being  sportsmanship.  Sportsmanship  involves  respect  for  one's  opponent,  integrity  on  the  field  and  graciousness  that  one  shows  even  in  defeat.   And  it  goes  without  saying  these  positive  traits  ingrained  in  a  child's  psyche  serve  in  every  sphere  of  life.  One  of  the  most  followed  and  celebrated  sporting  events,  the  Olympics  this  year  showed  the  way  with  some  heart-warming  examples  of  sportsmanship.   Every  Olympic  event  gives  the  world  rich  memories  and  sporting  feats  to  remember,  but  this  year  along  with  the  glory  of  sport,  there  were  some  tender  moments  that  will  remain  with  us  for  a  long,  long  time.  
One  of  the  standout  moments  being  close  friends  and  rivals,  Qatar's  Mutaz  Essa  Barshim  and  Italy's  Gianmarco  Tamberi,  who  ended  up  finishing  on  equal  points  in  men's  high  jump  and  instead  of  going  for  a  jump-off  to  decide  the  winner,  they  opted  to  share  the  gold  medal.  Such  an  act  shows  that  even  at  the  highest  level  of  competitiveness,  there  is  always  scope  for  friendship  and  compassion.  Just  like  that  even  in  life,  despite  the  rat  race  for  survival,  where  everyone  is  aiming  to  get  one  step  ahead  of  the  other,  kindness  can  still  be  an  option.    
Another  positive  lesson  sport  teaches  children  is  acceptance  and  how  to  respond  to  winning  and  losing  that  can  be  applied  to  everyday  life.  Like  in  sport,  results  in  life  too  are  sometimes  not  in  our  control  and  there's  no  use  beating  ourselves  up  over  it.   For  the  youth  who  easily  get  disheartened  and  tend  to  see  failure  as  a  dead  end,   when   they  watch  sports persons  they  adore  pull  themselves  together  after  a  defeat,  and  act  with  control  and  civility,  they  learn  to  respond  with  the  same  steely  resolve  when  they  find  themselves  upfront  with   similar challenging  situations.  
One  doesn't  need  to  look  too  far  as  the most  recent  display  of  this  came  after  the  recent  India-Pakistan  T20  world  cup  qualifier,  which  India  lost  to  their  archrivals.  But  more  than  the  painful  defeat,  watching   Indian  captain  Virat  Kohli  embrace  opponents  Mohammad  Rizwan  and  Babar  Azam  was  such  a  refreshing  sight  that  it  wiped  out  part  of  the  disappointment  fans  experienced  from  the  drubbing.  It  also  came  at  an  apt  time  when  emotions  were  running  amok.  His  gesture   not  only  calmed  the  frenzy  fans,  it   went  a  long  way  in  restoring  some  semblance  of  order  given  the  longstanding  rivalry  beyond  the  field  that  could  have  easily  tipped  over  and  flared  up  into  heated  exchanges  on  social  media  between  fans  from  both  sides  of  the  border.   Instead,  we  saw  respect  and  empathy  flooding  social  media  platforms,  the  way  it  should  be  in  sport  as  in  life.   
Kohli  also  went  on  to  silence  those  dissenting  fans  who  questioned  his  teammate,  sending  a  strong  message,  and  a  much  needed  statement  against  discrimination.  For  a  sportsperson  like  him  who  has  a  huge  fan  following  and  influence,  he's  a  mentor  when  it  comes  to  shaping  young  minds  and  developing  core  values.  When  children  watch  them  stand  up  for  each  other,   irrespective  of  region,  religion  and  race,  they  learn  that  there  is  no  room  for  racism  on  the  field  or  in  life.  And  in  the  end,  irrespective  of  which  team  wins  or  loses,  it  ensures  the  triumph  of  humanity!