What a fancy name…egg Frittata!
Sure it's Italian, but it's safe and comfortable for all natives and immigrants and a healthy choice for old and young. Frittata nurtures the epicurean palate and feeds hungry gluttons. It treats all, white, brown, yellow, black, gay, and straight, with love and compassion. Guys!, It looks like it came straight from our favourite Sesame Street. It's fun already.
Now you are talking about versatility. A good frittata is good for breakfast, lunch, brunch, dinner, or anytime you are hungry or have that craving to nibble into a snack. Warm it up, leave it up for grabs at room temperature or straight from the refrigerator to the plate when the microwave is not working, or you are late and too lazy to heat your oven. Get a fork and dig it up. Add some relish, hot sauce, chutney on the side. Ah! Pleasure is thy name.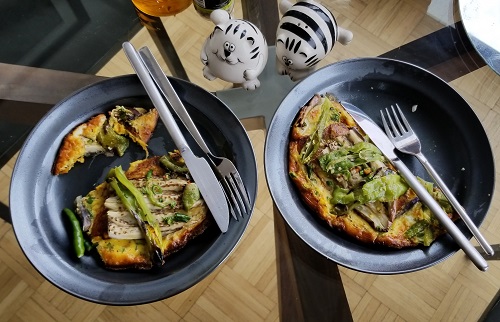 Are you ready to make one? Don't worry! It is incredibly easy to make. All you need is a frying pan or a baking dish, better if you have an iron skillet in your kitchen. Break a few eggs, douse your pan with a little butter or cooking oil, and pack it up with some vegetables. Just throw in whatever you have in that vegetable tray or leftovers from last night or a week ago. Just about anything would do really.
The whole point of a frittata is that you can make it anytime, with almost anything. If you have the fillings cooked already like the leftover rice, pasta, vegetables, potatoes, fish, shrimp, chicken chunks, the cooking time will cut short and make it easy. Or else, if the ingredients are raw, have them half cooked. Add a little butter or oil in the heated skillet or pan. Add spices to your taste, ginger juliennes, chopped garlic, green chilies, black pepper, whatever you think would kick your taste buds. Add cheese if you have it, or love it. Beat few eggs, two or three eggs, Pour it over the filling, leave the pan over low to medium heat for 8 to 10 minutes or shove it in the oven at 375 degrees. The eggs will set in. Switch off the oven, and let it cook for another 5 to 10 mins.
Your frittata is ready. Cut into wedges and savour it with your heart. Bon Appetit!