"Dilli Dekho".
A child, mesmerised by this faraway call, looks gaping at the moving images of the capital city. When travelling was an expensive indulgence and not many could afford it, the moving images in a kaleidoscopic drum or the long paper charts with pictures, were the main sources to satiate a hungry mind. So we had pictures of the Taj Mahal, Fatehpur Sikri jostling for important space along with those of Red Fort, Qutab Minar, Humayun's Tomb, India Gate, Rashtrapati Bhavan and the Lodhi Gardens. Delhi had that lucky charm of fascination which every child received from the history text books.
My first trip to New Delhi must have been in the decade of the late seventies or early eighties. The finesse and richness of Mughal architecture had left me in love with History as a subject. The old world charm in the minarets and monuments gives you an eerie sensation. It is as though we get transported to a different historical time. Once on a trip to Delhi, we decided that, like other tourists, we would also visit Agra. That was when one of Baba's students, who had been pursuing his higher studies there, decided to accompany us as well. The journey was made by a travelling coach.
My first glimpse of the Taj Mahal was at night, with the glow of the moon flooding it from all sides. The Taj, standing regally, in the distance had transported me to another world – another time and place. The next day, in broad daylight, we visited the mausoleum once again. Tourists from all over India and the world were thronging its gates and were scattered around the adjoining areas. The touch of cold marble and the intricate inlaid craftsmanship were to remain etched in my memory till today as I write this. As we were admiring and imbibing the architecture with our bare feet on cold stone, a young lad approached us and whispered in Baba's ears that he'd accompany us inside the sanctum sanctorum where the body of Mumtaz Mahal was kept enshrined.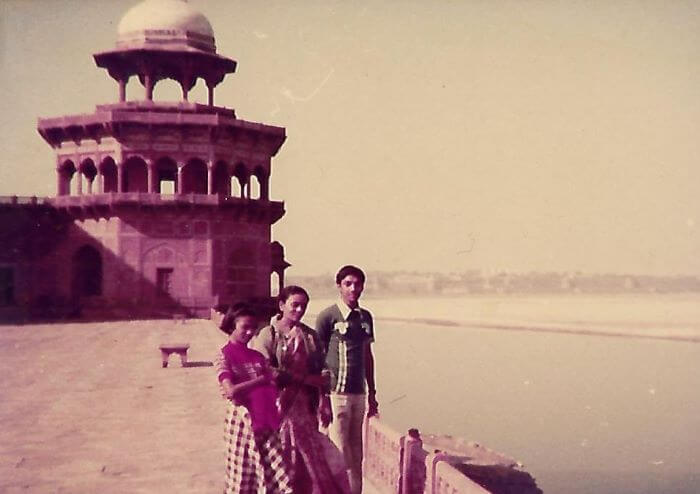 We agreed and slowly descended the stairs, with the smell of incense enveloping us, into the very basement. There, in the glow of the lamp, we saw the inner tomb of the beautiful queen of the Mughal Emperor, Shah Jahan. Even though seeing the Taj in itself is an experience of a lifetime, still I feel the grandeur and majesty of this magnificent mausoleum, is best experienced in the light of the moon. With the darkness of the night surrounding it, the exquisiteness of the marble architecture becomes stark, more memorable. I have had the good fortune of hearing the morning azan at the durgah of the Sufi saint Salim Chisti at Fatehpur Sikri.
This trip along with a host of others has remained etched in my memory. Another one I can relate here pertains to our Jaldapara trip in North Bengal. We had stayed for a night at the loghouse at Hollong. After a day of elephant ride and jungle safari, we hit the bed, after hours of relaxing conversation with the others staying there as well as with two others who had accompanied us. In the middle of the night, I had gone to the toilet only to discover that it also had a large window which opened out to nature's wildness. The entire area was bathed in moonlight and except for the occasional rhythmic sounds from crickets there was an all-pervading and unearthly silence.
These are the two memorable moonlit nights of my life so far. I have travelled far and wide with my parents all through my life. My first air travel had been when we went to London for our Europe tour. I still feel that our own country has much more to offer in terms of historical heritage, arts and crafts, wild flora and fauna, than any other country in the world. I often wonder why we ape the West blindly, yes even now. Just by attiring oneself in western outfits does not necessarily make one liberated or 'modern'. One must acquire it by own skill and educational excellence. I love my country. Gone are the days when friends or relatives coming from abroad, would get treated deferentially. Today we are living in a tiny corner of the global village. So differentiating people on the basis of colour, creed, birth or religion is a gross injustice and should not get endorsed.
Most of our educational institutions maintain high standards of expertise and excellence. The cultural need to send one's son or daughter abroad to pursue further studies seems to have dampened a bit. The lure of obtaining a degree or a diploma from a foreign university, is there, still, but has abetted a little.
A couple of years ago, I had applied and been successful in receiving a small grant for pursuing a Creative Writing course at the University of Edinburgh in Scotland. But when I thought and rethought about going there all by myself, leaving my mother behind, to tend for her own self, it did not surprisingly seem worthwhile. I had reasoned that most of the noted Indian authors do not have and had never flaunted an overseas degree. If one possesses a flair for writing, then by hook or by crook, it's bound to surface at some point of time or the other. That being said, I still continue to respect those who have secured promising degrees from reputed universities abroad.
I, like many others, will be so happy if those, who've obtained higher education from reputed foreign universities, can be made to implement their knowledge and expertise for the furthering of our own country's progress and prosperity. This is the lands where we were born. Isn't it time to give back what it had given us since our birth? Our land has fed us and protected us from all sides like a living and doting mother. Let's not forget that this is where we belong, that our roots are ingrained within the particles of its very soil!