In an article titled "Mixed Genres and Multiple Authorship" (2017) my principal intention was to shift the focus of film histories from director/author oriented studies to what I argue as "multiple authorship", by taking into account the import of various crewmembers that shape the cinematic text. In relation to that, more recently (see "The Shadow and the Arc Light", Journal of Fipresci-India, September 2020), I have mapped the film career of Zohra Segal who has worked as choreographer (in Baazi [d. Guru Dutt, 1951], CID [d. Raj Khosla, 1956)] etc.), and of Ismat Chugtai. I contend that Segal, and some of her associates; introduced to Hindi cinema a specific mode of performance style (borrowing from Udyar Shankar's remarkable approach), which was new to Hindi cinema, and eventually became significant, and recognizable.
My work has developed in conjunction with the growing research on women and work, and questions of gender and labour, as explored by the 'Women Film Pioneers Project' (Columbia University), through which researchers, archivists, historians, and curators have unearthed biographies of women who have not only worked as directors, producers, distributors, or exhibitors, but also as editors, cinematographers, 'continuity girls', accountants, trainers, stunt persons, costume consultant, hair dresses, and all (also see Madhuja Mukherjee Voices of Talking Stars, 2017). Briefly, I am not discussing the great "auteurs", or "women directors", rather, I want to draw attention to the dynamics between women and work, and emphasize that women have toiled in the industry since the early period, in various capacities, although, they have been rarely credited or paid for their labour. 
Debashree Mukherjee, in her article "Letter from an unknown woman" (2011), signposts the nature of filmic work by analyzing letters written between Devaki Rani (actor/producer) and other actors, and shows how Pramila worked in the technical departments, just as, her article "Notes on a scandal" (2013) illustrates how the actor/producer Naseem Banu functioned as a costume designer. My own interests lie in tracing the "absentee" woman figure, and locate her work; however, my primary intension is to demonstrate the complexity of film production, and propose that, the credit of the 'film-author' maybe assigned to a group, or to the crew, who literally make films. My framework is connected to my own participation in film production, and more importantly, to my on-going audio-visual documentation project the "The Shadow and The Arc Light". I, therefore, I take a closer look at the work of the Academy award-winning costume designer Bhanu Athaiya (1929-2020), who is credited in more than hundred films.
The veteran designer Bhanu (Rajopadhaye) Athaiya writes, in her book The Art of Costume Design (2010), about her childhood, and how she, driven by an aspiration to be an artist, reached Bombay and joined J J School of Arts. Her early sketches inform us about her inclination for figurative drawings and costume designing. During her training period, she was connected with her seniors, as well as with the Progressive Artists Group (PAG). In the meantime, she also joined a boutique as a fashion designer, which extended her the circle of her acquaintances, and her clientele included the emergent stars of the period, namely Kamini Kaushal and Nargis. As Athaiya began to style them, she immediately became "costume designer" for films. In fact, Athaiya was arguably one of the firsts, to be solely hired and credited as "costume designer", and it was possibly Sree 420 (d. Raj Kapoor, 1954) that, underscored her ability and expertise, which was followed by other noteworthy films, including those made by Guru Dutt.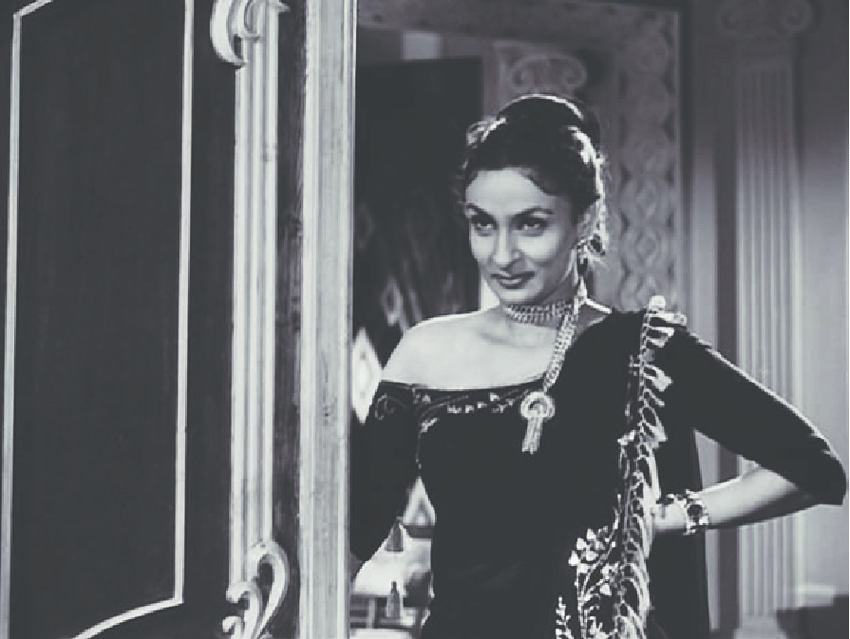 I also propose that the pulsating presence of the Progressives (IPTA artistes, writers, activists) created spaces for women behind the scene. Indeed, manifold connections were developing through such associations. For instance, while Segal, Athaiya and Guru Dutt worked together with the Nav Ketans, Athaiya also collaborated with Raj Kapoor and others. She explains how Kapoor would sing the song to elucidate the situation. Furthermore, she adds that (The Art of Costume Design, 2010, 36-37):
My house-cum-studio was spacious. I would receive the actors and discuss the ideas in the huge drawing room. In the balcony, there would be several craftsmen working on embroidery designs, while upstairs in the loft there were sewing machines for stitching garments. I would take the actors into the side room for measurements and fittings. It was a busy place. 
Such detailing of the procedure, uses material, colours, and designs, become crucial as we take into account subjects of women and work. For instance, Athaiya specifically mentions her travels for research, and how she manufactured the new age and fitted salwar-kameez for Waqt (d. Yash Chopra, 1965), even though, it is unclear whether she created costumes for the male actors (except for Reshma Aur Shera [d. Sunil Dutt, 1971] and for later films).
Moreover, Athaiya's description of Chaudvin ka chand (d. Mohammed Sadiq, 1960) stresses on the techniques, and confirms in what ways work was delivered. She clarifies how (The Art of Costume Design 2010, 59):
"the evocative scene of the wedding night, where the groom sees the bride's face for the first time and is thunderstruck by her beauty. I fashioned Waheeda's dupatta out of net so that her face remained covered, but was yet seen by the camera, giving an effect of mysterious anticipation." 
A comparative study of her work with that of the celebrated cinematographer V K Murthy conveys the fashion in which filmmaking is a multifaceted and symbiotic process. For example, Murthy (interview in Seminar, 2009) conveys that:
I decided to use nitro-flood lights, which are used for still photography. They have a colour temperature of about 5000 kelvin. I used them on the sets for the face light and was the first person who thought of this. Now these were white lights, so I used them in combination with the old Mole-Richardson lights that were in the studio. I did all the experimentation in Chaudvin ka Chand.
Despite Murthy's outstanding innovations (as evident in other Guru Dutt films), I wish to highlight that, Waheeha Rehman's enigmatic close-up was enliven through multiple factors — make-up, costume, lights, lensing, camera movement, and uses of colours – and it has been an oversight on our part, as we continue to read cinema through a 'literary model', and analyse the function of a singular 'author'.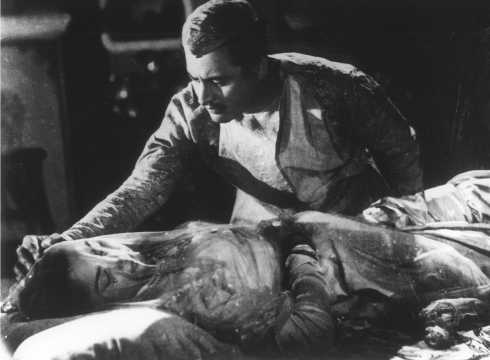 Besides the growing body of feminist historiography, documentaries, such as The Saroj Khan Story (d. Nidhi Tulli, 2012) and the fictional story about the struggles of the stuntwoman Reshma Pathan, The Sholay Girl (d. Srabani Deodhar and Sai Deoghar, 2019), alert us about the new directions in cinema studies. In this article, thus, I underline the methodological problems, as I revisit film historiography, and the work done by women — in disparate faculties, over the decades.