Tagore composed his first song when he was just sixteen. The endeavour continued till his death. A musical career spanning more than six decades left us with about 2200 songs. No wonder musical oeuvres too add up to his genius. A rigorous training from an early age is one of the many factors which shaped his musical talent.
Growing up as a Musician
Rabindranath Tagore received his initial training in music from Jyotirindranath, his elder brother. Jyotirindranath was an accomplished classical musician specializing in dhrupad, dhamar and khayal. Since the days of initial training, Tagore started composing verses and attempted to place them in the melodic framework of the Ragas. That was how Rabindra Sangeet ot Tagore Songs germinated.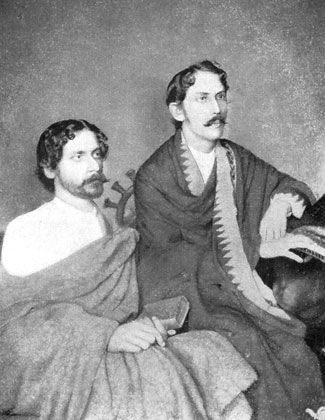 As a kid, Rabindranath travelled to the Himalayan states in North India with his father Debendranath Tagore. There, he learned the Sanskrit hymns from his father and the folk tunes of the mountains from the village folks. He got exposed to Sikh devotional songs in the Golden Temple, Amritsar, Punjab. His rare ability of having an ear for diverse music paved way for a new genre of music. These different musical traditions and elements got assimilated and took his songs to new heights.
He received training in later stages of his music career from stalwarts, notably from Jadunath Bhattacharya (Jadu Bhatta), Radhika Goswami, and Bishnu Chakravarty. They trained him in Khayal, Dhrupad, Dhamar, Thumree, Tappa and Sadra. Of them, Jadu Bhatta was a maestro of Bishnupur Gharana. Songs composed at Tagore's prime trace distinct influence of this particular Gharana.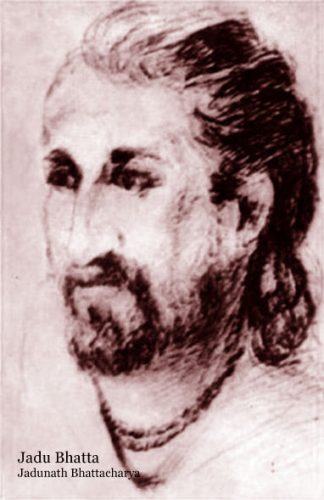 Tagore was fortunate enough to listen to Ustad Abdul Karim Khan and Ustad Fayaz Khan in his younger days. While listening, he realized how improvisation opened up infinite possibilities of creation within the rigid structure of the Indian Raga. He understood the boundless opportunities which existed if one had the courage to break the shackles of conservatism.
Love for Ragas
His songs borne the marks of his appreciation for the Hindustani classical music. It was particularly explicit when he described the ragas in a romantic vain. Following are some examples of ragas as he introduced them.
The Raga Bhairav
Bhairavi jeno bhor belar akasheri prothom jagoron – Bhairav is akin to the very first awakening of the pre-dawn sky
The Raga Paraj
Paraj jeno alosyo ratri sesher nidra-bihobolata – Paraj seems to represent the induced stupor of the night's last leg
The Raga Multani
Multani jeno roudra topto diner klanti-niswas – Multani is the sun burnt day wearily breathing in and breathing out
The Raga Purobi
Purobi jeno shunyo griho charini sandhyar osru mochaon – Purobi is the mistress evening sad and sobbing in her empty abode
Novelty in Compositions
Tagore's early compositions were based on 'shuddh' or pure Ragas and tala system of dhrupad and dhamar 'ang' or style, which were devotional songs. For Tagore, theme was always more important than maintaining the authenticity of the Ragas. So he never hesitated to experiment with them. He liberally added or omitted notes for the sake of melodic framework and then combined them to bring out desired effects. He even blended two Ragas of opposite moods. His risk always resulted in some of the beautiful compositions hitherto unheard of. This avant-garde attitude towards music in general and classical structure in particular set Tagore apart from his contemporaries.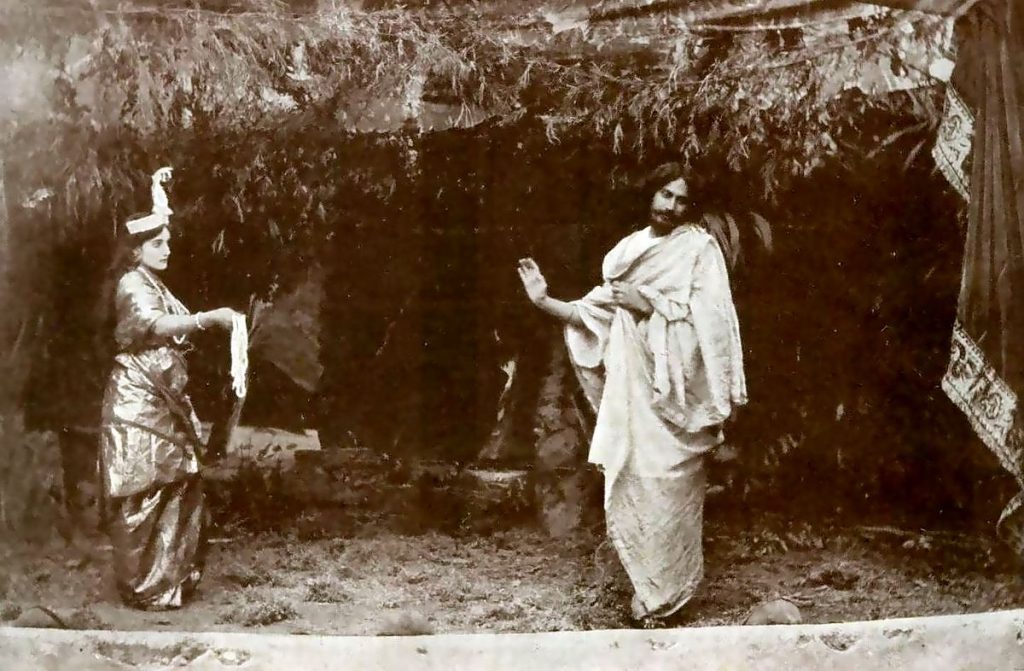 Rabindranath's brilliance lies in incorporating elements of Indian classical music to his own compositions. He used them to bring out desired emotions and sentiments in his songs. Sometimes he used a single Raga throughout the song. He also blended more than one Ragas in perfect harmony. When required, he would break a Raga and create many deviations of it.
For example, he used Raga Bhairavi in two completely different moods in two different songs – one that conjures desire and renunciation, and other of festivity. In similar fashion, he stitched together a song from several Ragas such as Piloo, Jaijaiwanti, Hameer and Desh. This same approach was used in composing Tappas, where he seamlessly blended two traditions: Shori Miyan from Punjab and Nidhu Babu from Bengal.
Poorvi, Yaman, Piloo, Khamaj, Bihag, Tilak Kamod, Bhairav and Bhairavi were Rabindranath's favorite Ragas. He composed around 150 songs using one of the Ragas in entirety or variations of one or more Ragas. Around 180 of his songs are based on the Baul Tradition and 150 on the Kirtan. In Hindustani Classical Music, each Raga has a stipulated timing for rendition. Instead of categorizing songs in terms of Ragas, Rabindranath classified them under themes, i.e. 'Prem, (love) 'Puja' (worship), 'Prakriti' (Nature), 'Ritu' (seasons) etc.
Tala or beat is an important aspects of a song. Rabindranath experimented with different taalas also. He experimented with taalas like Dhamar, Dadra, Teentaal, Ektaal, Surfaktaal, Kaharba, Adatheka, Chautaal and created some new taalas to generate the desired rhythm for his songs. One such taala is Shashti Taala of 6 beats. Nava Taala is another such taala created for Pakhwaj.
Musical Legacy
Ustad Ali Akbar Khan, Ustad Vilayat Khan and Pandit Ravi Shankar – the stalwarts of Hindustani Classical Music were all great admirers of Rabindranath Tagore. All of them wrote of his overwhelming talent in their autobiographies. Tagore had profound knowledge in Hindustani Classical music. He was not only the creator of Rabindra Sangeet, but also was the Guru of Hindustani classical music.
Deep understanding of the Ragas led him to produce the exact 'Bhav' (feeling) in his compositions. He knew unerringly which part of a Raga has to be broken, where addition of different notes were required, and where synchronization of other Ragas was necessary to bring unity in his composition.
References:
"Gitabitan" by Rabindranath Thakur, "Amar Chhelebyala" by Rabindranath Thakur, "Raag Anuraag" by Pandit Ravi Shankar, "Komal Gandhar" by Ustad Vilayat Khan, "The Relevance of Tagore's Music Today" by Reba Som
Prabir Dutta has compiled a list of Rabindranath Tagore's songs and the ragas that comprise the skeleton of those compositions. Exhaustive list of Tagore songs and ragas compiled by Prabir Dutta