Dhaka, the capital of Bangladesh, is unlike any other city in the world. More than 20 million people live here in 306 square km (beyond the official records, perhaps the population is even more than 30 million). It is not possible for an outsider to imagine how it feels to live in a city like Dhaka. According to the recent reports in The Economist Intelligence Unit's (The EIU) Global Livability Ranking, Dhaka ranked 4th as the world least livable city in the world, just after Damascus of Syria, Lagos of Nigeria and Port Moresby of PNG. Similarly, last year it was second, in the worst air quality index, which is just after Delhi, India. Yet, I have a special connection to this crammed city. As a Dhaka gully boy, I was born and brought up here, and earned all my knowledge and living materials from this choking city.
The city is more than 400 years old. One can still find a considerable number of ruins of history from the Mughal past and more recently of colonialism by the British empire, in the nook and crannies of the city. Dhaka was once famous for its finest fabric 'Muslin' (the fabric was so fine that one could put around 18 feet cloth into a match box) which was considered the finest fabric in the entire world. Many foreign travelers and British officials in their writings also cited Dhaka as one of the most beautiful cities in South Asia in older times. Indeed, it was, but now the city has turned into a jungle of concrete.  Though Dhaka still supplies fabric and clothing in the world market and Bangladesh itself holds second position in the export of readymade garments, the sprawling city has lost its old charm and glory.  
Dhaka is now a city of desperation. People of Dhaka are caught in a frenzied daily web of living. Traffic is sleepy and always swollen on the streets of Dhaka. It takes three hours to travel to Motijheel, the economic hub of the country, 15 km from my home in Dhaka. One of my friends traveled this journey every day to go to work. It took him six hours daily to go to his office and return home. And it is just not him; thousands of people are undertaking similar journeys every day. And it is not even possible to walk on the roads of Dhaka with six-feet-wide, broken, uncovered manhole footpaths, with more than a thousand people trying to commute in the tropical heat while going to work every day. A quick walk on the footpath will find street hawkers, shops, bazaars, fish markets, fruit markets, world bestselling books (pirated copies of course). In Dhaka's footpaths one can buy anything from an infant's clothing to the burial cloths for the dead. In Dhaka we often ask each other where an item is from—"footpath or market?" It denotes a lot of unspoken meanings about our belongings, class and identity.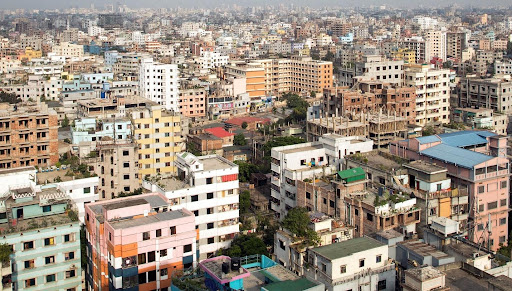 For an ordinary citizen, finding a patch of green, to relax, to play, to walk on, or just to sit and contemplate when exhausted, is akin to finding a gold mine in the backyard of one's home. A section of the city elites has literally created a 'city enclave' for their personal use with better city facilities. But one must obtain special permission to enter such places. Places like Gulshan (diplomatic area), DOHS (Defense officers housing society) offer such phenomena. All imaginable facilities are available in these elite curated spaces: from park to playground, community center to gym. But 98% of the city dwellers are not as 'lucky'. They must dwell amidst the city's garbage, sometimes without water and electricity, with drain water logging in some unfortunate months. Even inhaling a clean breath in an open place is difficult in some areas. 
I have lived in this city for the last thirty years, roamed around its corners every day, but still the city bewilders me. Every day it offers me with new stories of people mired in their daily lives. But the resilience, endurance and creativity of Dhaka's people is something commendable. People of Dhaka have created lives within limited resources, unflinchingly and never complaining, perhaps only sometimes one can hear disappointed voices about God and their own luck. Today, I come to narrate one such story of resilience of Dhaka's common folks.
Dhaka's graveyards have become an alternative space against the city's vanishing open spaces. Burial sites are now used for exercise, entertainment, birding, eating snacks or playing cricket.  It is the graveyard that sees life unraveling in its spaces every day within the staggering city. But the graveyards of Dhaka are unlike any peaceful graveyard of Europe or North America. It is completely different in terms of the crowdedness of the dead lying beside each other, even within the imagination of Islam.  90 % of the people of Bangladesh are Muslims. By traditional Islamic values, a graveyard is a holy place where one visits to pray for dear ones; people must visit these burial sites barefoot to show respect. It is also a belief that there are zinns* in the graveyard. There are numerous stories in Bangladesh where one visited a graveyard and was attacked by the bad zinns. 
The current death rate is 5.53 per 1000 people in Bangladesh and in Dhaka, there are only 8 government graveyards. Now by calculating the given figure, one may get an idea of the crowdedness and busyness of the graveyards in Dhaka.  It is not even possible for any zinn to squeeze in and live in the graveyards of Dhaka!  However, creative Dhaka dwellers finding no open spaces in the city, have chosen graveyards as 'alternative places' as parks and venues of recreation. In Mirpur and Azimpur (the biggest graveyards of Dhaka) people use the graveyard for physical exercise, and as a playground or sometimes just to rest on a hot day.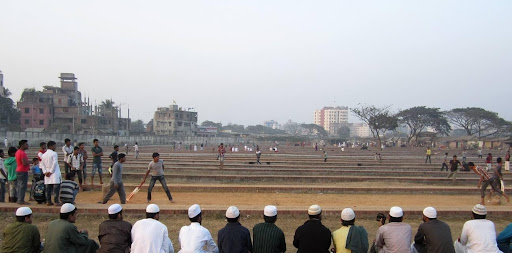 Graveyards in Dhaka enable more than a valediction to people who have passed on. In this city of millions, burials create a rare in-between space of the living and the dead fused together. Life unfolds on this soil, bursting from the very earth that covers the dead. Perhaps my city has inadvertently become a space where time is suspended– history, and present have uncannily merged in the practice of living here. When I walk in my city, I often remember the great Bengali poet Buddhadeva Bose who also once walked on the same roads and took the same corners. I have also walked in those paths and the city has offered me my little corner of the sky where life has summoned both in its crookedness and magic and where the living and the dead vie for the same spaces.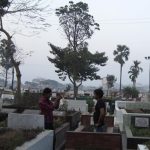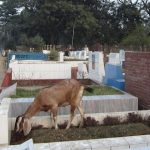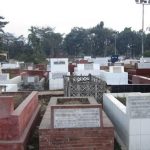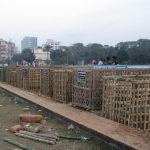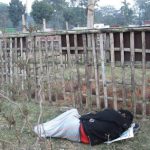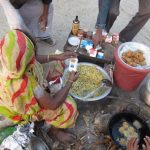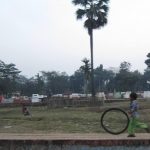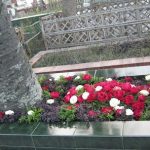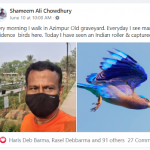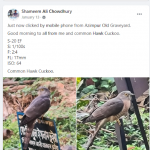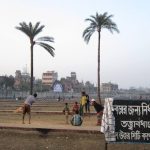 * Zinn is a 'creature' made of fire that cannot be seen with bare eyes, except by some Sufis' who can see them. There are good and bad zinns in this universe and in  graveyards, it is believed that most of them are bad.
All images except the cover photo have been clicked by the author.