Every festival in India is not just about fasting and coy devotion. There is the other kind too, some of which include delightful feasting as well. The Jagannath Rath Yatra happens to belong to this other kind. If you thought eating habits around this time centred around having fresh fried papad, dripping in mustard oil, think twice! There's a lot more to Rath than just the traditional crispy papad bhaja!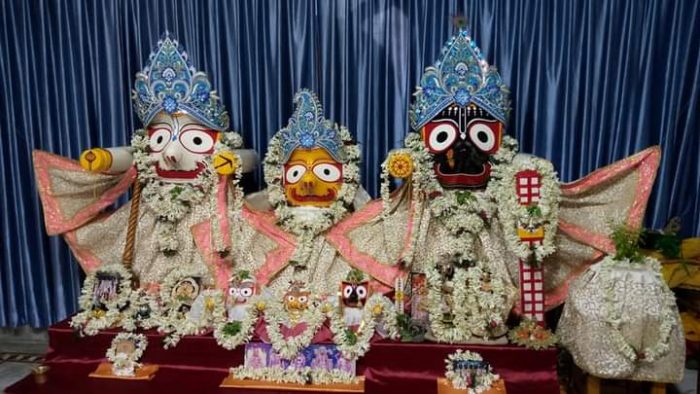 Part history part mythology
As per Hindu mythological fables in satya jug, Lord Jagannath came to the earth as Neel Madhava and was mostly worshipped by Sabar priests who never revealed where the god was stationed. They mostly worshipped him in secret and if anyone wanted to visit the sanctum sanctorum, they would blindfold him on his way to the temple and back! In fact, they hid him away from the general public, scared that the privileged class would steal their miracle away, since they were looked down upon by the upper castes.
Maharaj Indradyumna, the reigning emperor in those times, soon got to know of this and sent out his people to look for Neel Madhava and bring him to the royal castle and establish him as the chief deity in the royal household.
Prabhu Nabadwip Nitai Das, head priest at Panihati Jagannath Bari in Kolkata said, "Legend has it that when the king's men discovered Neel Madhava, he prophesied that he would travel with the king to the royal temple not as Neel Madhava but in a different form i.e. Jagannath, Balaram and Subhadra. Saying so, he vanished from the spot and gave instructions to the king about how to build the temple in Puri and find the right craftsmen to make the three idols. King Indradyumna followed instructions to T. 
The three wishes were granted
Jagannath was so pleased with the king that he then agreed to grant the king three wishes. Of the three wishes asked by the king, one was rather peculiar. The king said that he did not want to have dry hands or lips. Surprised, the lord asked him why he was making such a strange demand? In answer the king is believed to have said that the priests would offer him so much to eat throughout the day, that as soon as he finished eating one item, the next one will be ready to be served. He would constantly need to wash his hands after each meal! In the end Jagannath seems to have been taken aback, but eventually he gives in to this strange request made by his loyal disciple!"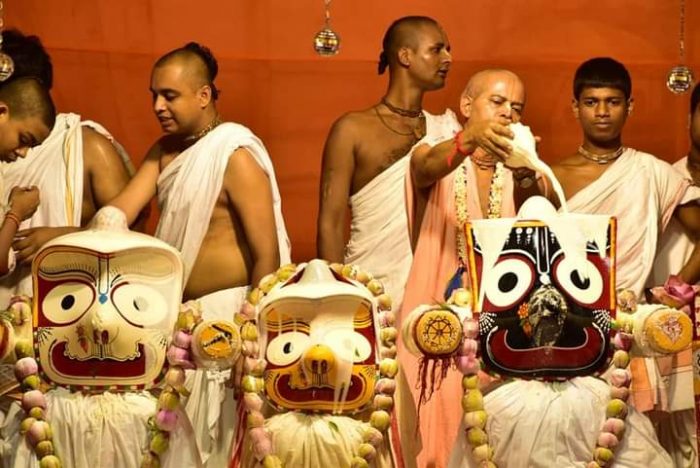 And thus, began the ritual of feeding Jagannath, Balaram and Subhadra with innumerable food items throughout the day. Initially the trio were offered 400 different kinds of bhog. With time that has come down to 56 items or what is popularly known as the chappan bhog ritual. At the Puri Jagannath Temple, this tradition of serving chappan bhog of Lord Jagannath is served throughout the year, on all days.
However, at other Jagannath temples in the rest of India, including the ones run by Iskcon, chappan bhog is served on just one day during the Rath Yatra festival. That happens on the penultimate day of Rath, better known as Ulta Rath. It is also believed that food never falls short for anyone who has worshipped Jagannath and served him earnestly.
The illustrious meals at Jagannath Temple in Puri
Sadashib Panda, a resident of Puri, who belongs to the illustrious legion of priesthood said, "On the morning of Rath Yatra, Jagannath is served khichudi and labra for breakfast. In the evening he is tired after a long journey. So, he is served with narkel naru, malpoa and mishti." Bhog includes panta bhaat, steamed rice, pulao, seasonal vegetables, fried crisp, 10-12 kinds of curries, several kinds of daal, pithe, all kinds of sweets like jilepi, naru, malpoa, sandesh, etc. According to Sadashib Panda, "coconut is a must and said to be a favourite with Jagannath. It is used as the principal ingredient for most of the dishes." 
Everything counted together, including paan, goja and sweets makes up for chappan bhog. The idea is never to deprive any pilgrim of prasadam, no matter where he comes from. Bhog is prepared for nearly 10,000 people on a daily basis. But there is always room for more. That was what the king wanted and why this ritual was introduced in the first place!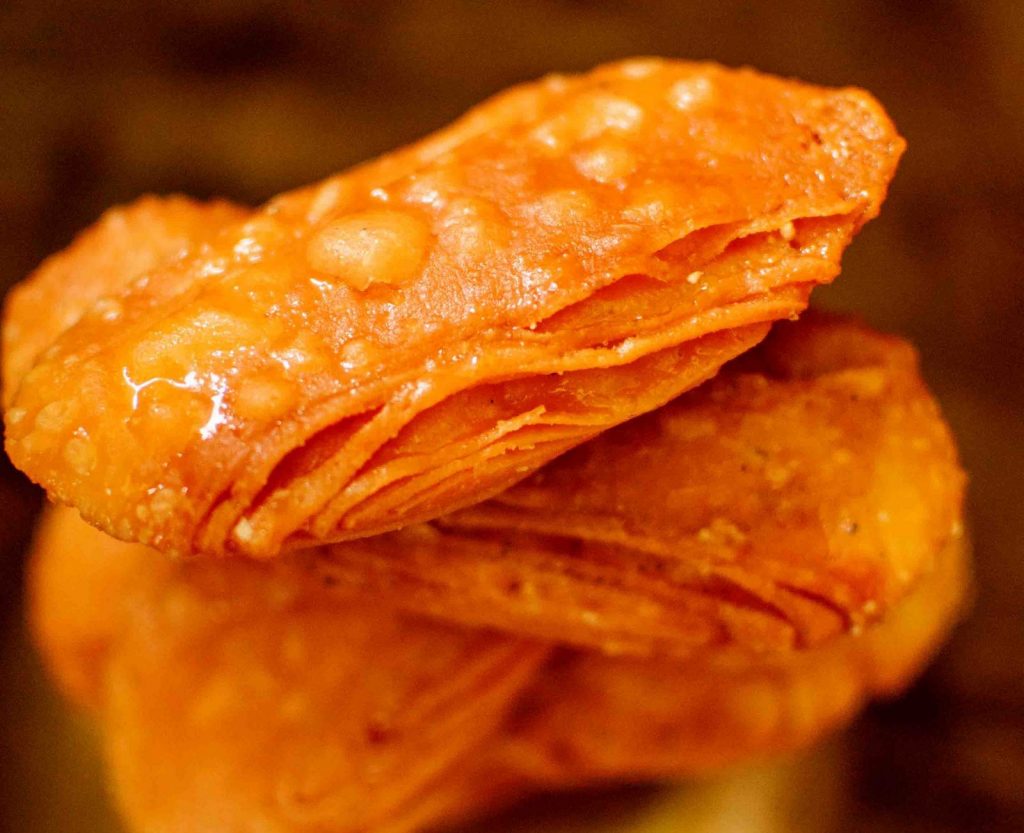 However, certain vegetables are never served on the bhog platter. These include cabbage, cauliflower, tomatoes and potatoes. One will never receive any prasadam containing these vegetables from a Jagannath temple as they are classified as foreign vegetables that did not belong to the kingdom of Odhisha. Understandable, since potatoes and tomatoes were introduced in India by the Portugese. 
The elaborate kitchens of Puri temple
Kitchens inside the temple premises are an elaborate affair. Bhog is always cooked traditionally by the pandas, who wrap a piece of white cloth or gamcha half way down the face, thus covering the nose and mouth. This is done not just for hygienic purposes but also to keep personal cravings for food at bay! Cooking is done in seven rows of earthenware, made from a particular type of soil exclusively for this purpose. The earthen pots retain both flavour and heat uniformly, making the food last for longer periods of time.
Water used for cooking the bhog cannot be brought in from outside. It has to be gathered from a well located within the temple complex. This water is believed to be a local version of the sangam of holy waters from Ganga and Yamuna, flowing into the wells through underground channels with divine intervention.
No modern cookware is allowed to be used, not even the mixer grinder. Hundreds of sil nora are lined up to prepare masala for the bhog. There are 700 ovens inside the temple kitchens, operated by more than 500 pandas designated with kitchen duties as per their respective priestly lineage.
Local deity promotes local food
Lord Jagannath loves all things dairy. From butter, yogurt, ghee to malpoa, kakatua goja, mohan bhog, ghewar, rabri, chanapoa, sharbhaja and shrikhand, the gods share an amicable bond with their sweet tooth.  Other savouries include the simple ukhuda (sugar-coated puffed rice), arisha (fried sweet cake made with rice flour), varieties of bhaja or fritters, a chilli laddoo called marich laddu, dalma (vegetables cooked with lentils) and many more.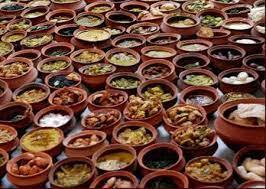 For ages the temples in India have played a big role in nurturing the local cuisines and keeping the local culinary culture alive. Whether it is using the same recipes and cooking techniques over and over again to staunchly advocating the cause for using earthenware as opposed to stainless steel, the food culture has played a big role in shaping our society. So the next time you feel the need to delve into local cuisine, try the ones propagated by local festivals!
Images courtesy: Wikimedia Commons and Facebook