Meet Mahafuj Ali. At 33, Ali is one of the youngest masters of the art, craft and science of cartoons. His art spans every genre of cartoons one can imagine. The visual images along with the titles contained simplicity and brevity draws the mass audience to them to invest lives with some humour and a lot of hope about the future state of things, never mind lockdowns and pandemics. One of the ironic reasons for the popularity of cartoons is the high rate of illiteracy in any culture and India ranks quite high in this rating. Cartoons are also an exciting outlet for spreading information and spark debate. 
"I am a landscape architect by training and education but am a cartoonist by choice. I have tried all these years to work out a successful blend of my sensitivity towards landscape and the critical and creative nature of an architect to present my opinion on current events and politics through subtle satire," he explains succinctly on the back cover of his book Mali's Gallery 1 which offers a colourful – in many ways – collection of selected cartoons he has created over time.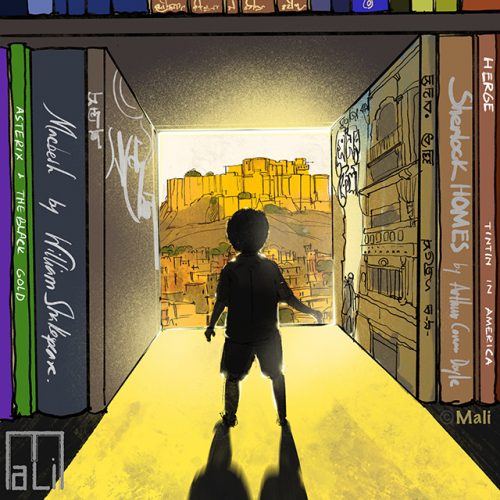 Ali has been drawing cartoons since school and now has a Facebook page with over 31,000 followers, where he uploads topical memes every now and then. Ali is presently based in a small town in Australia over the past two years and working as a landscape architect. 
"I was born in Nadia, on the banks of river Hooghly. The village had no electricity, running water or television, but I had limitless access to fields, ponds, rivers, bamboo groves and a lot of books. My parents gave me all kinds of books when I was a boy.  My father used to work in Krishnanagar and eventually we moved there, a city about 100 km north of Kolkata, where I spent most of my school days. After school I went to Shibpur, Howrah for my Architecture and then Ahmedabad for my Masters in Landscape Architecture. After my studies, I worked mostly in New Delhi and then came to Australia and now am settled in Newcastle. All the places I have lived in, made a great impact on my drawings and thought process. I have not attended any art school, I tried once to get into visual communication, but was rejected. Then I drew every day, spent my spare time sketching and kept on creating for myself. No one directs me to sketch something. It's just me and a piece of paper."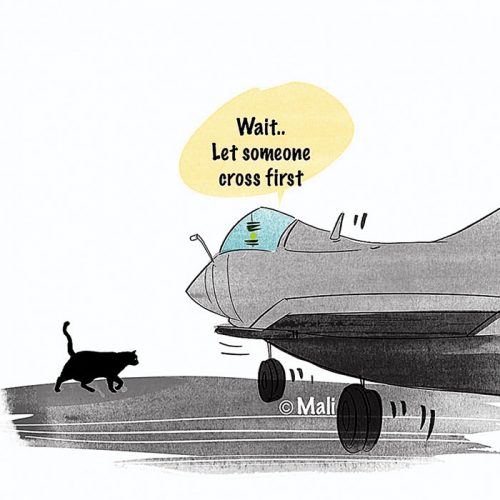 A cartoon makes a brief, funny comment using illustrations and is often found on television, in a newspaper or in a magazine.  A cartoon can be a satirical or humorous drawing, a series of illustrations (also called a comic strip), or an animated film.
In his book, Mali's Gallery 1 collection of selected cartoons, Ali has illustrated each page brilliantly with an undercurrent of humour. The book has different sections and each section will inspire one to live to laugh and of course to think in different ways. One has to read the book to feel the artist's many-sided splendour. This book contains 100 of the Cartoonist's favourite Cartoons, on a wide spectrum of topics. They are not just a delight to the mind but also a precious record of our times. In the dedication page, Ali has offered his thanks to "All the great and ridiculous people who inspired the illustrations" and dedicates the book to "All of my friends and family  who supported me throughout" then, after a spatial pause, "and of course, you."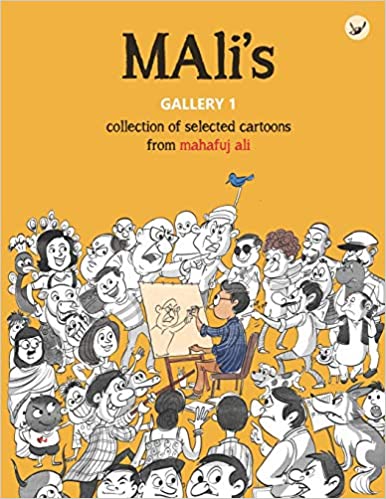 There are a few brief cartoons boxed within cities such as – Delhi Delight, Awesome Ahmedabad, Kolkata Kaleidoscope, Newcastle Nirvana with some very interesting images of the city concerned which one can easily identify as the visuals clearly explained. Many of these cartoons are selected from already published ones in internationally recognized media such as The Guardian, First Post, Washington Post, BBC, The New York Times, Hindustan Times, Wall Street Journal and several others. 
The illustrations also carry some wonderful captions that enrich and enhance the satire in the cartoons. One lovely cartoon on Delhi is captioned with a quote from Mirza Ghalib which goes, "I asked my soul, what is Delhi? She replied, the world is the body and Delhi is its life."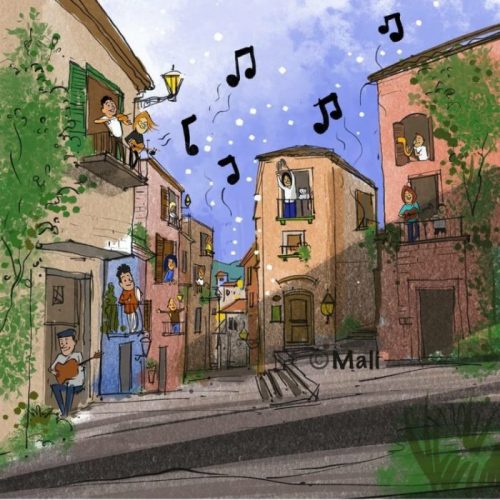 When Abhijit Banerjee won the Economics Nobel, a meme that drew much attention on social media was created by Ali. In the meme, Rabindranath Tagore and Amartya Sen, both Nobel Laureates, welcome Banerjee to the Nobel club with sage advice: "Keep your prize safe… and thoughts to yourself". Tagore offers the undeclared reminder of the medal theft from Santiniketan while the more contemporary coup de grace is delivered by Sen.
"I was cooking chicken when I saw a picture of Abhijit Banerjee clad in a blue kurta and yellow jacket on social media. I did a pencil sketch of him," said Ali, expressing his thrill on learning that a Bengali Indian had done it again. Even before he had finished the sketch, the theft of Tagore's Nobel came to his mind and then the frame. Amartya Sen was a natural progression. "I had read how Sen was defamed by a section of people for criticising the government," said Ali.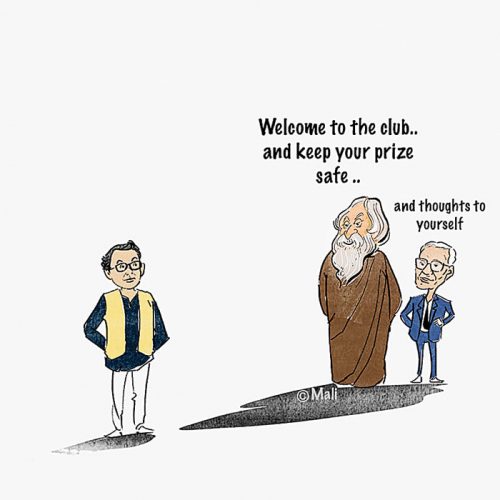 After scanning the pencil sketches, Ali coloured them digitally and uploaded the cartoon on his Facebook page. Since then, the meme has been shared over 3,900 times. He has also been on the receiving end of trolls and verbal abuse across social media pages but all this does not detract him from his ideology, his art and his thought process. 
The most significant part of the book lies in his comments on the pandemic and the lockdown focussing on the truth that one must meet this with a laugh and not necessarily cry over it or go into depression. One wonderful cartoon is a comment on a newspaper line that goes "Cycle sales rise in Kolkata amid fear of COVID-19 transmission in public transport." (Outlook India, June 15, 2020). The cartoon shows an overloaded bus with masked commuters jostling against each other trying to get out. Alongside we see a young mask-wearing boy riding on his bicycle watching the scene and digesting it.
He worked on a series on why it's okay to laugh during a pandemic — a comic take on how not to touch your face, for instance — because "I wanted to dispel the fear that was everywhere". There is one which is a comment on the stopping of the Durga Puja during the pandemic last year. The cartoon shows a lady (Charulata?) looking through her opera glasses out of her window to look at the Durga idol in the distance.  He also has planned a tribute to Tintin to a completely different level by drawing a series to show him and his team flying into India to travel around and finally reach Darjeeling.
There are bits of life in his cartoons towards the end of the book. The last cartoon shows a little boy and a girl floating paper boats in a stream and the girl, smiling, asks the boy, "Where will it go?" "It will cross seven seas and thirteen rivers one day," says the boy. "To a beautiful world?" she asks. "Yes, a world with no sorry, no problems."