Clothes and costumes are some of the most important parts of the cultural heritage, which can be used to spread very deep and important messages to the world. One such special costume in use outside India has an Indian epic at its heart. The history and cultural significance of this costume are both worth mentioning.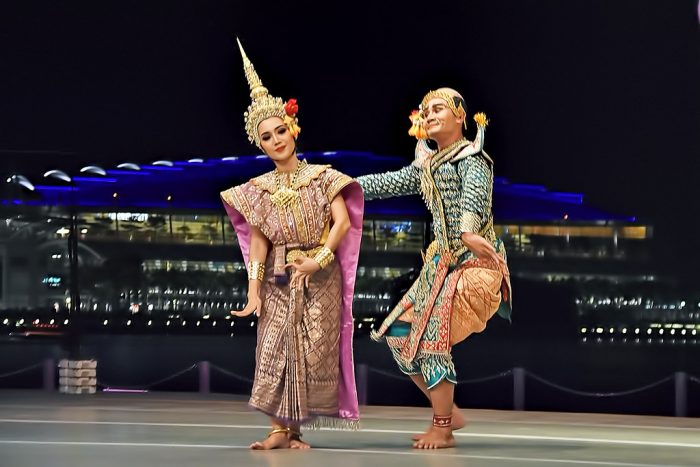 Thailand, a Southeast Asian country, famous for its ornate temples and serene beaches is a tourism hotspot. But the country is greatly influenced by the Indian epic 'Ramayana', Indian Gods, Goddesses and other ancient literature such as 'Puranas'. Other Southeast Asian countries also have the similar impact of Ramayana on their culture but the all-round prevalence of Lord Vishnu in the culture of Thailand is at another level. 
Ramayana Ramakien and Khon
Khon is Thailand's oldest narrative dance form based on Ramakien, Thailand's best-known classical literature version of the Ramayana. Revolving around the 'Ramakien' thrives a huge and decorative world of art. It includes a renowned dance form, along with famous puppets and shadow dance forms. All of these involve a very special and important costume, which is prepared specially for all the performers and operators of these performances.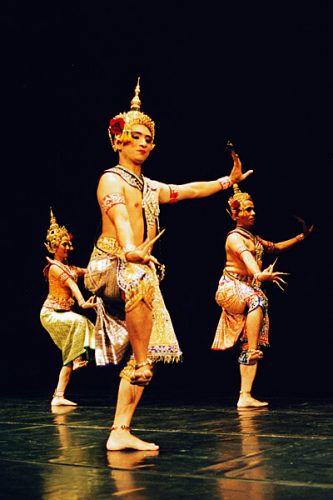 Villages in North-East Thailand are famous for the production of silk woven in Ikkat weaving style. The costumes used for Rama, Sita, Lakshmana, Hanuman and Ravana in this Khon dance are made up of a special silk and brocade cloth. The silk is woven in a special style, known as 'Mat Mi' or 'Mud Mee' (Ikkat weaving style)in Thailand. A particular kind of textile known as the 'Muang Nakhon' brocade is used for these dresses. Gold and silk thread woven brocade, known as 'Pha Yok, is used for female characters. These costumes are ornamented with embroidery using semi-precious stones and are also adorned with beautiful ornaments to glorify the performances.
Costume is an important vehicle for the narrative and characterisation in Khon performances. Performers are creating a history by intermingling clothes.The male artists wear 'Dhoti' (loin cloth) in Indian style which is known as Chong Kraben. Female artists use  decorative pieces of cloth that they wrap around their hips and breasts. They also wear ornate jewelry. All costumes, accessories and jewelry used in Khon dance are being preserved in the National Museum of Bangkok. Extraordinary samples of Ancient Thai heritage clothing, Ikkat, and brocade weaves are also preserved in the textile gallery of the museum.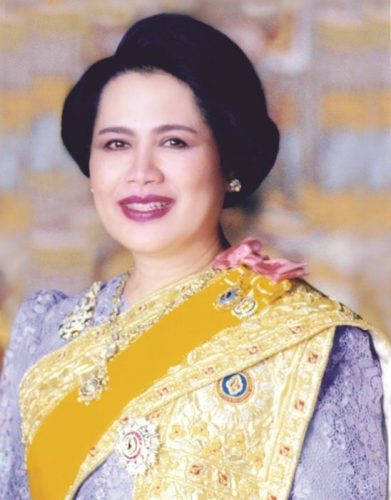 To mark the Royal cremation of His Highness King Bhumibol Adulyadej or King Rama IX in 2017, a spectacular funeral pyre was created in SanamLuang of Bangkok. Around 3000 dancers performed 'Ramayana' on an open-air stage to pay homage to the late King. According to Thai belief, their Kings are incarnations of Rama who himself was the incarnation of Lord Vishnu, hence last rites of a King include the enactment of Ramayana in front of the whole world. Hence it can be understood how this intricate 'Khon' costume influences the socio-economic system of this country. The heritage of the Khon dance has been carried over in Thailand since ancient times; it had subsided for quite some time in between. As a result, the silk and brocade industry that depends on this was also affected. Her Highness Queen Sirikit took initiative in the year 2005 to revive the Khon Dance by arranging the annual Khon Dance festival.
More About the The Khon Costume
Khon Costume is a very gorgeous theatrical dress. As mentioned earlier, the male artist's attire consists of loose trousers, known as Chong Kraben, a tight jacket, accessorized with waist and chest sashes and designer collars. Female artists wear a cloth wrapped around their hips that look like a pleated skirt and around their breasts with a long cape and wide collar. Both the male and female artists wear huge amounts of jewelry and accessories. The modern Khon costumes are finest examples of beautiful designs and craftsmanship where the art of handweaving, custom dyeing and intricate hand embroidery techniques are used to achieve the finesse.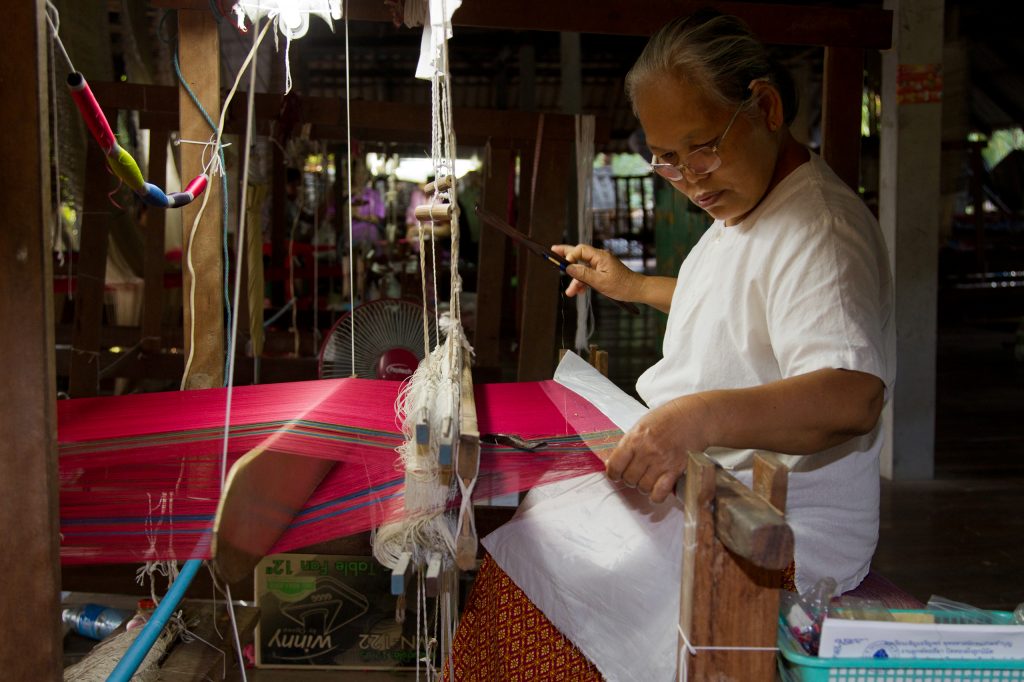 Pha Yok made up of Mat Mi fabric, has existed since the Ayutthaya period, as it was used by the royal court. This  finely woven silk cloth has distinctive raised patterns of delicate silver and gold silk threads and is heavier than Indian silk.  In this intricate textile Mat Mi or Thai Ikkat, the wrap threads run the length of the fabric. They are set up on the loom before weaving starts and raised and then lowered, during the weaving process, each time the shuttle containing the weft thread is passed across the width of the fabric on the loom. Very pretty ancient motifs are woven in these fabrics, one of them being the beautiful Khmer motifs. Her Majesty, The Queen of Thailand, created a Mat Mi Museum in Dusit Thani palace, Bangkok, to establish it as an integral part of Thai heritage. This is a result of her deep admiration for the art and commitment to conserve it. 
Weaving Pha Yok is quite complicated, and by the late 20th century its production had nearly ceased. Many of the techniques nearly died out in recent decades, but thanks to the Queen's promotion of handicrafts together with her gracious support towards the performance of Khon which helped the revival of these traditional art and craft forms. Most of the raw materials used to make the Khon costumes are sourced from Thailand. However, a few items are imported. The gold trim comes from England, special sequins from France, and overlay materials and sequins from India. The loincloth worn by some Khon characters is designed in Thailand but woven in Surat, India.
The Queen of Thailand has worn the traditional textiles during her public appearances and foreign visits, to promote Thai textiles in international platforms. Hence her wardrobe consisted of modern designs created out of traditional textiles. The brocade design technique takes a long time to weave. It is claimed that this technique was introduced in Nakhon Si Thammarat province of southern Thailand by Malaya people around the 19th century. 
Designs of the Modern Khon Costumes
Training programs for craftsmen have been undertaken to refine their skills. According to Veeratham Tragoolngernthai, costume and ornaments designer of the Support foundation's annual Royal Khon Performance  in year 2010, about 20 trained members of the Ban Noen Thammang Handicraft Centre in Nakhon Si Thammarat began weaving Muang Nakhon silk brocades for the performance. They could produce about 40 brocade cloths in a year. These members later taught weaving Muang Nakhon brocade to about 30 members of the Support Foundation's Si Bua Thong Handicraft Centre in Ang Thong and another center in Sing Buri . Producing a Muang Nakhon brocade takes a few months to complete and the weaving process requires the labor of five people, one weaver, and four assistants.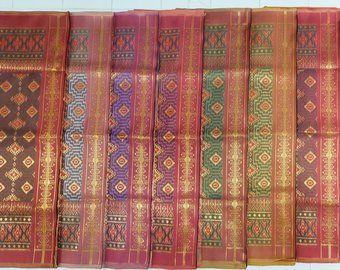 Some 130km from Bangkok, at the Si Bua Thong Handicraft Centre hundreds of locals have learned and conserved several fields of traditional art. These include wood carving and making Khon masks from the rareKhoi (Siamese rough bush) pulp paper. It also produces and ceramic wares for royal dining tables and museums.  13 members of Si Bua Thong Handicraft Centre are specialized in weaving four patterns of silk brocade which involves weaving of golden braids in the fabric. This fabric is used for Pha Yok. These fabrics are used to prepare different parts of the costumes like shirts, sleeves, shoulder loops, belts, pants and front armor for Khon performers.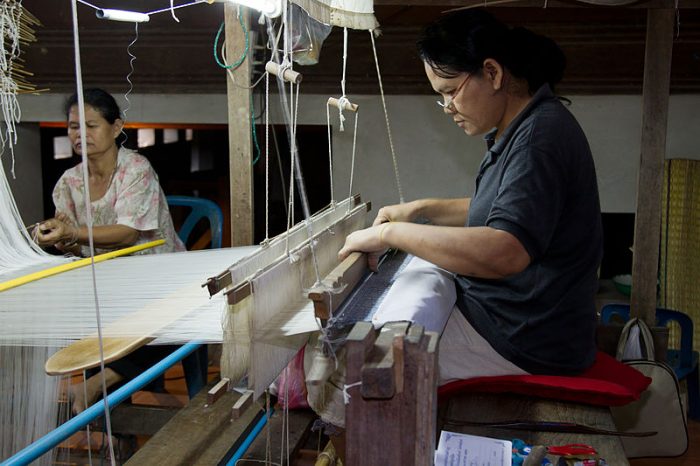 The art of silk brocade preparation takes a total of six to seven months to complete. The process begins with spinning silk threads in Northeastern regions of the country. The next steps are dyeing with natural colors, creating the structure of horizontal and vertical threads, undoing the tied knots and then finally weaving. The most difficult process is designing motifs based on century-old traditional silk brocades. The second hardest one is weaving. Embroidering each of the tops or pants takes about four months to complete. Each member of the center is assigned to embroider a specific component of each costume. Later the different components are assembled. The center has 16 embroidery workers. The first batch trained at the unit comprised 20 locals. They learned to embroider fabrics in the traditional style called Pak soi. While some of the members still do Pak soi embroidery, others opt for Khon costume embroidery. At present, instructors from the Sirikit Institute in the Chitralada Palace compound teach at the center once a week.
The choice of colors for the Khon costumes considers many things: the lineage of the character, the main and secondary colors, opposite colors, and color combinations to make the character more distinctive. The colors used for the costumes were studied from Thai paintings and sculpture, as well as puppets of the Palace of the Front and in the Ramayana section of the National Museum.
Different Designs for Different Characters
The cloth patterns of the costumes are determined according to the rank and importance of the characters:
The male protagonist Rama wears a costume in which the cloth is patterned with a Thai running scroll design, a classical pattern traditionally used to make garments for the king. It involves complicated embroidery inlaid with metallic beetle wings and is embellished with sequins.
 The female protagonist Sita also wears a cloth with a running scroll design, embroidered on brocade and satin with various overlays, glitter, golden silk thread, and metallic beetle wings. The collars are elaborately designed with metal strips and embellished with gems like necklaces in a tonsure ceremony. For other female characters, the cloth is embroidered with vine patterns in gold silk thread and embellished with overlay.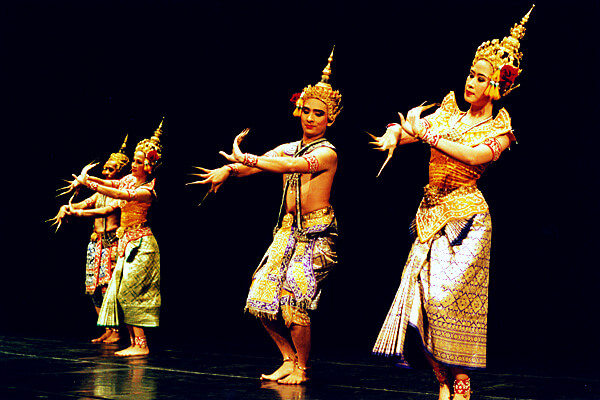 The patterns on Ravana's clothes must express grandeur and power, hence they are made with fabrics having running scroll design and are further combined with silk embroidery of human, lion and dragon figures. The weaves are complex, with gold and silver overlay, colored silk threads, and embossed patterns decorated with gems. 
For main demon characters, similar complex designs and embroidery patterns are used, and for soldiers of lower rank, the fabric used is woven with  less complicated patterns and usually floral and vine patterns are embroidered mainly with silk and overlay.
 The costumes of Hanuman reflect elements of the forests as their symbols- flowers, leaves, and trees. Very little embroidery is used, with the use of overlay and patterns of clockwise circles to indicate their body hair.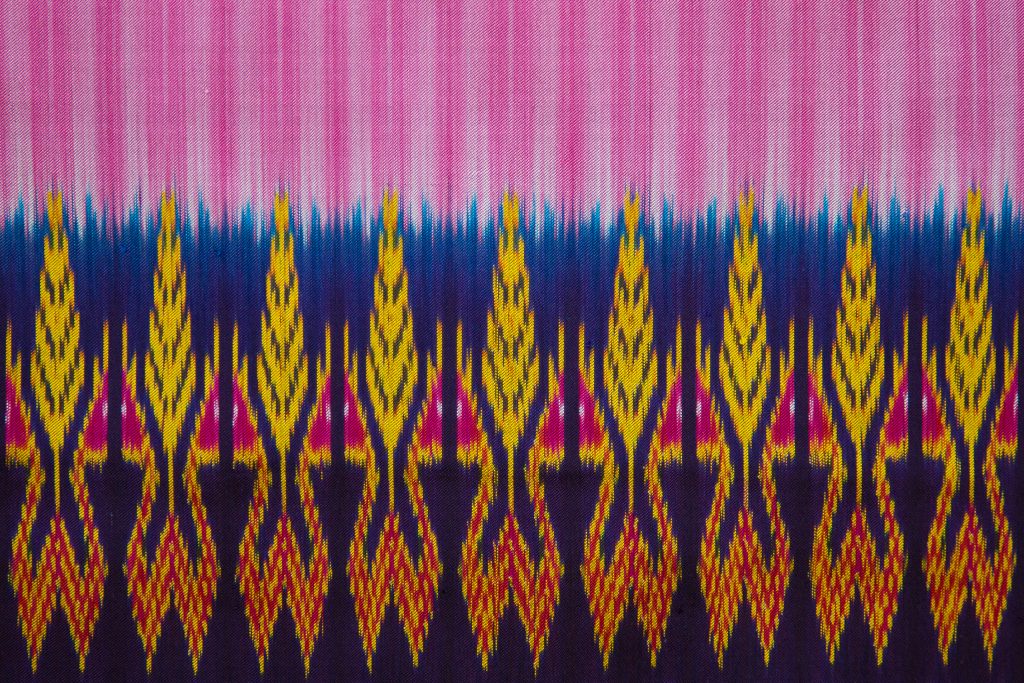 Distinguishing Features of Pha Yok & Mat Mee Ikkat
Various provinces of Khon Kaen, Kalasin, Isan produce rich silk fabrics. Pha Yok cloth uses a unique weft technique. The additional threads are woven into the weft to create spectacular patterns. The cloth is woven with golden supplementary threads. Sometimes weavers also use silver threads. Patterns are complex. looms are more complex for making this textile. Four to five people are required to operate the loom. The process is so complicated that the artisans produce only 5-7 cm per day. The silk is dyed using natural materials. It is known as Si Thammachat. The very interesting resources come from nature. Black colour comes from Ebony Tree / Ablus tree, Coconut for gray, jackfruit for yellow, lac insect resin for Red color bark of the olives for Beige, Indigo for blue, Mango for Orange, Yellow, and Green, topical Almond for green and Tamarind for Brown.
The revival of Khon has created a sustainable market for handwoven textiles like Silk, Mat Mi fabrics, gold metal brocade fabrics etc. This special costume culture of Thailand preserves its ancient heritage.
Image courtesy: Pxhere, Wikimedia Commons, Publicdomainpictures