"গোধূলিরঙিন মাচা, ও পাড়ায় উঠেছে আজান
এ-দাওয়ায় বসে ভাবি দুনিয়া আজ আমার মেহমান।
এখনও পরীক্ষা চায় আগুনসমাজ
এ-মাটি আমারও মাটি সেকথা কবার সামনে কীভাবে প্রমাণ করব আজ।"
– মাটি
Twilight-coloured farm, the resonating sound of azaan
Methinks the whole wide world is my mehmaan
Yet the fiery society wants to test my allegiance to this soil
Where's the proof that I belong to the land where I toil?
– excerpt from, 'The Soil'
Shankha Ghosh had written these lines in 2019, when he was protesting the brutal legislation aimed at relegating certain groups of people to a compromised citizenship status (NRC). He was a disturbing poet. One who stuck out like a sore thumb with his uncomfortably upright conscience. He was therefore, no stranger to slander and insult from debauched power-hungry political goons (also known as 'leaders' by some). And yet, they were powerless before his prowess. They just couldn't ignore his words. Perhaps that is why every single political party vying for majority in the state of West Bengal was quick to post condolence messages on social media after his demise on the morning of 21st April 2021.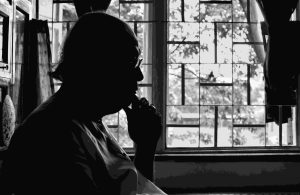 In the 89 years that he lived, Shankha Ghosh witnessed the violent Naxal Movement, the Emergency, the rise and fall of the Left Front government in Bengal, a change of power fueled by a peasant uprising, the rise of a virulent right wing power. It comes little as a surprise therefore, that the political was personal to him. But what is really surprising and somewhat unbelievable was his ability to unflinchingly stand by what he thought was right irrespective of the colour of those he chose to oppose. In the process, he managed to rub several power-hungry entities and individuals, the wrong way. Before he succumbed to the deadly virus he had let it known that he was not quite in favour of a gun salute during his cremation rites. Thankfully, it was granted.
But he didn't really 'need' to be so upright about things. He was a prolific writer, a respected teacher of Bengali literature at the prestigious Jadavpur University. And he was widely respected among his students and the literary fraternity of Kolkata and Bangladesh. He was also a recipient of the Padma Bhushan award, the Sahitya Akademi award and the Jnanpith award among others. But he always took it upon himself to raise his voice against injustice and unabashed display of power. He belonged to that soon to be extinct breed of gentlemen commonly nowadays rebuked as 'bhodrolok'. One that never lost his calm, poise nor dignity even while tackling a slurry of abuses.
Though he is largely recognised as a poet, his prose was equally powerful. He even wrote for children under the pen-name 'Kuntak'. 
The poetry of Shankha Ghosh has two distinct streaks – one is marked with mellifluous lyricism and portrays an intimate romantic narrative. The other is marked with scathing irony and addresses social issues ranging from capitalism to deforestation. The co-existence of these different traits makes him a harmonious and complete poet who never went out of context or fashion. What has indeed gone out of fashion is his brand of loyalty— loyalty to the ideas of justice and equality; loyalty towards his conscience, one that he never traded for institutional positions or badges. Adieu voice of reason. Let us embrace the void.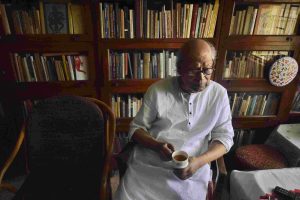 "আমি তো আমার শপথ রেখেছি
অক্ষরে অক্ষরে
যারা প্রতিবাদী তাদের জীবন
দিয়েছি নরক করে।
দাপিয়ে বেড়াবে আমাদের দল
অন্যে কবে না কথা
বজ্র কঠিন রাজ্যশাসনে
সেটাই স্বাভাবিকতা।"
– সবিনয় নিবেদন
"I have kept my promise
Does it ring a bell
Have turned the lives of protestors
Into a living hell
Our party will do the talking
Others must keep mum
When the state is ruled with an iron fist
That's the rule of thumb."  
– Excerpt from, 'Polite Address'



Image courtesy: Sanjeet Chowdhury