The Governor's physician of the erstwhile Assam state was a great lover of music. When he was not busy attending to his high profile patients, he would spend hours in his picturesque colonial bungalow in Shillong listening to music. On a cold winter day in December 1937, he had a daughter. Her parents named her Sisirkana (meaning dewdrop in Bengali). Little Sisirkana quickly imbibed her father's taste. She was a precocious child and her father was quick to spot her prowess and inclination to the arts and bought her a violin and engaged Ustad Moti Mian as her music teacher when she was seven. As it turned out, Moti Mian was a distant relative of Sarod maestro Ustad Ali Akbar Khan.
A few years later in 1956 Ustad Ali Akbar accepted Sisirkana as his disciple but not before she had received training from another Padma awardee violinist, Pandit V G Jog. In a few years Sisirkana's talent and perseverance helped her bloom into a skillful and creative artist who made her presence felt in the world of Hindustani Classical Music. Her performances became a regular fixture in All India Radio and in music conferences around the country. Performing at international concerts was only a matter of time. Sisirkana Dhar Choudhury represented India as a cultural representative in Russia, Finland and Afghanistan. In 1970 she represented India in the music conference organized by the Nepal Government commemorating the country's Independence. Sisirkana had picked up the violin at a time when women artists mostly ventured into vocal music. She is in league of those extraordinary women musicians who paved the path for a future generation of artists.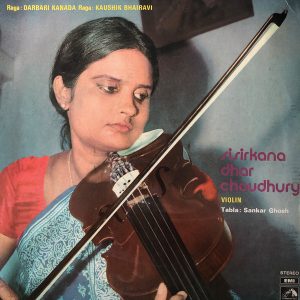 Alongside pursuing a career as a performing violinist, Vidushi Sisirkana Dhar Choudhury became a distinguished teacher and Guru at the Rabindra Bharati University. After retiring in 1997 she moved to the US to join the Ali Akbar College of Music in Bay Area, San Francisco where she was also involved in transcribing the music of Ustad Allauddin Khan. Having been trained by the late maestro's son, she knew and understood Alauddin's music better than most of her contemporaries. Her students fondly referred to her as 'Bordi' or 'Guru Ma'. Her student and accomplished violinist Indradeep Ghosh recollects, "Guru Ma used to say, a musician should not play for claps. A musician should strive to transport the audience into a trancelike state where they forget to clap. She had received her talim from the past masters and retained the same style."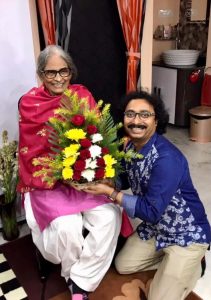 She was been accompanied on the tabla by some of the best artists of her time like Ustad Zakir Hussain, Pandit Sankar Ghosh, Pandit Swapan Chaudhuri to name a few. Tabla player Abhijit Banerjee who has accompanied her on several concerts remembers, "Every time I visited the music college of Khan Sahib in Bay area I could see her sitting at the feet of Khan Sahib and preparing notes for her research. But she never allowed me to touch her feet in front of Khan Sahib such was her reverence towards her guru."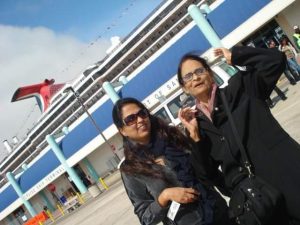 To her credit, she introduced the viola in Hindustani Classical Music and added a fifth melody string to the violin and viola. She often started her alaap on viola and then switched to violin for the gat. Her performances are marked by slow and patient unfolding of alaaps leading on to masterfully crafted techniques of fast and complex rhythms. As she mounted to the climax jhala she often switched bows. In the words of music critic Teed Rockwell, "Her phenomenal use of dynamics creates a sense of Romantic grandeur reminiscent of Beethoven or Paganini, particularly as she shifts into the dramatic climax of the jhala. As her bow flies wildly across the strings, and strands of her carefully tied-back hair tumble into her face, she seems paradoxically like some sort of Dionysian librarian, pouring a lifetime of study and servitude into a single perfect moment."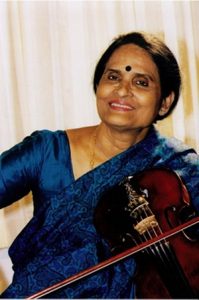 Such was her dedication to tradition that she never gave way to the demands of commercialism by diluting her music. Unlike many present day tutors, she took her time with each student, waiting for them to patiently learn the ropes as a beginner. Like a true disciple of Hindustani Classical Music, she held her 'self' and her music as an offering to the music gods (for lack of a better expression). She was someone who had captured the full essence of music's philosophy. It is not for nothing therefore, that she seldom agreed to be interviewed. No published interview of the artist is available online and few of her recordings are available for sale commercially online or elsewhere. She breathed her last away from limelight on 9th March 2021 in Gurgaon. Her demise marks the end of an era for Hindustani Classical Music. An era marked by endless perseverance, selfless dedication and careful nurture.
Image courtesy: Indradeep Ghosh, Rashmi Chakrabarty, Facebook, Music Central.