According to the non-profit NY food museum, the first act of pickling happened some 4000 years ago in the Tigris valley. The fruit used was cucumber brought from India. The age-old tradition of preserving fruits, vegetables, meat and fish has extensively imbibed local traditions. So much so that this art (of pickling) has now acquired a life of its own and spread across cultures and generations securing pride of place in every culinary tradition. Hundreds of varieties and recipes of pickles are found in India itself. The spicy fruit and vegetable pickles from western and northern states, the dried fish and meat pickles from north-eastern states, the raw mango and mustard condiment of Bengal (kasundi), the pickles of southern coastal states are as different as chalk and cheese. Each of these pickles have a distinct flavour profile that distinguishes it from its counterparts. 
Like all households, ours also has its own share of pickle recipes. Every summer mother takes up the arduous and elaborate ritual of pickling raw mangoes. Not just mangoes though. Jars of star fruit, mango, sweet lime, lemon, tamarind, jujube, garlic and chili, hog plump or amra and mixed vegetables pickles are lined on the terrace to soak in the summer sun. Tangy and spicy smells waft from the oily jars while the women of the household mix different herbs and spices in big containers to cure the fruits and vegetables. 
Pickles are always stored in ceramic, glass or earthenware containers as these are not likely to have a chemical reaction with the mix. Metal containers run the risk of contamination. The jars are then covered with dry white cotton cloths and set out to dry in the sun. It is forbidden to use lids as that leads to formation of vapour and moisture accumulation. Moisture is the arch enemy of pickles.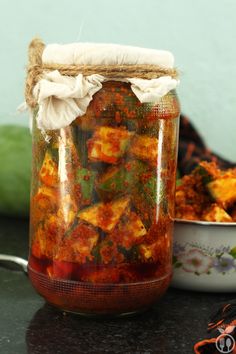 In our kitchen, raw mangoes, sweet lime and star fruit are soaked in bowls of salt water before cutting them into chunks or thin slices. Chop, chop, and chop, the skilled hands make sure to keep the shape of the fruit intact before taking out the seed. Later, the pieces are sprinkled with salt and turmeric (depending on the recipe) and spread out on large cane baskets or souks to be cured in sunlight to dry it properly.  
Some pickles are sweet, some sour and some are hot. As children we were particularly drawn to a type of sweet mango pickle called mango chasni. It is a sweet mango pickle prepared with jaggery and spices. Summer afternoons were incomplete without pickle stealing expeditions to the terrace. These were predictably followed by sessions of chastisement and punishments. The pickle we were and still are fond of as accompaniment to parathas and dal and rice is the staple raw mango sour pickle.
Here's how mother makes it.
Ingredients:
Raw mango – 1 kg
Mustard oil – 250 ml
Salt (100 gm) or as per taste
Turmeric powder (one tablespoon)
Red chillies powder (half tablespoon)
Kashmiri red chillies powder (one tablespoon)
Cumin powder (one tablespoon)
Coriander powder (half tablespoon)
Fennel powder (one tablespoon)
Fenugreek powder (half tablespoon)
Mustard powder (half tablespoon)
Whole dried red chillies
Nigella seeds (half a tablespoon)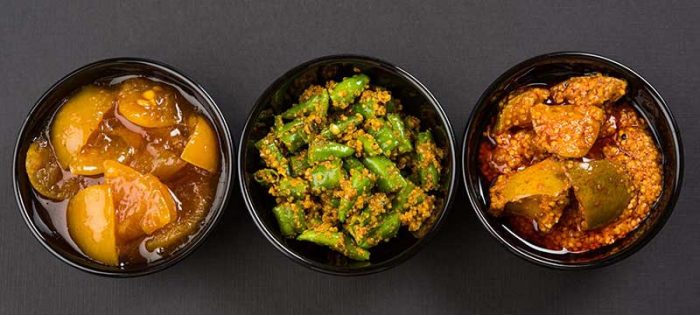 Procedure:
Cut mangoes into cubes with the skin. Wash them thoroughly and let them dry under the summer sun for one whole day. Dry roast chillies, cumin, fennel, coriander and fenugreek separately. Allow them to cool and put them in a grinder and grind to a fine powder. Coat the dried mangoes with the spice powder, salt and turmeric powder and let it rest for a few hours. Healt oil in a pan and add nigella seeds into the hot oil. Once the seeds start spluttering and release their aroma, turn the heat off. Let it cool down to room temperature. Once the oil has cooled down, pour it over the mango and spice mix. Mix everything well, put the mixture in a ceramic or glass jar and let it out in the sun. In a few days, your pickle will be ready to shine (literally) beside your regular staple of rice and dal, khichdi or paratha. 
However, owing to the high oil and spice content, pickles must be consumed in moderation. These jars of sunshine are best kept aside for rainy days and lazy days when you just don't feel like cooking up a storm.