I had no idea that a chance meeting with my classmate from college would lead to a discovery so remarkable that it would blow me off my feet. It was a typical scorching April day some years back when I was bitten by the "Heritage" bug. My partner and I were scouring the lanes and by-lanes of North Calcutta, camera in hand, hunting for heritage buildings to document. We found ourselves near Jorasanko when I recollected that my college classmate Sujit used to live in the nearby CIT flats. Upon calling him up over mobile he agreed to accompany us in our "Photowalk" and added that he had something special to show us. We followed Sujit through meandering streets till we stood before a nondescript dilapidated building in Banarasi Ghosh Street which was literally crumbling away.
A plain temple stood at the front porch while a slightly more interesting gateway adorned the main entrance to the building. Sujit went inside and soon returned with a person who introduced himself as a year junior to us in college and added that he had recognised me though I may not remember him. He then invited us to explore the temple and the idol inside. He requested us to examine the idol closely and tell whether we can spot anything unusual. We peered into the darkness and as our eyes became accustomed we could faintly discern a deity in "Dhyana Mudra" (Padmasana with the arms placed onto each other on the lap) built onto the wall. He explained that it was a "Buddha murti" and this was perhaps the only instance of a Buddha temple built within a residential complex in Calcutta.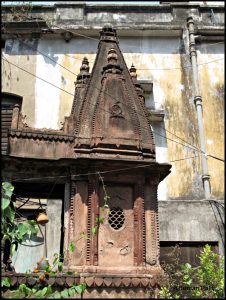 Noticing our bewildered looks, he smiled and recounted the following anecdote. This house belongs to the "Jorasanko Ghoshes" of which he happens to be the present generation. The house was once occupied by Pratap Chandra Ghosh who started his career as Assistant Librarian of the Asiatic Society and gained fame as an English and Sanskrit scholar in Buddhist studies. He also acted as the registrar for Deeds and Joint Stock Companies. He became so enamoured with Buddhism that, taking the help of Tibetan Lamas, he read through almost the entire corpus of Buddhist Canons. He declared himself as a Buddhist Bhikshu and added the Buddha temple and the gateway with Buddhist icons to his house. He started calling himself Pratap Chandra Ghosha rhyming with Ashwaghosha, the famous author of 'Buddhacharita'. He named his sons Shankhachura, Ajatshatru, Priyadarshan, Shuddhodhan and Jayatsen― all linked to Buddha. Pratap Chandra Ghosh authored several books, most remarkable of which was "Bangadhip Parajay" enumerating the life and fall of Pratapaditya of Jessore, the leading figure among the "Baro Bhuyian". It is said that Rabindranath Tagore used to read out this story to his sister-in-law Kadambari Devi and he was so impressed by it that he wrote "Bou Thakuranir Haat" based on this subject.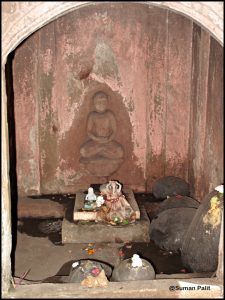 We inspected the arched gateway in front of the main entrance which was built in the style of Buddhist architecture and I noticed it's resemblance to the gateway of Mukteswar Temple in Bhubaneswar. The Buddha statuette atop the arch and signs of the Zodiac (Nabagraha) on the supporting columns were plainly discernible. I could also faintly make out scenes from the Jatakas depicted on the arch. Due to my lack of knowledge on Buddhist and Hindu iconography, I could not decipher the other figures depicted on the gateway though one with "Shankha Chakra Gada Padma" was easily identified to be Vishnu.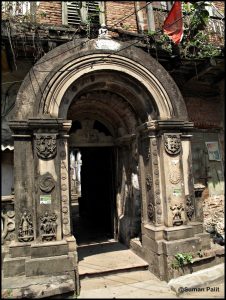 By this time we were thoroughly enthralled with the history linked to the building but a mysterious smile on the lips of our raconteur told us that there are more surprises in the offing. He went on to relate the close friendly ties that bound the Ghoshes of Jorasanko with the family of the Kaliprasanno Singha of "Hutom Penchar Naksha" fame. The bond between the 2 families started with Prankrishna Singha and Abhoy Charan Ghosh and ran so deep that when Satu Singha, father of Kaliprasanna died prematurely, Hara Chandra Ghosh, Abhoy Charan Ghosh's son was appointed guardian of the young Kaliprasanna. Sunil Gangopadhya in his magnum opus "Sei Somoy" loosely based his principal protagonist Nabin Chandra on the life of Kaliprasanna Singha and that of Bidhusekhar Mukhopadhya, Nabin's legal guardian in the novel, on Hara Chandra Ghosh. Our friend wryly remarked that this supposed depiction brought forth some bad blood between his family and Sunil Gangopadhya when his family complained that their ancestor has been shown in bad light in the novel. The controversy aside, I feel 'Sei Somoy' is Sunil's greatest literary contribution. A historical novel with a grander socio-political backdrop is hard to come by.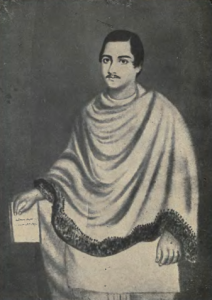 Incidentally, Hara Chandra started his career as munsif and rose to become a judge in the Small Causes Court where his bust can be seen to this day. He was a member of the Young Bengal Movement and was a Derozian.  His son Pratap Chandra Ghosh was fast friends with Kaliprasanno Singha. 
That day we lost track of time and barely noticed the approaching darkness overtake daylight while we stood there listening spellbound to the recounting of history. 
I later heard that Kolkata Corporation had only included the ornate gateway in their heritage list leaving out the building proper, making way for greedy land sharks to acquire and demolish the building which is a shame. By the time you are reading this essay, the building of Hara Prasad lies under lock and key waiting to be demolished like many other heritage Kolkata Jorsanko buildings. 
Image courtesy: Suman Palit & Wikimedia Commons