Pratidwandi is said to be the first among the three city-centred films Satyajit Ray decided to make. This celluloid journey began with Pratidwandi (1970)  followed by Seemabaddha (1971) and ended with Jana Aranya (1973) to peel off, layer by layer, like the skins of an onion, the psyche of the youth in an ever-changing Kolkata. 
The feature that makes the trilogy films memorable is the common thread of turbulence in the city, both in physical, social and environmental space that critiques the corrupt employment practices in corporate firms, and more importantly, the inner struggle and conflict it creates within the psyche of the protagonist. These conflicts – sometimes real, sometimes imaginary push the plot forward.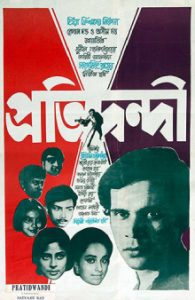 All three films were celluloid adaptations of novels authored by two famous Bengali authors – Sunil Gangopadhyay who wrote Pratidwandi and Shankar who is the author of Seemabadha and Jana Aranya. But Ray improvised on the original stories according to his own contemporary demands as a scriptwriter and director of the films.
The protagonist in Pratidwandi, Siddhartha Choudhury, is forced to give up his medical education when his father dies suddenly and he joins the swarms of educated, middle-class young men looking for employment. Failing to get a job not because he is incompetent or uneducated, he takes to walking along city streets, or, wandering across to his two classmates from medical school who mess together, or, ruminating on how he can stop his younger brother from engaging in dangerous Naxalite activism or, his sister from engaging in an assumed affair with her boss. 
But he can do little about both because his brother Tunu shrugs him off as if he did not exist while his sister, Sutapa, a very attractive young girl, pacifies him which reminds him that after his father's death, she is the sole bread earner in the family. Siddhartha suspects that she is being sexually exploited by her boss but the escapist that he is, he cannot do one thing about it. The director suggests that the sister however, is preparing herself for a career in modelling.
This was a turbulent time in many parts of West Bengal in general and Calcutta in particular. Frustration from poverty, unemployment and social inequalities led young men like Siddhartha's brother to involve themselves in active and violent political resistance, exploding at times into violence against all forms of authority. At one end, the state of West Bengal and its capital city Calcutta was the epicentre of much of this "revolutionary thinking". At the other end, the public and private sector were building up a culture of bribes and corruption, with the older generation teaching youngsters ways and means to "get ahead in life".
With issues like rising unemployment, the rise of the Naxalite movement which was running underground, having appropriated a slice of brilliant students of Calcutta and Jadavpur Universities within its fold committed to uproot any capitalist and/or fascist rule through armed revolution. Alongside, there was the influx of Hippies from the West, youngsters from the USA and other European countries leading a Bohemian life, doing drugs, dancing away on the streets of Calcutta, enamoured with the poverty, the dirt and the debris the city had turned itself into.
Is Siddhartha a coward? Or is he an escapist? Or is he really a misfit who cannot fit in?  Or is he a microcosm of a major slice of the city youth who cannot do much about going up in life and yet, are not yet ready to compromise on the moral values they have been brought up in to fit into the fast-changing corporate world. His cowardice comes across when he suddenly, on an impulse, visits his sister's boss at his residence but walks away without broaching the topic of his sister's presumed sexual exploitation. His escapism is brought across in many ways especially when he refuses to work for a political party even for a salary. That he is a misfit we learn from his complete distancing from his family members and his constantly weeping mother. He shows concern for his kin but is clearly not involved at all.
In Pratidwandi, the opening scene is presented in a negative print, to highlight how the death of the protagonist Siddhartha's father has turned his world inside out and upside down. Later, an encounter with a trained and uniformed nurse moonlighting as a sex worker is presented in the same way, again giving us a sense of how deeply unsettling this moment is to Siddhartha. When he is about to cross a main street, he sees a young, buxom woman and his mind switches back to his medical class with the professor explaining the anatomical details of a woman's breast. Once, while visiting the home of a pretty young girl who becomes his girlfriend of sorts, when the girl's would-be stepmother tries to swallow a pill for her headache, Siddhartha once again breaks up that image of swallowing into a negative print. These seem to suggest that he has not been able to forget that he was forced to leave his medical education for a job but ironically, he fails to land that job.
He dreams a lot but his dreams are more nightmares than dreams. He goes to watch a movie where the air conditioned cool on a summer afternoon is ideal for an afternoon nap and not the movie itself. We once see him go with a friend to watch a Swedish film at a film club which, the friend points out, has "no cut." But the film turns out to be a joke on what they were looking for – uncensored sex scenes in the film. In another nightmare, Siddhartha sees his sister in a bathing suit posing for photographs on a beach. The pictures change to Tunu being gunned down by a firing squad. A nurse comes to tend to him but when she looks up, it is Keya's face he can see. 
His younger brother Tunu takes pot-shots at him labelling him a conformist and a coward, pointing out that this same man had once bought him a thick biography of Che Guevara and Siddhartha smiles wistfully to remind him that he had to sell off two thick medical books to buy this one for Tunu's birthday. If the medical books have lost their use for Siddhartha, Guevara's life too, now seems to have become an exercise in futility.
He accidentally gets into a brief relationship with Keya, a sweet young college girl who suffers from feelings of loneliness and a sense of rejection because her father is about to marry her aunt, a loud lady who constantly tries to draw attention to herself. Though Siddhartha goes on a few dates with her, his body language, his silences, his brief conversations with her do not appear that he is about to take the relationship seriously.
In fact, Siddhartha has no idea about what direction his life is taking which, perhaps, is a microcosm reflection of the city of Calcutta itself where hippies wander about aimlessly beside an unemployed young man, or, a nurse who moonlights as prostitute but talks well and proper, a medical student from an affluent family has no issues to pocket the money someone has collected for the Red Cross, and so on. Siddhartha is a personification of the city of Calcutta that is a collage of a strange amalgam of people, pointing out a time when candidates for an interview have no proper place to sit, though they must wait the whole day for a meeting that lasts for hardly five minutes. The walls of the hall where the candidates are waiting are filled with political graffiti and we learn this is not the office which is shifting to another place.
The only thing that underscores Siddhartha's rootedness lies in is search for that unique bird call he heard as a child. He goes in search of it at New Market but he does not know the name of the bird so comes back. That bird call keeps haunting him at odd times and we feel that is his escape back to the comfort and security of his boyhood days.
The camera wanders across the city, sometimes casually, sometimes idly, sometimes rapidly following Siddhartha on his tracks, scanning the public vehicles we see Siddhartha jostling in with the huge crowd, hanging from the slings, squeezing himself in and out of the overcrowded entrance without making even an acquaintance.
The sights and sounds the camera and the sound design capture are often from Siddhartha's point of view while in other scenes, they make Siddhartha into the subject of their focus and the audience enjoys both points of view left to draw their own conclusions when Siddhartha leaves Calcutta to go to a district to work as a medical salesman. Trying to pen a letter to Keya, he suddenly can hear that bird-cry in the midst of the chanting of Bolo Hori Horibol as in long shot, a hearse is being carried away to the crematorium. He walks up to the balcony and signs off the letter to Keya.
This film, through the eyes of its protagonist, shows us the slow but sure socio-political changes happening in Kolkata where interviews are fixed, where Hippy youngsters dance away to merriment, where unemployment among the educated young keep climbing everyday and yet, where, a young man, defeated in the battle of life, seeks and finds succour in a simple birdsong.
Image courtesy: Wikimedia Commons, Pinterest