Aarkkariyam
Director: Sanu John Varughese
Cast: Biju Menon, Parvathy Thiruvothu, Sharafudheen
Streaming on: Prime Video 
The title of this Malayalam film released on Prime Video in May roughly translated as "Who Knows?" spells out the morale, or, lack of morale of the common man. Co-written by Sanu John Varughese and Arun Janardanan and Rajesh Ravi, Aarkkariyam is Varughese's directorial debut. The film pits an apparently simple story against the setting of the Covid-19 lockdown that happened across the country in 2020. "Apparently" because beneath the surface of the simple story lie powerful and scary questions. It questions the norms of morality that exist in the common man and about the line that divides the moral from the immoral.
The story opens in a Mumbai apartment where Roy (Sharafudheen) and Shirley (Parvathy Thiruvothu) live while their 12-year-old girl is temporarily placed in a Missionary Convent in Tamil Nadu. Roy, a businessman, has incurred a huge debt and needs a substantial amount to free his cargo lying in the docks. They decide to go to Palae in Kottayam, Kerala where Shirley's father Ittyavira (Biju Menon)  a widower lives in his estate. 
The old man who once taught Mathematics in a school in the small town looks after his massive plantation all by himself. He says he recently went into some debt for his failed attempt at a rubber plantation. But when he accidentally learns of the financial mess Shirley and Roy are in, he tells them he is ready to put up his entire property up for sale which, after taking care of their financial problems will leave enough for him to buy a spacious apartment in the city. 
Roy is overwhelmed by the old man's generosity but then, the old man tells him of a secret that he has to share with him so that the sale can happen seamlessly. The couple is unable to bring the daughter immediately because of the lockdown so must wait for a medical certificate that will permit Shirley to fetch her daughter back.
Ittyavira and his only daughter are devout Christians who offer prayers at the family altar very religiously while Roy watches passively. He is a peace-loving man though he carries the shadow of a bitter divorce from his first marriage unlike Shirley who has very fond memories of her first husband who deserted her when she was pregnant but shares her memories with the understanding Roy.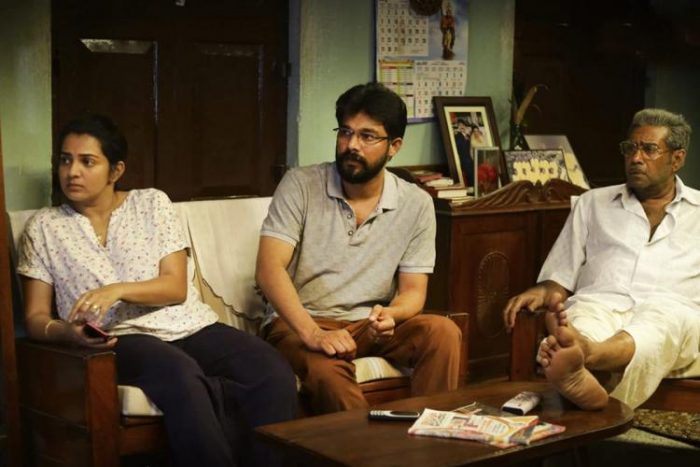 The film suggests more than it tells and calls upon the audience to draw its own conclusions. Does Roy agree to help Ittyvira in carrying and keeping his secret? Or, does he suffer from pangs of guilt? For Roy, life is like a double-edged knife that cuts both ways. If he helps Ittyvira, he becomes complicit in his past crimes. But if he refuses to help Ittyvira, he must find other resources to pay Rs. 2 crores to release the goods and receive them. 
The land and the home are finally sold, solving Roy's financial problem at one go and also gets a flat they can live together in though Shirley and Roy will go back to Mumbai after the lockdown storm brews over. The film closes on this positive note of hope and optimism. 
But the foundation of this hope and optimism is an edifice built on a crime and its diabolic cover-up. It is also interesting how the burden of a crime is placed on the "will of God" by the devout. 
The film opens in a very dark room lit only by the light emerging from the computer screen where Roy is seated for a long time while his wife sleeps peacefully. They share a hassle-free marriage of quiet contentment which appears to be a bit too smooth and seamless than necessary. The cinematography uses natural light beautifully not just to light a given frame but more importantly, to express and reflect a given mood at a given time.
The film opens up when the couple reaches Kottayam where the old man is eagerly awaiting their arrival. The sharing of housework, cleaning jackfruit, sharing in the cooking, are minute details of the father-daughter relationship. Shirley's asking Roy and her father to taste her cooking, are small touches that successfully establish Roy as a loving husband and respectful son-in-law. 
The verdant greenery of the estate is constantly disturbed by the television news telecast on the status of the pandemic across the country. The old man breaks into an old Hindi song that goes – yeh raatein, yeh Mausam, nadin ka kinara, yeh Chanchal hawa. The first time he belts out the lines in his rough voice, Shirley and Roy look amused. The second time he sings is when the family has shifted to its new apartment in the city and this time, Roy looks happily at his father-in-law.
Biju Menon, who is a relatively young actor, gives an astounding performance as Ittyvira, a character much above his years. Sharafudheen as Roy and Parvathy Thiruvothu are very good along with the supporting cast. 
The execution is too compromising to narrate this happily-ever-after story. But as it closes, it shows that all that we are shown as "happy" may actually be wearing an ugly face beneath the mask. Shirley lives on happily without ever knowing what happened between her husband and her father as they continue to lead their lives like they did before.  As if nothing happened. Did something really happen?
Images courtesy: Nowrunning.com