Manik Bandopadhyay was a writer born ahead of his time. He died, reportedly in penury, at the young age of 48. But within that brief span, he wrote 36 novels and nearly 250 short stories, most of them defining not only a new style of prose but also opening up a completely new world of the marginalised and the oppressed in which he cut open the economic deprivation of his characters to expose the ever-changing emotional vacillations they suffer mainly rooted in societal inhibitions.
However, not too many of Manik Bandyopadhyay's works have been a favourite with Bengali filmmakers probably because of the complexity of the characters and their interactions and also because these stories on celluloid had little value in terms of the box office. Among the films made on his stories, the noted ones are Dibaratrir Kabyo, Shilpi, Calcutta '71, Padma Nadir Majhi, Putul Nacher Itikatha  and a few more.
Indraneil Roy Chowdhury, a FTII graduate who made his debut with Phoring (2013) which bagged several awards, has now made Mayar Jonjal (Debris of Desire) inspired by two stories authored by Manik Bandopadhyay titled  "Bishakto Prem" and "Shubala." But he has blended the two stories as a single film and done it so well that one cannot make out that the film is based on two different stories. Roy Chowdhury said that he has just taken the essence of the stories as they belong to a very different time and social setting and has brought it forward to the present time in Kolkata.
According to Roy Chowdhury, "the original is set in the beginning of 1950, but our plot is set in Kolkata in 2018-2019. The social settings are completely different. What remains the same is the relationships between the people, the lack of reliance and the common insecurities. The external dynamics are not the same at all."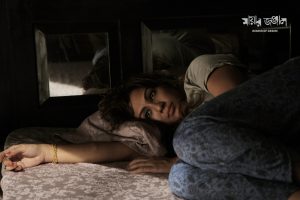 Mayar Jonjal is a character-driven plot where the stories and incidents sort of emerge out of these characters and their day-to-day struggles in just establishing a reasonably sound base for living. Living how? Manik Bandopadhyay, with his strong, Marxist leanings, mostly focussed on the marginal people of the society barely living an apology of a life. These are the features that bind the different characters together as a common thread. Mayar Jonjal is no exception.
The film has been shot in areas of Kolkata which reveal the underbelly of the city. It depicts spaces middle-class Bengalis are hardly aware of. The people described in the film are caught in the constant struggle of trying to eke out a hand-to-mouth existence either through sex work, drug trafficking, working as a maid in a very rich man's home. Or, just drinking, gambling, sleeping at work and losing the job of a security guard.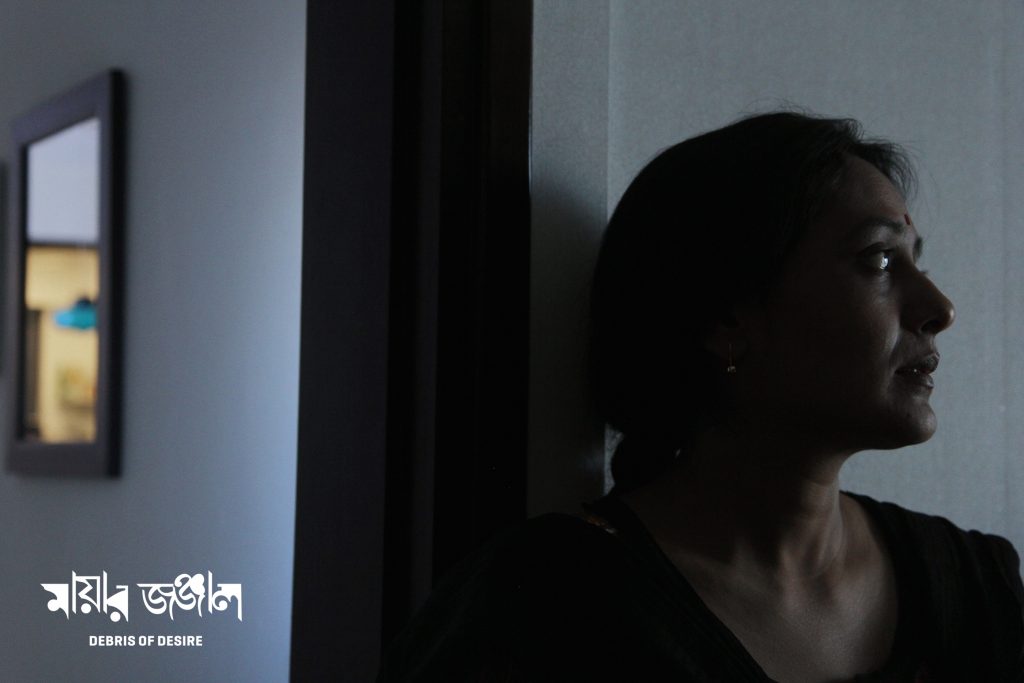 At the same time, they dream. Beauty, the sex worker, dreams of opening a legitimate bank account to keep her earnings and have a good saving to rely on. Soma, the wife of Chandan, who has lost his job as a security guard at an ATM, aspires to put their son in a good, English-medium school so she takes up a 24-hour job as maid with a stinking rich family living in a condoville. Satyen, the son of a chit fund operator who dealt in illegal real estate, switches over to drug peddling in stuffed paans with the help of another underworld guy Pele. 
He has an eye on the money and gold Beauty has accumulated in a benami account. But, in a strange way, he also falls in love with her. Chandan, desperate to take his wife out of the maid's job, gets entangled in this drug business because of his ex-colleague at the ATM. Tempted with the easy cash that comes in, he orders his wife to quit her job. Soma is reluctant to let go because her employers treat her very well and the money is something she cannot let go of.
Like many of Manik Bandopadhyay's stories, none of the sub-plots have a definite closure. An ironic touch is Beauty and Soma's snobbish employer getting their hair done in the same beauty salon, suggesting how such places are more egalitarian than the society they function within. Soma makes friends with her employer's elderly father-in-law during their morning walk where she watches, with great interest, different groups of people performing various activities like yoga, attending laughter sessions, marching practices or picking rags. This offers a cross-section of the world that, for her, is out of reach but not beyond her dreams.
Beauty and Soma are given back stories but the mafia characters are not. There is a lovely flashback of Chandan and Soma lying on a beach enjoying the waves wash over them when Soma is pregnant. Beauty is from Bangladesh. Her husband trafficked her into a red-light area and went back to marry again. But Beauty cherishes her old photographs as a traditional bahu and even keeps a box of sindoor at her pooja altar she prays to every morning. Chandreyee Ghosh throws up a scintillatingly versatile performance as Beauty and captures more than adequate space in the film. Just towards the end, Beauty goes on a date with Satya and is thrilled like a little girl when she takes a joy ride on horseback. After this, her life lies in a debris around her and not many are bothered. "Who cares if a sex worker dies?" Pele points out to the very anxious Satya who thinks a drug overdose may kill her. 
Rittik Chakraborty as Chandan, the night security at an ATM who loses his job for sleeping on it or getting drunk is given a makeover in a role he has never attempted before. A very interesting cameo is thrown up by Beauty's affluent and generous customer (Bratya Basu) who dreamt of becoming a classical singer and even got anointed by a guru in Benares but was forced to take over his father's business in wholesale fish. He is introduced as a customer who brings a handsome catch of king prawns for the girls in the brothel. Beauty cooks it but when Satya arrives, she is servicing a customer and another girl serves him the dish. Sohel Mondal as Satya and Aupee Karim as Soma are very good indeed.
The camera travels across locations we do not generally frequent including the high-rise where Soma goes to work. Some scenes are repeated like metaphors of a cross-section of people who inhabit the city. The underground characters have strange names like Joga-da, who runs a syndicate and is involved in political mafia action, appearing only in the opening frames of the film, or Lebu, who works for Joga-da, or Pele, who has reluctantly offered shelter to Satya after he is released from jail.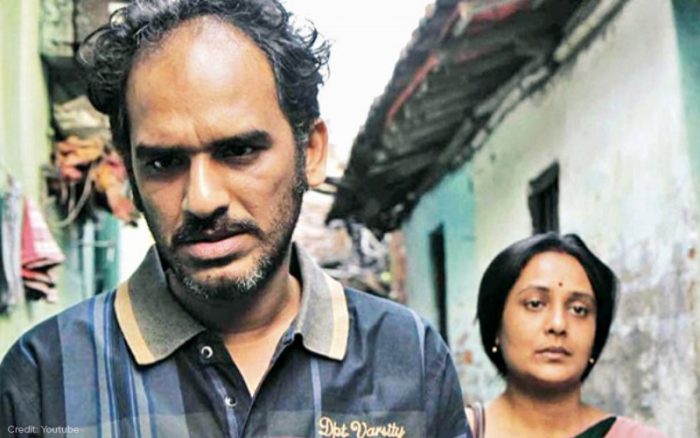 The film offers a beautiful collage of the city and its people we may never meet in real life but who are as flesh-and-blood as we are and live in the same city as we do. The camera is constantly on the move from the river bank where Joga-da is having his lunch in the open to that park where men and women meet to do their laughing exercises, to the terrible slum where Chandan lives with his wife, mother and son, through the red-light slot where sex workers wear very modern attire and do not seem to be lorded by any madam, to a police station where the policeman is very angry on Satya for having woken him up at four in the morning. The little touches of life and the living make it an experience not to be missed. Such as Soma and Chandan's little boy learning music at home from a music teacher.
The sound design is brilliant. You can hear the sound of temple bells in the distance from where the sex workers live and work. Or, the loud sounds of breathing in and out by people working out and their coach, or, the military trainees/scouts marching back and forth early in the morning in their routine. Sounds of love-making can be heard from across the thin walls of Beauty's room, commenting on the pitiable lack of privacy when these girls are at work. Beauty however, looks a bit of a misfit in her dowdy surroundings as she is too well-styled and well-kempt.
The film, an Indo-Bangladesh production by Bangladeshi filmmaker Josim Ahmed and the Indian production house Flipbook, won the Jury Award for Feature Film out of the 8 films from the official selection in the 21st Asiatica Film Festival (Asiatica – Encounters with Asian Cinema), in Italy. Mayar Jonjal also made it to the official selection of the Moscow International Film Festival and Shanghai International Film Festival (SIFF). The Bangladesh-India joint production was part of the Asian New Talent Award at SIFF. 
Mayar Jonjal is a very dark and sad film but you like the light it sheds on a world you live in but do not know about.
Images courtesy: Shoma A. Chatterji