Sandeep Aur Pinky Faraar
Director: Dibakar Banerjee
Cast: Parineeti Chopra, Arjun Kapoor, Jaideep Ahlawat, Neena Gupta, Raghubir Yadav
Dibakar Banerjee is not a prolific filmmaker but a talented one. Maybe because of his off-the-sync films he finds it difficult to convince a producer to invest in his films. He is forever trying to break the rhythm of what the audience is expecting and also what the producers and his actors expect from his script. So, when the title throws up an idea of a girl-boy-elope story, you find something totally different in Sandip Aur Pinki Faraar. 
Is it a road movie? Or an adventure-escape story? Or a lovers' romance juggler? It is none of those and yet, could fall into any of these genres. If only Dibakar had kept his grip on the script which he has co-written with Varun Grover right till the end, this film would certainly have turned into a milestone in the out-of-the-box category if there is one. But that does not happen.
Sandip Walia, nicknamed Sandy (Parineeti Chopra) is a talented banker holding a top position in Parichay Bank. But she has queered her own pitch by having a torrid affair with her top boss who practically owns the bank she works in. As if that is not enough, she is pregnant with his baby. She waits for him at a hotel but he does not turn up. Instead, she meets a man, Satinder Dahia, nicknamed Pinky, (Arjun Kapoor) who is a suspended cop from Haryana Police. Pinky says he has been sent to pick her up and take her to her boss.  As they get into a car, Pinky discovers that though Sandy is the target for a sudden killing, he is also made a target because having done away with Sandy, he will be of no use. But he tricks his boss, a corrupt cop (Jaideep Ahlawat) by giving him the licence number of another car ahead and the people in that car are liquidated almost at once.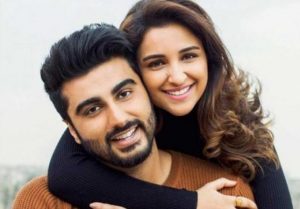 The only thing common between Sandy and Pinky is their singular aim to escape anywhere beyond the reach of their killers. Otherwise, they are complete opposites. Sandy is a Mathematics major and an MBA and a top officer in a bank and extremely confident of herself. And for some reason, she wants to keep the baby. Pinky, on the other hand, speaks a heavily accented Hariyanvi Hindi, is not very educated and is quite irritated with the way Sandy is treating him and also, the condition she is in as he does not know how to handle this. They find themselves trying to hide in Pithoragarh, a small Himalayan town where they decide to cross the border and escape to Nepal. 
These two are offered shelter by an elderly couple (beautiful cameos by Neena Gupta and Raghuvir Yadav) where they have to pretend that they are a married couple as Pinky is already pregnant and they share the same room. If there is any love brewing between the two, it never comes to the surface because they are much more a mismatch than our patriarchal world will permit. 
From this moment on, the film begins to slip and fumble and founder when Sandy tries and rescues the old couple's money in the branch of her bank in Pithoragarh. By the time she manages to salvage the savings and the Rs.10 lakh she has promised Pinky for accompanying her, her life is almost destroyed. The suave bank manager who has the glad eye for her, makes trouble. 
The end shows Pinky making his escape by crossing the border across a floating bridge dressed up as a transgender dancer in a baraat crowd with a very sad expression on his face. Sandy, on the other hand, is happy cooperating with the police in exposing the massive "deposit scam" she initiated as the bank officer and helps the police to nab the manager and his goons and helpers. 
There are just too many logical loopholes to fit into this hot-on-the-chase thriller. Is it possible for an inexperienced young bachelor like Pinky to take care of Sandy the way he does without any medical help when she loses the baby in her struggle with the bank manager? She is three months pregnant and, logically, would have died without medical support when she miscarried. 
Why is Sandy, such a highly educated young woman, not given even a miniscule of social history? Both Sandy and Pinky appear suddenly from nowhere and disappear into nowhere. Why? If this is Dibakar's trick of the trade in going "asymptomatic" with his script, it simply fails to work. 
What really works is the old man (Raghuvir Yadav)'s betrayal of Sandy to the police that smacks of his hatred for a woman who is so successful. His hatred is directed mainly at Sandy and much less at Pinky. He literally waits along with the police to catch the woman red-handed and refuses to touch the money he lost in the bank scam which she retrieves and tries to give him. 
The best part is in the fleshing out of the characters of Sandy and Pinky. They are very normal human beings without superhuman qualities, commit mistakes and often make wrong decisions. Though an element of emotional warmth does creep in unawares, more in Pinky than in Sandy, it does not lead to any happily-ever-after closure which also saves the film from a melodramatic ending.
Parineeti is very good as Sandy― confident and smart but afraid of death and trying her best to accommodate in the changing circumstances. But blend in as much as Pinky who comes from more grounded and modest stock. Arjun Kapoor fails to crinkle his eyes or his lips even in the slightest of smiles in the entire film and looks very glum. Jaideep Ahlawat is completely wasted as the corrupt cop possessed by the sole thought of capturing and killing this duo. 
The editing is extremely jerky because its jerks do not help in moving the story forward which is very slow on the uptake on what is happening, why, when and how. The cinematography is electric and the music, by Dibakar himself this time, is good and does not overwhelm the narrative. Some of the dialogues are quite peppy and the role reversal showing Pinky good at cooking while Sandy is all thumbs at kneading flour, is a typical, Dibakar touch.
That said, Sandip and Pinky Faraar is less entertaining than one expected it to be as it does not carry the magic "kick" with the typical "Dibakar Banerjee" stamp we saw in his earlier films from Khosla Ka Ghosla to Shanghai and his short film in Bombay Talkies.