Meet the young, warm and friendly Ishaan Ghose. His directorial debut Jhilli premiered at the 27th Kolkata International Film Festival last month. The Golden Royal Bengal Tiger Award in the International Cinema Section classified under Innovation in Moving Images was bagged by Jhilli which literally means "discards" and has actually been shot entirely at the massive dump yard called Dhapa in Kolkata which can be easily recognized when one drives along EM Bypass and is caught up in the strong stench that comes off it.
Flooded with accolades and awards he did not expect, Ishaan says, "The award to me is a symbol of hope for being true to myself; it really has given me a lot of strength and motivation to move forward on the path I have chosen. Appreciation and love really open doors to creative work. This award is a great point of validation for both independent filmmakers and for cinema. This has given me faith in following my heart and my instincts that led me to be true to myself. We all long for appreciation and love, that is why we make or create anything. It is that shared experience that we seek."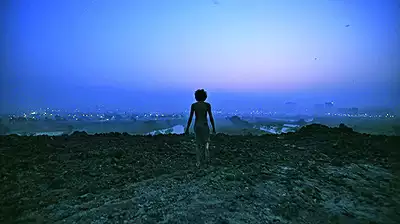 Dhapa is Kolkata's largest landfill site. Garbage collectors clean up after the city's 4.5+ million people shed their garbage in this massive dump which is home to around four thousand metric tonnes of waste at every day. A garbage processing industry has sprung up on the site. In the slums at the base of the mountains of rubbish, hundreds of people make a living as ragpickers or scrap dealers, by sorting the waste and recycling. In a cremation centre on site, unidentified dead bodies – most of them corpses of hawkers or street dwellers – are burned.
Frankly, the largest dump ground in any city across the world can hardly be imagined as the subject of a full-length feature film. But the 34-year-old Ishaan Ghose is made of tougher stuff. His Jhilli is completely dedicated to a few characters whose life revolves around the Dhapa dump yard which is also their sole source of livelihood. It dispels every notion of cinema being a medium of entertainment, education and information. "Education" and "Information" is communicated but not about things one is used to through cinema as a medium of mass entertainment. 
The landfill site at Dhapa was set up when Kolkata, then Calcutta, was the colonial capital of the British in India. A garbage train used to run along the main roads of the city collecting waste from all the big residential buildings and offices of the British administration. Since then, Kolkata's population has grown, and so has the amount of waste it produces. The landfill has grown into an entire landscape of garbage, which stretches for miles on the eastern fringes of the city. Kolkata municipal council has tried to find a new dumping site in the city, with hopes to reclaim what could become prime real estate at Dhapa, but their proposals have been rejected by civic bodies due to objections from local residents. 
So, why Dhapa at all for a debut? "Discomfort was the main motivation for me. Firstly, I wanted to get into a world I am not familiar with, completely different from my lived experiences. I wished to capture the suffering of people working there in a city where there is a Trump Tower just two kilometers away. I also feel that to create anything memorable and worthwhile, discomfort should be the main point; physical and mental endurance is the most important thing. The whole process was a test of my own endurance in wading through dirt, the slush, the terrible smell and surviving it," says Ishaan.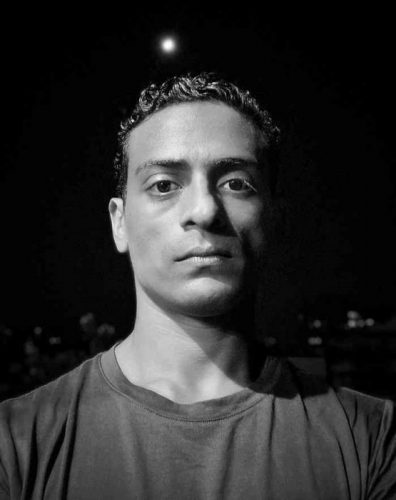 Ishaan is the son of internationally recognized and awarded filmmaker Gautam Ghose so it must have been a pressure on him to prove himself and justify the family name as his mother is a costume designer and his sister assists the father and is into editing too. But Ishaan voices a different view. "We have been a travelling family making films, and I have been experiencing this all my life. For my father, awards are the rewards for honest, hard work. Awards were never the real motivation. I share this feeling and my father has been more of an inspiration than a source of fear for me."
Jhilli is dedicated "to all the misfits of society whose voices remain unheard… but they do exist". Ishaan wanted to talk about the class of people you see out of the corner of your eye but never notice. "It does not matter where I come from. The true motivation is to discover life as much as possible, and my job is to find stories that need to be told. Coming from a better situation, the responsibility is more to share and discover human suffering and uncovering things that are kept hidden. I started working with an NGO in 2016 with my sister Anandi, to document the ragpickers around the Tiljala area. We shot and spent a lot of time with them, unfortunately the NGO had some legal issues, so we had to discontinue," he details.
It took Ishaan 12 long years till he felt he had the confidence to step into direction independently. He made documentaries, ad and feature films often as an assistant or as the assistant of the cinematographer to practice and hone his craft till he was ready to dive into the ocean of cinematic creation. As a filmmaker, he feels that the most important thing is to experience life and to share one's thoughts and feelings with people working in the field. "To me, filmmaking is very personal."
He began as a camera assistant in 2011 and continued to work till 2015 when he shot documentaries till his first opportunity to turn independent came with his father's film Sankhachil, an Indo-Bangladesh co-production. Ishaan's cinematography captures the vast expanse of the sky  with its flight of birds criss-crossing in flight, the waters of the Icchamoti  River that knows no borders, the small hut with pictures of Tagore and Nazrul on the walls of Badal's modest home, closing in on the magnifying glass as Roopsha looks with intrigue and curiosity at these strange facts of Nature who live a free life and comes again and again to the barbed wire fencing to focus on a group on the Bangladesh side appealing to the border security forces on either side to allow them to cross over and take part in the fair on the other side. The colours are muted and low-key to match with the context. That was the beginning of his independent work.
Initially, Ishaan and his sister had decided to make a documentary film so there was absolutely no script. "Then, I felt that creating characters and giving them things to say and building a narrative is important to create an emotional connection. So, I always had a script in my mind. Each day of the shoot I would tell my actors about the situation and give them things to do. Slowly, with the process, editing and finding things, I developed a few storylines, and kept shooting. This was the basic process."
Bokul (Aranya Gupta) ekes out a living from whatever he can lay his hands on, including rubble and bones. Narcotic substances emanating from the dump numb the brain and help Bokul pass his days like a tuned robot, unaware of the time and the space he is working in as his brain is affected by the gases from the stink. All the carcasses of the city are brought here, and then their bones are separated from the flesh, and thrown inside a specific machine. The bones get crushed, the skin and cartilages are separated from the fine bone grain, which becomes the final product that has many uses. The part left out while grinding is called Jhilli and Ishaan chose this as the title of the film. Bokul keeps doing the same thing everyday. His friends Guddu and Ganesh are in a slightly better position as they sell second hand goods, many retrieved from the dump on the streets. The sad Shombhu and the harassed trans person Champa are the other characters. "Actually, the dump yard is the main character and everything happens around it, in it and beside it," says Ishaan.
"I made the film very discreetly. No one knew about the process apart from my family. A lot happens in 4-5 years in someone's life, I have no complaints, but only gratefulness. We got our censorship done. We got an A certificate. We had to cut a few shots, nothing major" Ishaan elucidates. He has great admiration for his father who instilled in the younger Ghose the significance of discipline of preparation and research
"The sound design was done by Aneesh Basu, and the score was done by Soumajit Ghosh and Rajarshi Das. Aneesh has been my biggest and most important collaborator in this film. His efforts have really elevated the film. We worked together for a year from June 2020 to July 2021. Soumajit created the electronic sounds and music, while Rajarshi played the violin," explains Ishaan.
Ishaan has also written and edited his first film. Visually, it is shocking because the constant barrage of the screen with scenes of the dump in the foreground, as the backdrop for the characters who people it, and through the entire footage tells us that Jhilli is redefining the term "aesthetics" in cinema as we understand it.
We let Ishaan have the last word. "My true intent was to begin my journey with absolute truth. It is a very personal film for me. I felt isolated and lost like my characters all my life, irrespective of where I come from. Above all, I wanted to make a film about human suffering and joy and the celebration of life."
All images used in this article were provided by the author.