ADDA!: The College Street Coffee House
Publisher: Notion Press
Price: Rs 595


This is the second joint publication by Jael Silliman and Mala Mukerjee.  The former is an author, scholar and women's rights activist who has published several books on gender issues as well as about the Calcutta Jewish community. The latter is a graduate in  Physics (Hons) who later did a course in Photography from London Guildhall University.  She is a skilled and sensitive photographer whose work spans a wide range of subjects and styles, and adorns many corporate and individual Art collections in India and abroad. 
Their first joint effort was 'Where the Gods Reside' an attractively brought out book about places of worship of different religious groups in Kolkata, with a written description by Jael Silliman, accompanied by handsome illustrations by Mala Mukerjee. 
The book starts with a brief narration of the history of the building at 15 Bankim Chatterjee Street in which the Coffee House is located. This was first the home of Ram Kamal Sen, intellectual and entrepreneur, and grandfather of Keshab Chandra Sen. In 1856, a building named Albert Hall was built on this site, and this in turn was replaced by the present structure. With this background, when it was first taken on rent by the Coffee House in 1942, the local people referred to it as the Albert Hall Coffee Shop.  Later it came to be known as the College Street Coffee House.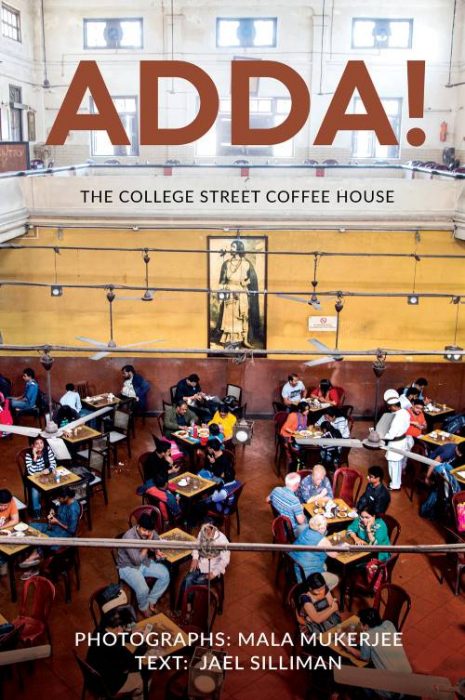 Over a period of time, this Coffee House has become possibly the most popular and significant venue for Adda (a free-for-all discussion among like minded members of a group), with members including students, teachers, writers, painters and other members of the literary, scientific and culturati of Bengal.  
Interestingly, from the 17th century onwards the Café or Coffee House culture thrived in European cities such as Vienna, Paris and London, one of the most famous being the Café Central in Vienna where Freud, Lenin and Trotsky were regular visitors. It was said about the Viennese Café that there you occupy unlimited time and space, but pay only for the coffee. 
I myself used to visit the College Street Coffee House regularly during my undergraduate days in Presidency College from 1957 to '59. During the next few years, I continued to visit the Coffee House off and on till 1964 when I left Kolkata to join service in Karnataka.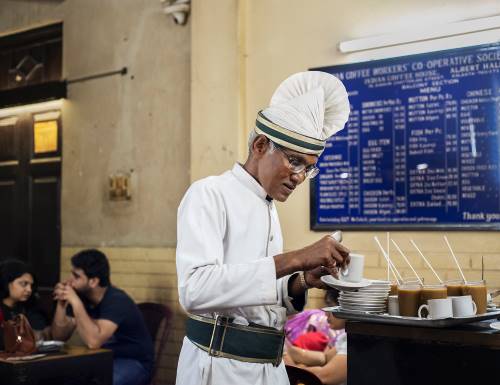 The Coffee House was a comfortably welcoming place where you could sit at a table with your friends and nurse a cup of coffee for any length of time without any hint of impatience from the waiters. There was a message on the wall which said –  " Please remember, there are also others" – which suggested that sound decibels should be kept low, even during heated arguments . 
Following this introductory information about the history of the Coffee Shop, the book gives us a delightful series of brief Coffee House memories penned by intellectuals, poets, writers,  publishers, film and theatre personalities, politicians, scientists and others, many of whom have distinguished themselves in their chosen fields. 
A major attraction in the book is the array of splendid photographs of some of the well known personalities whose Coffee House memories are recorded here, including my contemporaries in Presidency College Hiranmay Karlekar, Samik Bannerjee and Gayatri Chakravarty Spivak.  
Hiranmay Karlekar, a leading journalist who became editor of Hindustan Times at a very young age, recalls spending time at the Coffee House after school as he waited for his mother whose office was in the same building.  
Samik Bannerjee, a theatre expert and acknowledged connoisseur of art and literature, joined the Communist Party at a young age and was entrusted with visiting the Coffee House and persuading young students of Presidency College to  join the Leftist movement.  
A lot of the conversation at the Coffee House Addas revolved around art and literature, though there were also some strong political discussions even in the fifties. But during the next couple of decades when Naxalism started spreading among the students and youth of Bengal, Presidency College became almost an epicenter of the movement and a corresponding impact was felt in the Coffee House.  
This situation is mentioned in some of the articles contributed by persons who were students at that time viz. Jawhar Sircar and Bikash Sinha. There is also an interview here of the famous Naxalite leader Ashim Chatterjee, popularly known as Kaka, who was a regular visitor to the Coffee House in the sixties. It is said that during the height of the Naxalite movement, Coffee House workers arranged to provide protection to student leaders on the run. Similarly, another period of glory for the Coffee House was during the 1970s when relief material for the Bangladesh liberation warriors was apparently sent from the Coffee House.  
Some of the names that crop up frequently in these memoirs are Amlan Dutta, public intellectual par excellence and his friend Shivnarayan Roy;  Soumitra Chattopadhyay,  actor, poet and editor; authorss and poets like Shakti Chattopadhyaya, Sunil Gangopadhyaya and Nabaneeta Dev Sen, and theatre personalities Rudraprasad Sengupta and Keya Chakravarty. 
As can be observed through these articles, these different groups intermingled freely at the Coffee house without barriers of professional or artistic backgrounds, relaxed in the congenial ambience of the Coffee House. 
Unfortunately, there is no reliable record about the very Bohemian life led by four angry young men – Shakti, Sunil, Sandipan and (probably) Utpal – who used to rule Kolkata during the late hours of night, and who are no longer with us to enjoy the libations of either the Coffee House or the hangout at Khalasitola. There is however a reference in the book to poets of the "Hungry Generation", and the charge of obscenity against Malay Roy Choudhry who was one of them. In the early sixties, Allen Ginsberg the beat generation poet of the U.S. met the Calcutta poets at the Coffee House and wrote about them.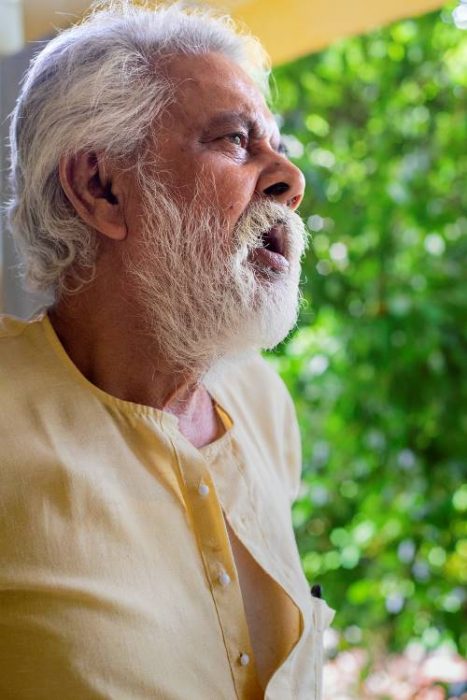 Tarashankar Bandyopadhyaya  must be the senior-most person, age wise, whose name is mentioned as a visitor to the Coffee House. This is in the interview of Rabin Mondal where he mentions seeing the iconic novelist there. This then raises the question: where did the writers and creative artists of Tarashankar's generation meet to discuss Literature and related matters? A recent article in the New York Times mentions a 103 year old establishment very close to the India Coffee House as a place where the writers of Kallol era  viz. Premendra Mitra, Achinta Sengupta and Shailajananda Mukhopadhyaya  would meet regularly in the 1930s and '40s. Kazi Nazrul Islam used to sing there and Shivram Chakravarty too was a regular visitor. Incidentally, there were other places too where Addas used to take place, centered usually around some literary magazines such as Sabuj Patra and Parichay.  
I would like to make a special mention of Binoy Mazumdar who's apparently disappointing encounter with Gayatri Chakravorty is mentioned in her article. Binoy Mazumdar was born in Burma in 1934, and came to India with his parents after Independence. He graduated from B.E. College Shivpur with a First Class degree in Mechanical Engineering, but decided to devote his life to poetry.  
His collection of poems published under the title 'Phire eso Chaka' (assumed to be addressed to Gayatri Chakravorty) was well received, and his later poems continued to be published for the next two decades. Though he was not part of the Krittibas group, he enjoyed a personal friendship with Shakti Chattopadhyay. Reportedly he later suffered from depression and spent some years under treatment. He subsequently received several awards including the Sahitya Academy Award in 2005. He died in 2006. 
Hiranmay Karlekar mentions in his interview that he met the renowned economist Prof.Sukhomay Chakravarthy in the Coffee House. There is also a delightful picture of Prof. Amartya Sen who holds the Chair of Philosophy and Economics at Harvard. But there is no separate memoir in the book about their link with the Coffee House. 
In fact, Dr.Sen and Dr.Chakravarthy were classmates studying Economics Honours at Presidency College from 1951 to '53. On one occasion when they were both participating in an Adda at the Coffee House, Sukhomay informed Amartya that Kenneth Arrow's book 'Social Choice and Individual Values' had just come out, and explained Arrow's  'Impossibility Theorem' to Amartya. This played a role in arousing Amartya Sen's interest in Welfare Economics, as narrated by Prof. Sen in his recently published autobiography 'Home in the World'. The rest, as they say, is History. In course of time Prof. Amartya Sen received the Swedish Central Bank Prize in Economics in memory of Alfred Nobel ( popularly known as the Nobel Prize in Economics) for his contribution to Welfare Economics. 
Finally, I would like to make a special mention of the excellent collection of photographs in the book. The full page portrait photographs are a class apart, virtually bringing the subjects to life naturally and faithfully. The photograph of Soumitra Chatterjee is particularly sensitive and arresting. And the pictures of life in the Coffee House itself, the busy tables with groups engrossed in earnest discussion, the waiters weaving through the tables juggling plates of chops and sandwiches, and over all a unique picture of lively chatter and camaraderie the like of which is rarely seen in the usual restaurants.  
What is the Coffee House like today? Does it still draw bright young students to gather together and discuss the economics and politics of the day, the finer points of their curricula, or the latest happenings in the world of theatre, music and literature?  
Those who frequented the place during the last several decades have moved on in life, many to greener pastures within the country and abroad. They find, on a nostalgic visit, that the Coffee House seems to look perhaps a bit drab, more quiet, with less of the old fire and vigour.  
In fact, the recent Assembly elections in West Bengal saw the iconic College Street Coffee House come into its own once again as a symbol of youthful idealism and freedom of expression. People from different walks of life, young and old rallied around the Coffee House and made a spirited stand against attempts by outsiders to forcefully occupy and vandalise the place. They sat on the road and drew posters urging people to rise against any attempts to occupy all addresses associated with Bengal's tradition of spirited debates. 
So, 'plus ca change, plus c'est la meme chose'. The spirit of the Coffee House clearly survives the passage of time and the change of seasons.  
Images courtesy: Mala Mukerjee