Debjani Ray Chaudhuri was brought up in a family that forbids girls to fly kites. So, when she decided to do something of her own, she launched an apparel boutique and named in Ghuridesign (Ghuri stands for kites in Bengali). And there she is now, soaring high with her unique paints and weaves, ready to conquer all saree lovers' wardrobes in Kolkata and beyond.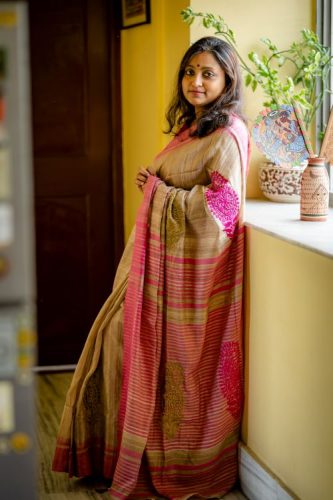 Ghuri Design became the talk of the town when hallowed Bollywood actress Vidya Balan, sported a saree from its stable during the promotion of her film Shakuntala Devi. It was a Royal Bengal Tiger motif woven cotton saree. It was then that word went out, a Kolkata saree brand is weaving wonders with traditional motifs.
But truth be told, Debjani had started designing long back, in 2015. She was back from her maternity break and was ready to join the workforce all over again. But she was in a dilemma whether to get back to her old teaching job or start something new, something she could call her own. It was then that she found her true calling. Debjani had grown up watching her grandma's intricate embroideries. Another relative was a commercial artist, a contemporary of Satyajit Ray. She knew exactly what she wanted to do.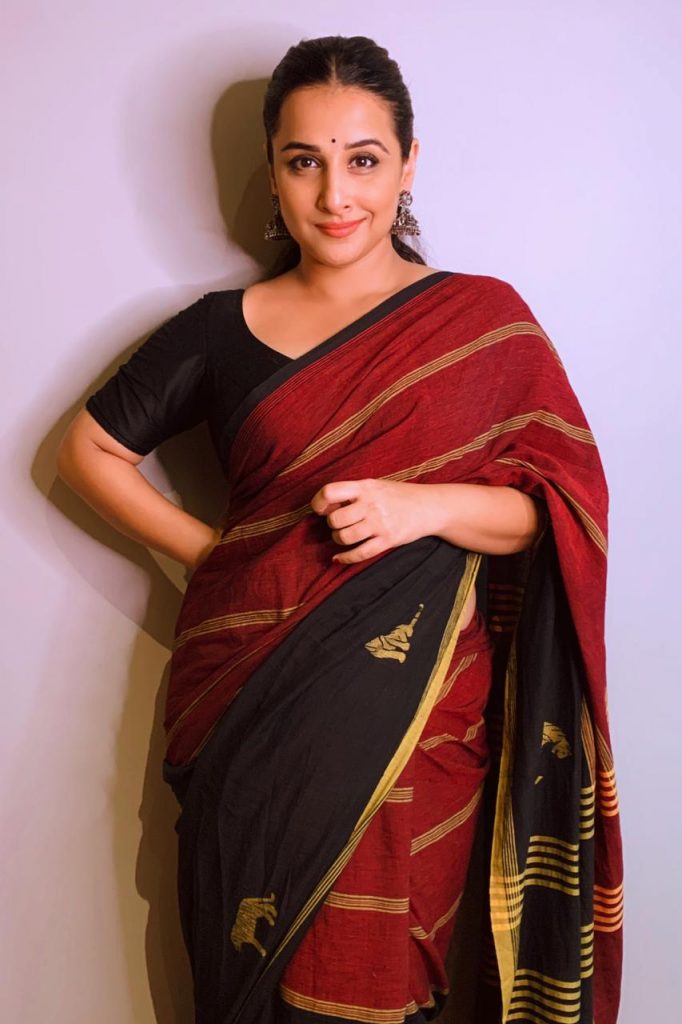 The initial days were difficult. She had plenty of ideas and zero experience. Her designs were copied blatantly by the same dyeing workshops she hired as vendors. One fine day she went up to the workshop and destroyed her dices and silk screens (the master design used to reprint on textile). That was how Ghuridesign was born. Debjani now has an in-house printing and dyeing setup, a bunch of trusted weavers and a designer who translates Debjani's creations into digital format.
One of her first designs was the Gupi Bagha saree, named after the fictional singer drummer duo immortalised by Satyajit Ray in his Gupi Bagha Trilogy. In her own words, "it's more than just a movie for me. It is part of my childhood…part of my summer vacations." Woven by hand with the extra weft Jamdani technique, this design has been quite a rage among veterans and college goers alike. According to Debjani, "I have many college students among my clientele. A lot of my sarees are quite pocket friendly. Also, youngsters these days like to have a quirky twist to their sarees and that's why they like my designs– these give them a fun yet traditional look they can afford with their allowances."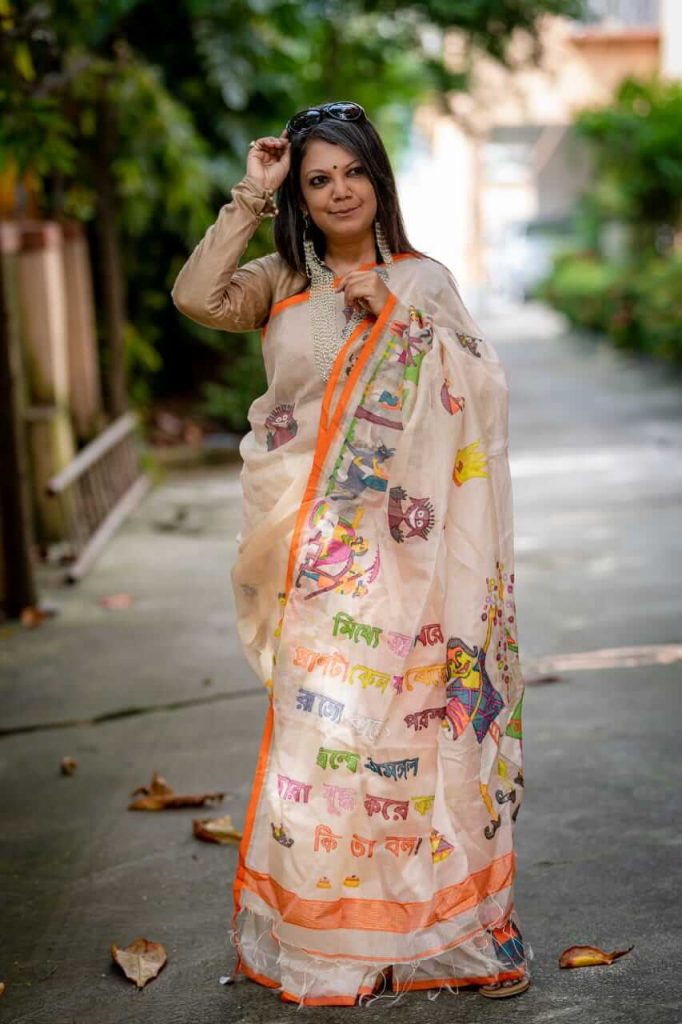 Debjani is also a staunch follower of the traditional weaving techniques of Bengal. All her sarees are handspun and handwoven by her trusted weavers. Apart of Jamdani weaving designs, Debjani also works with embroidery, hand painting and dyeing. Her range of Batik print cityscape sarees depicting Mumbai, Kolkata and Delhi were also quite well received. She writes about her Delhi saree– "Dilli…the city that gave me the first taste of freedom. I started my married life in Delhi. It gave me the taste of adulthood, far away from the prying eyes of my mother….above all that city made me realise how much I love Kolkata." Debjani took her designs one step further, with her Frida Kahlo and Starry Night sarees– the latest offerings from Debjani's stable.
When asked about her future plans she says, "I want to continue doing what I've been doing because it has been so popular and also because I feel the saree is such a versatile piece of clothing and its design potential is immense. So as of now I want to stick to what I'm doing. An online store is on the cards but I'll take it up only after the pandemic situation is over."
Ghuridesign has an online presence on instagram and facebook and Debjani accepts her orders over these platforms.