A tribute to the legendary Professor Atindra Mohan Goon (1931-2020), who passed away recently in Kolkata, by the world-renowned Econometrician Dr. Anil K. Bera. Like his predecessor, Dr. Bera is a torchbearer in this field whose name is now ingrained in all the Statistical software, with the famous Jarque-Bera Normality Test. Dr. Bera reminiscences his encounter with Prof Goon and how he looked up to him like thousands of other students and felt the camaraderie of being part of the Goon, Gupta Das Gupta circle.
Professor Atindra Mohan Goon does not need any introduction. Along with Milan Kumar Gupta and Bhagabat Dasgupta, Professor Goon has been an alumnus and teacher at the famous Presidency College of Kolkata. Goon, Gupta, and Dasgupta were not only PC Mahalanobis students; they were also founders of the subject along with him. The world of Indian statistics will always remember the trio as the creator of the first indigenous textbook of statistics – Fundamentals of Statistics. The two volumes of the book, adoringly referred to as "Goon, Gupta, and Das Gupta" by the students, are the foundation stone of India's Statistics students to date. Those who attended his classes still consider themselves to be the fortunate ones.
Born in Barhatta village in Mymensingh, now in Bangladesh, he came to Presidency College in 1947 after passing the Matriculation Examination.
---
This tribute is from an outsider. I was neither a "direct" student of Professor Goon nor knew him personally. He was my teachers' [Prasanta Kumar Giri and  Nanda Kishore Dey at the Ramakrishna Mission Residential College (RKMRC), Narendrapur] teacher — thus my Grand-teacher. I met him only twice. I will first recount those events and then say a few words on Professor Goon's impact on generations of students of statistics not only from West Bengal but from all over India and beyond.  
In 1972 Professor Goon came to RKMRC for a seminar under an innovative educational effort by the government of West Bengal, India, called COSSIP. Now I don't remember what COSSIP stood for. When I type it in Google, it returns, "Gossip Girl"! But I guess it stood for some Science Improvement Program in Colleges. Anyway, this was my very first seminar attendance in life. 
Professor Goon's seminar topic was Demography, what we called Vital Statistics. His lecture involved lots of data analyses, tables, and graphs but surprisingly, I could follow all of it. He was such a wonderful speaker — soft-spoken & very methodical. After the talk was over Professor Giri invited questions from the audience. I was sitting in the last row. After such a delightful lecture, I thought there would be some questions/comments from the first row. To my disappointment, there was none. Suddenly I noticed my right-hand was up. Perhaps my hand thought such a beautiful talk shouldn't end with silence. I heard a sweet voice, "Yes." First I didn't know what to ask. Then as if someone pushed a question to me, "Sir. You have analyzed so much data. But all with data from other countries. Why not any from India?" Even now I remember his very careful answer. It was all about "quality & reliability of data used in any statistical analysis." 
Then after half an hour or so, I was called to the Department Office. I was really scared. But I was quickly relieved to know that the reason was Professor Goon wanted to meet the "Boy who asked the Question!"
Professor Goon's seminar left a lasting impression on me. In our third year (1973) Professor P. K. Giri invited the students to give seminars under COSSIP. I used to suffer from severe stage-fright, still, I was first to take the challenge simply because I had the first-hand experience of the first-class seminar from Professor Goon. Following him, I also selected a topic from Vital Statistics. Now I don't remember much about it. However, I remember this. Somewhere in my talk spontaneously I injected this English/Bengali (Benglish) sentence, "It is vital for us to remember that – ছোট পরিবার, সুখী পরিবার (a small family is a happy family)" Mind you, this was Ramakrishna Mission; such dialogues were rarely uttered in public. However, the whole seminar room from the first to the last bench roared in laughter. That taught me, humor can be an integral and useful part of a talk. Even half a century later I am still trying to emulate Professor Goon in delivering a precise, pleasant and effective talk.   
The next meeting was much later before our BSc Part-II Exams. At RKMRC, Narendrapur we had a conspiracy theory– the Presidency College (where Professor Goon taught) Statistics Dept. students surely have some prior ideas about exam questions. Otherwise, it was unlikely that the First Class First in B.Sc Statistics hailed from the Presidency every year, year after year, without fail. We found out the Questions were set by the Calcutta University (CU) Post Graduate Statistics Department at Ballygunge. I was entrusted by my classmates to make a trip to the Science College. The idea was I would go with a set of selective past years' questions and ask the Head of the Department (that time Professor Hari Kinkar Nandi), for suggestions. The Questions avoided by him were more likely to appear in the test. And the key was to focus on the changes in his facial expression while I showed him the Questions one by one. 
On an auspicious day I started very early in the morning from Narendrapur. Professor Nandi was nice to me but told me he does not "know" much about undergrad stuff; I should rather consult Professor Goon at Presidency. 
Those were my youthful days — when the mantra was to leave no stone unturned to achieve something. I forwent lunch, took a couple of buses and by early afternoon was in the corridors of the majestic building of Presidency College at College St. However, it was not easy to find Professor Goon. When I was wandering in the college corridor looking for him, a clerk pointed to the other end of the corridor, saying, "There He is….coming back from a class." I could recognize him. Without a prompt, I walked up to him and said, 
— "I am coming from Hari Kinkar Babu." 
It worked like magic! 
— "From Hari Kinkar Babu! Please do come inside." 
By the way, Professor Goon was a former student of Professor Nandi.
Of course, I was a visitor from the "enemy" camp [though he didn't know]. Professor Goon was very gracious and sat down with me in his office, patiently answering all the questions! But Alas! There were no changes in his facial expressions as he went from Question to Question! Thus I returned to Narendrapur empty-handed, to the utter disappointment of my classmates! 
Beyond these two incidents, Professor Goon's lifelong impact on me was the books he co-authored with his long-time colleagues at Presidency, Professors Milan Kumar Gupta and Bhagabat Dasgupta. I still remember what caught my eyes most when I opened their Fundamental of Statistics, Volume One (FS1), for the first time in 1971 at RKMRC. On the second page almost at the top, it had these names
                     Atindra Mohan Goon, 1931-
                     Milan Kumar Gupta,   1932-
                     Bhagabat Dasgupta,   1933-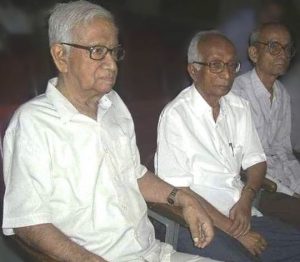 Atindra Mohan Goon, Milan Kumar Gupta Bhagabat Dasgupta, the Holy Trinity[/caption]
I believed it was not just a random coincidence. To me, these three became essentially a Trinity. We also read An Outline of Statistical Theory, Volume One (OST1); however, at that time I found it difficult to crack. During our second year (1972) in college, we were introduced to the Fundamental of Statistics, Volume Two (FS2) for certain topics. Then finally in 1973, right on time for us came out the An Outline of Statistical Theory, Volume Two (OST2) that covered B.Sc Part II topics Estimation and Testing. During M.Stat at the Indian Statistical Institute (ISI), I could afford to buy all these four books, and since then they have been my constant companion. They traveled with me from Calcutta to Delhi (ISI) to Canberra, Australia (Australian National University) to Louvain-la-Neuve, Belgium (Universite Catholique de Louvain), and finally to Champaign-Urbana, U.S.A (the University of Illinois at Urbana-Champaign). Even now when I forget some basic things first I consult one of these four volumes. As you see these are now sandwiched between Cramer and Rao (two of the very best classics in Statistics) in my bookshelf.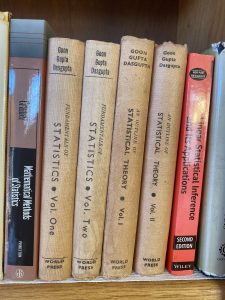 Thus Goon, Gupta, and Dasgupta (GGD) remain the 'meat' of my Statistics training. At Narendrapur we had a buzz expression, "Is your funda clear?" 'funda' meaning understanding. After reading the GGD's two volumes of Fundamentals thoroughly, we were all so very confident about our 'funda', sometimes, unnecessarily so.
This reminds me of an amusing story. We had a classmate who always was ahead of us and only wanted to talk about books like Cramer and Rao. When someone reminded him first to read GGD volumes, his response was that he had already done that a while ago. Instantly, our dear friend was given an honorary title, "Goon, Gupta and Dasgupta."
I also used to see my 'non-Statistics' friends carry another GGD's book, Basic Statistics (BS). They used to tell me that was the best book in Statistics they knew of. One can safely say that this Trilogy FS, OST, and BS by the Trinity GGD has been and will be for some time the essential companion of students of statistics not only in India but in some other countries too. Thus through this Trilogy, the influence of Trinity went a long way beyond the classrooms of the Presidency College and also far-flung into the future.
To conclude let me talk about an unusual book in Bengali, Sambhabnatatwa solely authored by Professor Goon. It is a 111-page gem. As far as I know, this is the only book on Probability Theory ever written in Bengali. The history of writing scientific books in Bengali goes all the way back to 1823 with the publication of 638-page-tome Byabocchedbidya (Anatomy) by Felix Carey, son of the legendary William Carey, from the Srirampur Missionary College. Thus the dearth of scientific books written in Bengali is really unfortunate.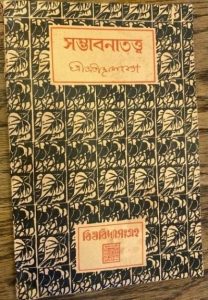 I should mention that while writing Sambhabanatatwa on such a technical topic, Professor Goon did not sacrifice the rigor at all. I am pretty sure; he himself invented some of the Bengali nomenclatures. After reading this little gem much later in my academic life, I was able to reinforce my own understanding of some very basic concepts. For instance, Professor Goon translated Hypergeometric Distribution as 'অতিগুনোত্তর বিভাজন'; I would have never thought of translating Hyper to অতি; most possibly, I would have used more prosaic terms like অস্বাভাবিক or অত্যাধিক.
---
*All images used in this article were provided by the author.