Come November, in Kolkata, as the winter chill starts nipping at the cockles of our hearts, the Kolkata International Film Festival begins. This has been the maxim for over a quarter of a century, a coveted habit, rather a welcome relief in our otherwise uneventful lives.
It started off quite differently though in 1995. The year before, Calcutta (not Kolkata at that time) hosted the 25th International Film Festival of India. It was the last of it in the city before that festival permanently settled in Goa a decade later. It was that 1994 IFFI which prompted me and a few of my friends to revive the Presidency College Chalachchitra Samsad when we found ourselves sadly inappropriate to get passes for the festival. It was heart-breaking for us, and in those pre-internet days, international films were very difficult to access. For us, the regional office beside Chandni Chowk metro station was the cocoon of international cinema. Coincidentally enough, the West Bengal Government realised at the same time the hunger for international films among the city audience. Thus, the first edition of the Calcutta Film Festival started in 1995.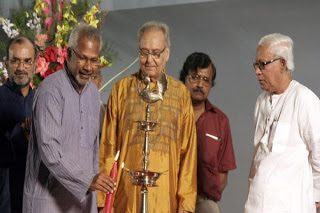 Since then, Governments changed, venues expanded, celluloid exhibition transformed to digital and then to remote transmission of vob files. But two things remained constant – the fervour and fever associated with the festival and the uncannily unprofessional mistakes and misplans that define this festival in particular.
Yet, when we look back, we are left with a mix of affection, care and love. We criticise fiercely the lack of discipline, the ever-changing viewing schedule that mostly throws us off-guard, the unending occasions of feeling dejected because a film could not be played for reasons galore. All of that remains, but imperfection often makes one immortal, haunting, desirable and definitely, timeless.
What the KIFF (started off as the CFF – without the 'I') achieved since the mid-'90s was what the film societies attained in the '60s and '70s. Access to world cinema. Back then, we didn't care much if the festival was a competitive one or whether we got to watch contemporary films that were awarded in the holy trinity of Cannes, Berlin or Venice.
We were happy with the 'Tribute' and 'Retrospective' sections. We had so much to catch up on with the unseen films of the masters. This is when we came out of Rabindra Sadan (an auditorium that screens festival films) mute, blown away by Vittorio de Sica's Umberto D, the haltingly affecting Tokyo Story by Yasujirō Ozu, Zhang Yimou's pensive rendition of pathos in Coming Home, the ultra-wide frames of Eduardo Nunes's Sudoste, or Kim Ki Duk's powerful anti-narrative Time. And a whole lot others which don't require my mentioning as they are marvels in their own right.
With time, as foreign films – both old and the near-current ones became handy, the festival rightly became a competitive one. In recent years we queued up to watch the ones awarded the same year from across the globe.
Frequenting the festival for two decades have accumulated innumerable pearls illuminating my faculties. If I have to pick, I will go for three most memorable ones that I can recollect at this moment.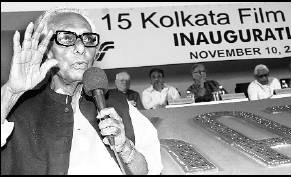 On the 13th day of November in 2004, me and my Silhouette (a film magazine) friends went up the stairs of Rabindra Sadan for the 11-15 am show of Szabo's Mephisto. Klaus Maria Brandauer's Hendrik Hoefgen was achingly beautiful, poignantly sad and disturbingly real. Szabo was a familiar name but distant like Hungary in our vocabulary on cinema. We watched all the films that were shown in that retrospective, loving Father and Sweet Emma, Dear Boebe a lot, disliking the rest.
Three years later, it was the Turkish delight in Nuri Bilge Ceylan whom we discovered for the first time. We were familiar with the works of Omer Kavur and Yilmaz Guney. But Ceylan was indeed a revelation. His films were impressionistic, melancholic with circularity of images, metaphors and poeticism. A trait which he somewhat shares with fellow countryman Reha Erdem who was again a surprise a few years later. In triumphing the unspoken, the unsolved, the unseen, Ceylan is at times Kiarastamic in his empathy for the common man in the rural spaces. And soulfully Pamuk. With Clouds of May, Distant and Climates Ceylan reached unsurmountable heights in my mind. His later ones barring Once upon a time in Anatolia fail somewhat for me. 
Theo Angelopoulos's films were shown as part of a homage in 2002. Probably for the first time. At that time I was lamenting my days on an American soil and trying hard to find DVDs of the films screened in the festival from the meagre list of 'foreign films' in the catalogues of the Blockbuster Videos and Netflix site. Fortunately Angelopoulos returned to Kolkata in 2008. Friends who watched him in 2002 tutored us well and we savoured his offerings where myth juxtaposes with reality in the agony of displacement and disillusionment.
Sitting before my memory inn don't I miss many marvels that I watched, now disremembered or may just be hiding in some weird corner of a forgetful mind? There are plenty without any doubt. But the point is not maintaining laundry lists of remembrances and reminiscences. What matters is the experience. And the hope that the Kolkata International Film Festival provided us with. We crossed over and yet kept returning to the festival; but it will never ever be the same for us now as it was back then when we were a bunch of lanky dreamers.