Naseeruddin Shah, is in my opinion one of the finest actors India has produced in over hundred years of film history. He will be celebrating his 72nd birthday today. In all these years of my work as a film journalist I've met Shah several times. I still remember our first meeting vividly.  
This was many years ago on the sets of the late Basu Chatterjee's film for television Tiriyacharitra (1994). It was a beautiful film telecast on Doordarshan though not many seem to remember it. Shah was cast in the role of an abusive father-in-law who abused his daughter-in-law (Rajeshwari Sachdev) and got away with it while the victim is branded as an evil woman, slut-shamed and finally killed. 
At that time, Naseeruddin had completed 50 films and that was the reason for the interview. After the interview got over, he very graciously asked me if I had conveyance and when I said I did not, he directed his driver to drop me off at the nearest railway station. He was graceful and responded to my questions with great clarity. Many years later, when he had come to deliver the Satyajit Ray Memorial Lecture in Kolkata, I found he had changed. But he remains one among the topmost performers in theatre and cinema in the country. And that is no mean thing, to sustain one's position and reach beyond it for around four decades. He had graduated in acting from the Film and Television Institute if India (FTII) Pune and also from the National School of Drama (NSD) in Delhi. His wife, Ratna Pathak, is a brilliant actor in her own right. Her sister, Supriya Pathak, is also a gifted actress. She is married to Pankaj Kapoor and his late mother-in-law Dina Pathak was also a noted actress and all of them were very successful in theatre and later graduated to films.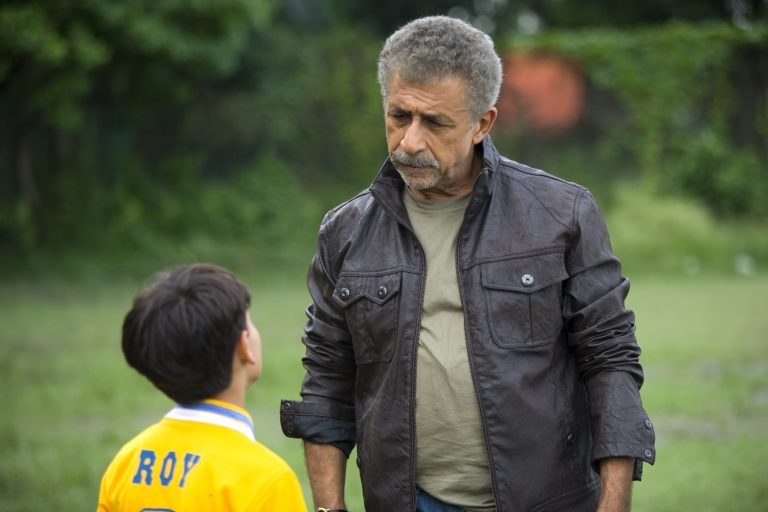 In response to my question, "Who is an honest actor?" Shah said, "By its very nature, acting is 'false.' So, an 'honest actor' is a contradiction in terms. An actor cannot plagiarize like a writer can and he cannot improve on a grand performance. It has to be definite, certain and once for all. An honest actor is 'a work in progress'.  An actor is a messenger who is entrusted with the task of delivering the 'goods' he has been asked to deliver honestly without hampering their safety and security and without damaging the goods. There just cannot be a 'dishonest' actor. To me, acting is not to pretend to disguise myself in order to emote but 'to do.' An actor is being dishonest when he considers himself to be more important than the work he is involved in. Having said that, I must also concede that when an actor becomes a star, he/she becomes self-indulgent and that is when dishonesty steps in. The actor/star fails to realise that his/her dishonesty benefits neither him/her nor the work he/ she is engaged in at any given point of time."
Naseeruddin Shah had to struggle a lot to find his foothold in an industry ruled by tall, fair and handsome heroes. Luckily, by the time he landed in Bombay in 1975, Shyam Benegal was looking for actors for Nishant. And after that there were a slew of filmmakers who made realistic films between 1975 and '85, and needed real actors to play real people. Kundan Shah's Jaane Bhi Do Yaaron (1983) that has now achieved cult status, was an important film in Naseeruddin Shah's career. The film proved to be a boon also to other minor actors who later became big and famous. 
Made on a shoe-string budget of Rs.7 lakh, Jaane Bhi Do Yaaron hobbled and stumbled its way to its finish. Today, it enjoys tremendous popularity among the Internet generation. The massive Y-generation that has bloomed in the world of the internet, You-tube and blogs, have watched, downloaded and replayed the film many times. Just one site shows a hit of 1, 25,000-plus hits and there are many others you can hit and watch the film in with bigger hits. Naseeruddin along with Ravi Vaswani, played a photographer who partnered with the other guy in running a studio and trying to get photographic assignments but they are failures as are most of the other characters in the film.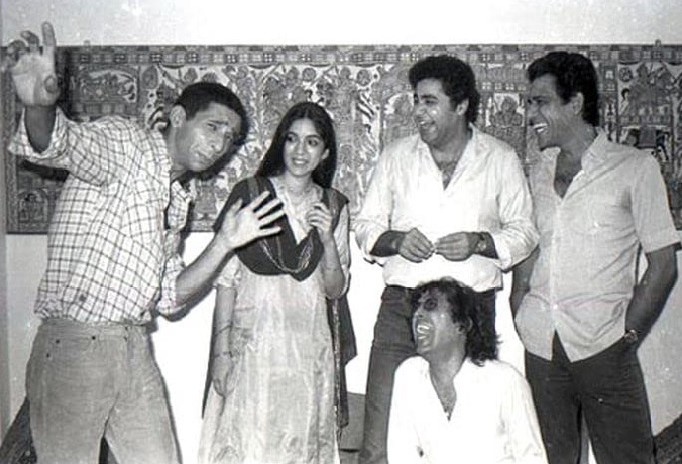 When asked whether the cut-throat competition today brought down the quality of acting and the honesty in an actor, Naseeruddin said, "There are conditions over which an actor has little or no control. How can one expect a person to be objective when he has to convey someone else's ideas, concepts, ideologies? The audience cannot distinguish between real tears and glycerine-induced tears. Sometimes, for some actors, glycerine-induced tears can be more effective than natural tears. The blame should be squarely placed on people who are making films."
Also read: Grandparents & Grandchildren
Progged to explain why this was happening, he said, "The minute the price of an actor began to be determined by his ability to hold the audience captive, the star was born and acting became secondary to the star. The current quality of actors' output is abysmal. It is only when the audience begins to demand fresh and new films might we begin to talk about an 'honest' approach. The refinement and the restraint we saw in films like Kagaz Ke Phool and Do Bigha Zameen is lost. I sincerely feel that some of the acting today can be described as 'grotesque.' But again, the poor quality of acting is a reflection of poor writing and the poor quality of vision around it. Marlon Brando excelled in films based on Tenessee Williams' work. He did not excel in all films, did he?" He has won many awards for his performance over the years which includes three National Awards, several Filmfare Awards and an IIFA award too, plus one from the Venice Film Festival. 
Shah was born in Barabanki in Uttar Pradesh. However, he has no memories of the place. "I have no memories of Barabanki. I was born there and my father was transferred to Bareilly by the time I was a year and a half. So, the earliest memories I have are of Bareilly, when I must have been about two. I just wanted to see this house (in Barabanki). Once earlier, when we were shooting for Junoon, about 35 years ago – my mother was alive then – she and I went there. So, I just wanted to see it again, because I had not taken any photographs at that time. And when I went there this time it had changed completely."
His passion for theatre stemmed from and was deeply influenced by the Kendalls. He elucidates, "When I was a student of St.Joseph's at Nainital, the Kendalls came with their touring theatre, Shakespeareana. Geoffrey Kendall encouraged me to take up acting. As a young boy I appreciated his acting abilities: his mastery over his voice and intonation, his control of muscles, and his ability to instantly adopt the persona of Macbeth, Hamlet or King Lear. But, later, I realised his true greatness lay somewhere else: his real mission was to communicate a text; all other activities were subservient to this main purpose — communicating a particular text to the audience. Then there was the great interaction with Ibrahim Alkazi when I was at the NSD (National School of Drama), Delhi."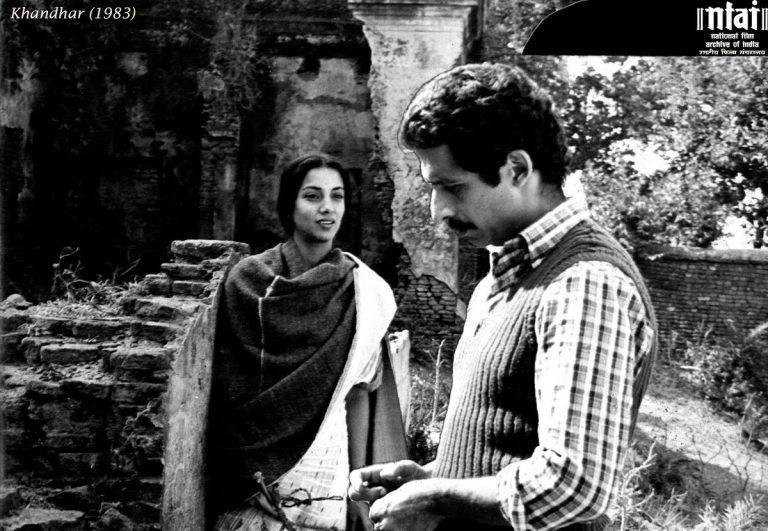 Naseeruddin Shah and Benjamin Gilani launched Motley Productions in 1977, and launched Samuel Beckett's 1952 play Waiting for Godot as their first production. It launched their careers. The first performance was on a rainy July 29 in 1979 at Prithvi Theatre, Mumbai. Eighteen years later, and seven years since their last performance, they found themselves veering back to Godot on another rainy day.
Asked to pick his personal favourites among his films, he says, "There are just too many to recall after all these years. Shyam Benegal's Manthan (1976) is one." Manthan brought him critical and public recognition and fetched him a Special Award from Filmfare in 1977, "nine years after the Aman fiasco had forced me to pack my bags and leave Mumbai. Govind Nihalani's Aakrosh (1980) in which I portrayed a straightforward, committed lawyer is another favourite. The self-respecting, blind teacher in Sai Paranjpye's Sparsh (1980) is another one. The dying drug addict in Robin Dharmaraj's hard-hitting Chakra (1981), the confused husband and father in Shekhar Kapoor's Masoom (1983), the role in Gautam Ghose's Paar (1984) which made me shed more than five kilos are unforgettable not so much for my work as for the films themselves. But I truly consider it an honour to be chosen by Gulzar Saab to play Mirza Ghalib in his TV serial on the great poet."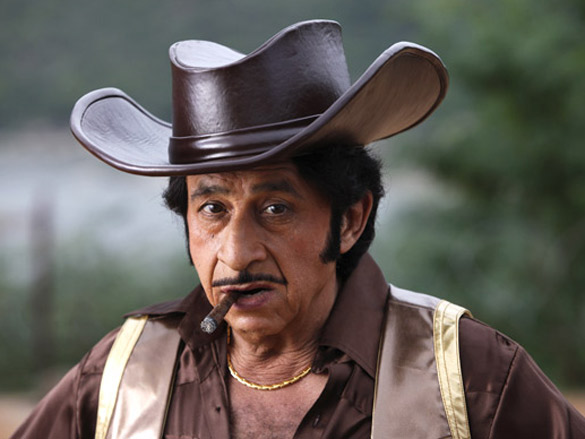 What does he have to say about some of his disastrous films in the mainstream arena? "Earlier, my choice was entirely based on instinct. I had just to feel like doing a role and that was all. Sometimes I have proved myself wrong. But it was all in the game. Today, I value the qualitative worth of a total project rather than just my own role in it. Occasionally, I take on roles in films I genuinely feel ought to be made, such as Govind's Droh Kaal (1994). I have discovered that every script reveals itself within the first ten pages. I do not need to read further. If I like it, I read further. When I've read the script, I try to work out whether this is going to be fun or not. I have acted in some films no one has even heard of, much less seen, such as Zulm ko Jala Doonga (1988). But the experience makes it worth the while. Have you heard of a film called Dil Aakhir Dil Hai (1982)? I bet you haven't. By the time I realized my mistake, it was too late."
What about commercial cinema? He is candid as he always is. He says, "I never believed Tridev (1989) would run for a day. Yet, it prolonged my career by ten years. I am grateful to Rajiv Rai for this. The film gave me a box office hit I had never experienced in over ten years in the industry. Ten years later, it gave me Mohra (1994), again by Rajiv Rai. And ten years later it gave me The Dirty Picture (2011). In fact, my dossier has more commercial films than all the art films I did put together. I worked in Mahesh Bhatt's Sir, Dharmesh Darshan's Lootere (1993), Karma (1986) with Dilip Kumar and Bonny Kapoor's Rajkumar (1996) in which I did a double role. Today too, films like A Wednesday (2008), Ishqiya (2010), and Dedh Ishqiya (2014) are the kind of films I just loved to dig my teeth into." And on that note, we part.