It is a bit difficult to write a posthumous tribute to a man you have known for three decades, explored his evolution through his films and towards the end, through his chronic sickness where he needed a doctor to go along on shoots with him. We were of the same age and he never forgot to remind me of this whenever we met, at his old residence, at his new flat, at film festivals and screenings.
He was always open to an interview provided it was face-to-face and not done electronically. We went through his cinematic journey together from the time he made Phera (1986). I fell in love with his films and his filmmaking as both went through a continuous metamorphosis through time and space, through form and content and through style and technique.
Also read: Hands behind the screen : Women, Indian cinema, and participatory history
"I began in a small way with documentaries. I made a ten-minute documentary in 1968 titled The Continent of Love. I did several more in the following years, including King of Drums (1974) which won the Best Documentary Award" he reminisced, going on to state that he never honed the skills and the art of film-making at any film school. "I learnt about my craft from watching films, reading about them and listening to people talk about them," said Dasgupta, taking a nostalgic trip into his past. In 1978, he made his first full-length feature film, Dooratwa (Distance.) Based on a short story by noted Bengali littérateur Sirsendu Mukhopadhyay, the film was completed in just 16 shooting days on an incredibly low budget, exposing just 20,000 feet of film in totality.
Other little-known facets of Dasgupta such as his love for and prowess in painting, the deep influence of poetry on his life and on his films, his deep admiration for music in all its myriad forms emerge at different points in Portrait, a 21-minute documentary on the filmmaker by Sankho Ghosh, a documentary filmmaker. The film is essentially intended to offer an insight into the self-imposed loneliness of a creative artist who glides over his poetry as smoothly and effortlessly as he does through his films.
With films like Swapner Din, followed by Kaal Purush, Ami, Yasin Arr Amar Madhubala and Uro Jahaj, his unique blend of poetry, abstract collages and surrealistic visual metaphors, mapped the journey of ordinary men and women chasing dreams that make their lives meaningful. The dream itself marks the journey, its fulfillment being of no consequence to the dreamer at all.
Basically, if one comes down to it Dasgupta was a poet and a brilliant one at that. He has left behind several poetry collections but tended to play this down perhaps so that his work as a filmmaker did not get overshadowed by his poetry. But in some way or another, his poetry became the inspiration for his films while sometimes, it became an integral part of the cinematic narrative itself.
His cinema could well be described as the cinema of journeys and of loneliness. He agrees with this contention. "I never allow my sensibilities to follow the kind of rationality that is accepted and understood all over. I'd rather push it beyond the borders of rationality, where poetic rationality made creative endeavour more significant," he said when asked whether it is still poetry that serves as an inspiration, since he is a poet himself.
"I always attempt to find out my own way of interpreting images which has the least to do with the styles of my favourite masters. I find people writing about their style, talking about it, falling in love with it and at the same time, condemning and rejecting it, but I cannot help it," he said when asked about the positioning of Indian cinema vis-à-vis the world. He repented the failure of Indian cinema in drawing international audiences for the reason that they are "Indian". "But Iranian cinema on the other hand, is universally acclaimed. It has a steady audience and a good distribution network to support it." For Indian cinema, the borders are just about beginning to widen. "The problem is that Indian cinema is so vast in terms of quality, quantity and genres that it is nearly impossible to define Indian cinema per se," was his conviction.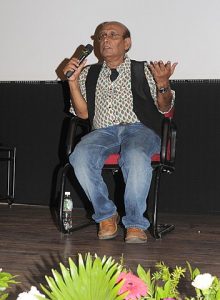 Dasgupta dealt with violence in every form in all his films. Sometimes, the violence was direct, as in Bagh Bahadur and Grihajuddha. Often, violence took subtle yet very strong forms, such as in the girl's suicide in Andhi Galli. In Tahader Katha, the violence is indirect, when narrated by the protagonist released from prison. Often, Dasgupta expressed socially inflicted violence that cannot be articulated but can only be felt such as in Lal Darja and Dooratwa. Violence is the theme, the meaning and the metaphor of Uttara. It revolves around violence without directly throwing it up violence on the screen. There is no depiction of rape or of the murder of the railway guard, or of Uttara. Even the church being set ablaze is blurred by clouds of smoke and distance. The goons pour petrol over the Padri, but we do not actually see them torching him. It is a pointer to Dasgupta's restraint in cinematic depiction of violence, which could have easily gone all awry. But that is precisely the problem. The film appears as if Dasgupta is watching the goings-on from a distance, a passive observer who does not quite 'belong.' Who can only cluck his tongue in plastic sympathy and then walk away, blaming the 'government' for everything. He begins as an Outsider when the film opens. He remains one when the film ends.
The most aesthetically expressed violence happened in three last films of his – Aami, Yasin O Amar Madhubala, Tope and Uro Jahaj yet they come out so brilliantly by the time these films end, you want them to go on and on and watch more…..
It is time now to bid him adieu and hope that the next generation of artists inspire and learn from the craft he leaves behind him.