There was a part in 'Sophie's World' by Jostein Gaarder that is etched in my mind. In this vast universe, we humans are like ants stuck in a rabbit's fur. We fall every time we try to climb up. We strive to solve the mystery of the universe and fail every single time.  We don't know yet, how the universe was created from nothingness. How far does the universe stretch? Where does it end? We have no answers to these questions. All we know is that we are part of the solar system and the sun is the source of all energy on our planet. Thanks to Copernicus, even young children are aware of it.
Science has taught us that the source of the Sun's energy is nuclear fusion. A proton-proton fusion has created a mass of helium which will be exhausted in about five billion years. Phew we're safe!
Centuries ago, when people were not privy to these information, they must have been overwhelmed by the red hot ball of fire. The sun that dispersed darkness easily became associated with divinity. In Greek mythology, Helios, the Sun God traversed the sky from east to west every day in his chariot. Later he came to be known as Apollo in the Roman culture.
Helios in Greece, Xihe in China, Ra in Egypt, Suryadev in India—the Sun, the source of all our energy has been worshipped across cultures. In India the Sun god is worshipped with much fanfare in Bihar and Jharkhand during the Chhat Puja. The Sun god and his consort (sister according to some legends) Chhati Maata (also pronounced Chhati Maiya) are worshipped on this auspicious day. Chhati Maata also happens to be the spiritual daughter of Lord Brahma.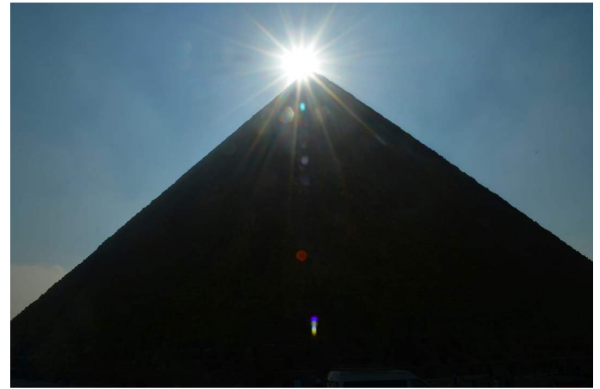 According to folklore King Priyabrata started to worship Chhathi Maata to protect his children from evil. As per the Ramayana, in Satya Yug, Ram and Sita started worshipping the Sun god after returning to Ayodhya after having vanquished Ravana.  In Dwapar Yug Draupadi practiced this ritual for the safe-keep of the Pandavas. Karna, the son of Kunti and the Sun god was also a worshipper of his father. Therefore, it is difficult to pinpoint when the ritual started. But every year in the Hindu calendar month of Kartik Chhath Puja is celebrated from the fourth lunar day to the seventh day.
On the first day, the household is cleaned and it gets a fresh coat of paint. A vegetarian meal comprising steamed rice, dal and sweet gourd curry follows. The second day marks a fast till sunset that is broken with thickened milk and a meal cooked without salt. On the third day devotees fast during the day and make an offering of milk to the Sun god at sundown.  This is known as the 'Sandhya Arghya'. On this day 'thekua' the unique fried sweet dumpling peculiar to this festival is prepared in every household. The following morning an offering of thekua, fruits and sweets is made to the deity at dawn. The morning ritual or 'Usha Arghya' marks the end of the four day long Chhath festival.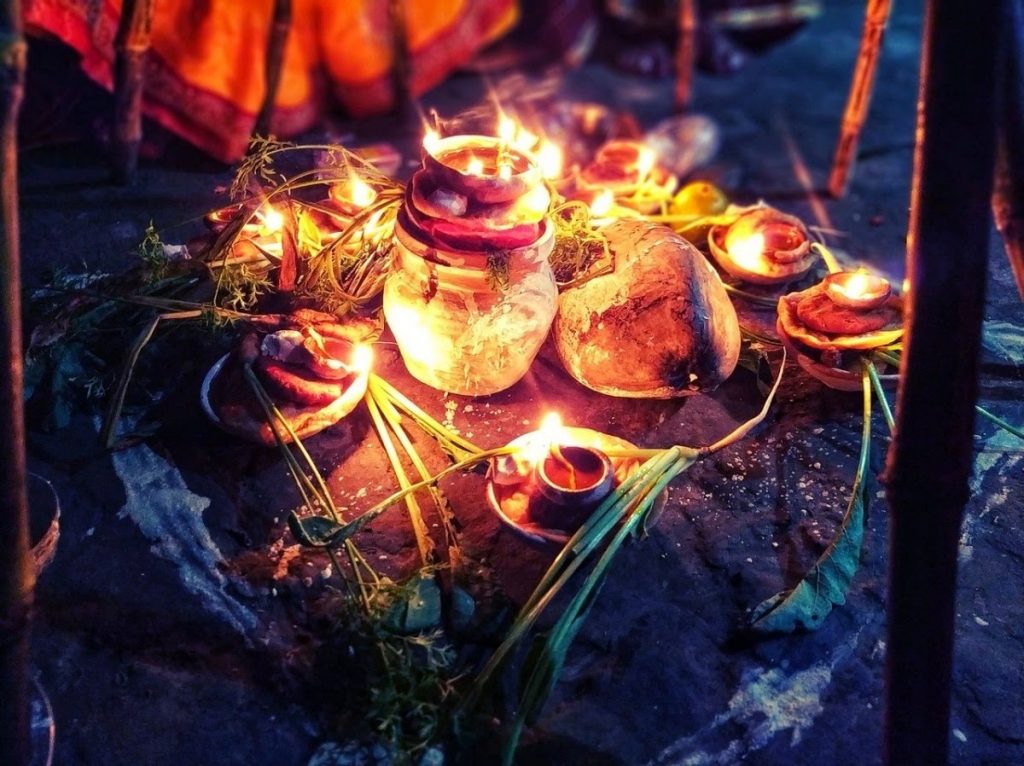 The thekua also known as 'khajuri' has achieved a cult status of sorts. It is immensely popular in Bihar, Jharkhand, Uttar Pradesh and the foothills of Nepal. The recipe also varies from region to region and from one kitchen to another. Some use whole wheat flour, others use white flour. While some people use gur as a sweetener, others go for sugar. Whatever be the difference in recipe, the crisp fried thekua is a piece of delight once shouldn't miss.
Of all the recipes out there, I'm sharing with you the recipe that my mother had been following all these years.
Maida – 1 cup
Grated coconut – ½ cup
Sugar – ½ cup powdered
Ghee or white edible oil – 6-7 tablespoon for mixing in the dough
Finely chopped almond – 2-3 tablespoon
Finely chopped cashew nut – 2-3 tablespoon
Chopped raisins – 1 tablespoon
Green cardamom – 7-8 powdered
Milk powder – ½ cup
Water – ¼ cup or as per requirement for a hard dough
Edible white oil or ghee for frying
Step 1 – mix the oil or ghee into the maida well
Step 2 – mix coconut, milk powder, powdered sugar and everything else into the maida
Step 3 – pour water and knead a hard dough
Step 4 – divide into equal round pieces and flatten them with your palms (you can use dice if you wish)
Step 5 – deep fry on medium flame till crispy
Your thekua is ready.
Whether the sun is a source of energy or a deity for you, biting into a well-made thekua can surely be a divine experience.
*Images courtesy: Shruti Ganguly