In 1999, the United Nations Scientific and Cultural Organisation (UNESCO) declared 21 February to be the International Mother Language Day. The day was chosen to commemorate and pay tribute to a group of students who lost their lives during a protest in Bangladesh on February 21, 1952. The protest was part of the Bengali Language Movement (Bengali: ভাষা আন্দোলন, Bhasha Andolôn) – a political movement in the then East Pakistan (known as East Bengal prior to the partition and independence of the British India in 1947). Abul Barkat, Abdul Jabbar, Rafiquddin Ahmad, Abdus Salam and Shafiur Rahman along with many other people, were campaigning and advocating for the recognition and official use of their mother language, Bangla (or Bengali).
Since February 21, 2000, the International Mother Language Day has been observed as an annual event to honor and celebrate linguistic diversity around the world, and also to discuss and plan measures that can help preserve linguistic diversity in the face of pressure from more dominant languages.
But why do we need to preserve linguistic diversity? This is a question that I have been asked multiple times during my career as a linguist whose primary focus is the documentation and preservation of endangered and low resource languages.  There are more than one compelling reasons why we need to preserve linguistic diversity and promote native and indigenous languages.
According to a special report by the National Science Foundation of the United States, at least 3,000 of the world's estimated 6,000 -7,000 languages, i.e. about 50%, are in danger of becoming extinct. According to Krauss (1992) about 80% of the world's languages are estimated to be lost within a century. About 96% of the world's languages are spoken by only four per cent of the world's population (Crystal 2000). 
In 2005, the World Bank estimated that half of the out-of-school children globally do not have access to the language of school in their home lives, emphasizing the significance of language barriers in education. An article published in 2008 talks about a "basic weakness" plaguing the education system in the Philippines where many students "do not understand what their teacher is saying and therefore they cannot follow the lesson." This is because the language of instruction in school is one that they cannot not speak or understand.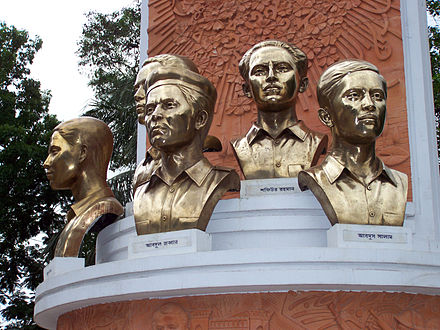 In 2013, following up on its 1981 policy of promoting indigenous languages of the country, the National Policy on Education (NPE) in Nigeria, affirmed the federal Government's recognition of "the importance of language as means of promoting social interaction, national cohesion and preservation of…. culture." The Federal Government of Nigeria made special provisions for language teaching in the country's educational system.
In 2017, the First Nations launched the Native Language Immersion Initiative to stem the loss of Indigenous languages and culture. The initiative was aimed at supporting the new generations of Native American language speakers and helping Native communities establish infrastructure and models for Native language immersion programs which could be replicated.
Many studies have found that students perform better and are able to develop critical reasoning and problem-solving skills needed for life-long learning if they use and master their native language in their immediate environment. The importance of language has been paramount in the progress and upward social mobility of minority linguistic communities. Experts around the world have emphasized that indigenous languages should be incorporated into the school curriculum to help build a strong educational foundation for children of underprivileged and minority communities.
Literacy in the native language is argued to play a very strong role in the intellectual development of children. A strong foundation in native language literacy can help facilitate the learning of other languages. Furthermore, language promotion and revitalization is also a precursor for cultural preservation. Many attempts have been made by various minority and indigenous communities around the world, with or without institutional support, towards these goals.
On February 28, 2020, at a high-level two-day event in Mexico City, organized by UNESCO and Mexico, more than 500 participants from 50 countries (including government ministers, indigenous community leaders, researchers, public and private partners, and other stakeholders and experts) adopted the Los Pinos Declaration. The Declaration places indigenous peoples at the centre of its recommendations and the slogan is "Nothing for us without us." A strategic roadmap was offered for the Decade of Indigenous Languages (2022-2032) which prioritizes the empowerment of indigenous language users.
"Our mother language comes from our heart and breath," says a speaker of Boro from Kokrajhar district in the northeastern Indian state of Assam. Today, many underprivileged and subdued linguistic communities around the world are celebrating Mother Language Day with great fervour. Mother language can have complex implications for the notion of identity, communication, and social integration. It will be interesting to see the impact and direction of the many efforts towards the preservation of linguistic diversity and the promotion of minority languages.