It is common knowledge that Indian cinema has completed more than a century and has perhaps produced the largest number of feature films in the world.  But its quota of films centered on Hindustani classical music has been pathetically low. Biographical features like Baiju Bawra and Tansen used music as an important character because the films were about the lives and struggles of great musical personalities. Within this strange ambience, Chaitanya Tamhane's The Disciple marks a new milestone. In cinema per se, not just Indian but perhaps, addresses issues that plague the lives of ambitious music practitioners and creative performing artists across the world.
On the one hand, The Disciple is a tribute to Hindustani classical music. On the other, it is a tribute to the guru-shishya parampara as exemplified in the close relationship between the guru, Pandit Vinayak Pradhan (Arun Dravid) and his dedicated shishya Sharad Nerulkar (Aditya Modak) in spiritual, emotional, historical and sociological terms that fleshes out the philosophy and the basic ideology that underlines this relationship as an expression and reflection of Hindustani classical music. This spiritual underlining of the philosophy of music comes in a slightly surrealistic manner in the voice-over Sharad carries with him wherever he goes. This voice-over is defined as that of Maai, the guru of Sharad's guru. The voice keeps explaining through recorded tapes to Sharad the different principle of what an ideal shishya should aspire for. The perfect shishya or disciple should not just strive to reach perfection but also be able to understand the manifestations of becoming the perfect shishya in terms of performance and success. 
This is one film which uncovers the tragic fact that even when a person sacrifices a normal, mainstream life because of his dedication to music and his guru, he might just fail to achieve excellence and perfection. Tamhane has presented Sharad's life from the time when he was a boy learning music from his father. The struggle of the protagonist who fails to understand why he cannot achieve excellence is the core of the film.  
His final surrender to his imperfection defines the tragedy of many, not necessarily from the world of music, but from other creative fields too.
"There's a reason why Indian classical music is considered an Eternal Quest. And to embark on that quest, you will have to surrender and sacrifice," resonates Vidushi Sindhubai Jadhav's voice about eight minutes into The Disciple. This line sets the tone of the film. She is known as Maai and is never visible even in photographs or press cuttings throughout the film. Yet, her presence is almost physically palpable because of her voice (voice-over by late filmmaker Sumitra Bhave). Rasping with breathlessness coming from age, it runs like a strong undercurrent in the entire film. Nerulkar preserves the recordings and listens to her sayings as he drives his two-wheeler through the deserted streets of Mumbai deep into the night. He tries to make sense of her sayings but fails to realise them in his own music. This also underscores the loneliness and self-imposed isolation of Nerulkar. Maai functions as a strong undercurrent within the beautiful narrative of the film and invests it with a magical dimension.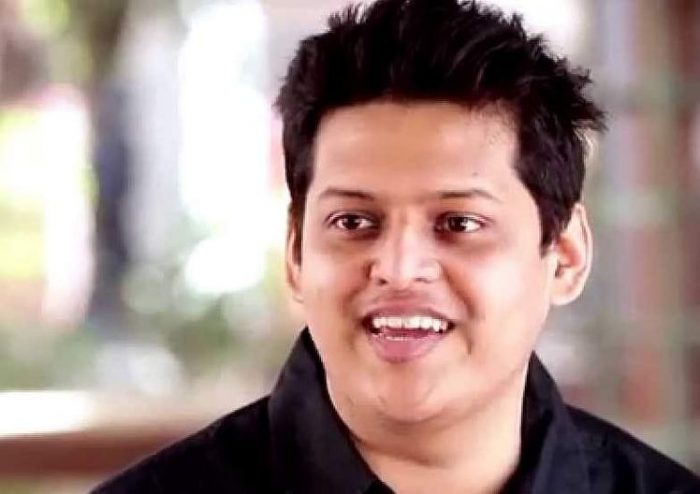 Tamhane's debut feature Court (2014), established his unique, subtle and minimalistic approach to cinema which he carries over with, perhaps greater command in The Disciple though the form, content and subject matter of the two films belong to two completely polarised worlds. Aditya Modak and Dr Arun Dravid who portray the shishya and his guru are classical singers in real life. In fact, Dr. Dravid was a disciple of Maai himself and once, he tells Nerulkar that he went on doing riyaaz till he was forty and then alone was he considered good enough to perform in public. This infuses both the film and their performance with greater authenticity than would have been possible by actors not trained in music. 
The pace is slow but the editing, by Tamhane himself, cuts a scene short when it is no longer necessary to drag, such as the scene that shows the guru sidetracking Sharad and telling his female pupil to give him sangat and Sharad expressing open disappointment. If one listens closely, the editing carries its own musical rhythm adding to the beauty of the visuals and the music and sound track. The elitist audiences that crowd classical music recitals in different halls also come across lucidly.
His frustrations get revealed along different parts of the film when he finds a reality show girl making it big in the larger world with her music but it never occurs to him to do the same. His music is structured into his life and he cannot change it until he is forced to. 
These varied layers in the narrative are brought forth with the excellent command Tamhane has already proved with his debut film. Aditya Modak as Nerulkar excelled in the acting department with his debut performance. Modak effectively realises a double role in one as he has to perform two, time versions of himself spread across twelve years. The little Sharad (a child actor) is naïve and innocent enough to rush off to play cricket between music training sessions. When he is around 24, he still sustains his naivete and his innocence, puzzled by his own inability to perform with conviction. As he grows older, his sadness right in the midst of his riyaaz comes across with subtle touches as he gains a little weight and grows a moustache that adds that touch of maturity with his face registering resignation to his failure.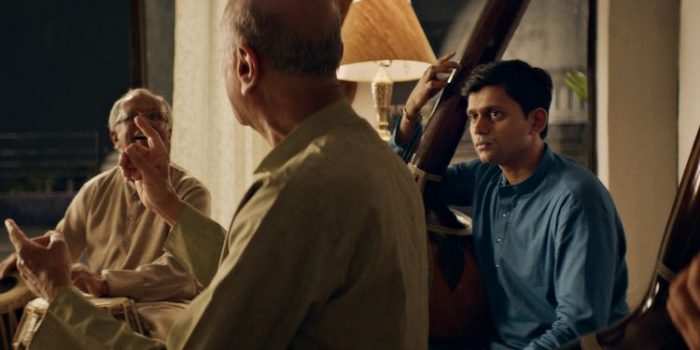 Arun Dravid as the guru reflects his age through his movements, his body language, his speech patterns and his rasping voice and his comments on his favourite shishya's failure to realise his dream. Maai's voice-over functions like the conscience of the film and its major characters, brought to throbbing life by Sumitra Bhave. Kiran Yadnyopavit as Sharad's father is very good in a brief but important cameo. One wonders why Tamhane decided to marginalise Sharad's mother and little brother which might have added a different dimension to Sharad's completely irresponsible attitude towards them and his selfishness as well which might be a regular trait in most creative performing artists.  This, however, also comes across in Sharad's attitude towards his grandmother who he chooses to live in the city away from his root family.
Through Sharad's life and point of view, we are offered a glimpse into a Mumbai alien to us, lit with very soft and subdued lighting as Sharad drives through deserted roads through the night, or, sits at a darkly lit bar with his business partner and the music critic forced to listen to his litany of gossip about great music masters, male and female. The cinematography is brilliant which is precisely matched with the soft and subtle mood of the film. And whatever is said about the music will always be an understatement. Music, in fact, is both a significant character in the film and forms the core of the major characters, including the other pupils of Pandit Vinayak Pradhan whose death Tamhane wisely keeps away from the narrative and the visual details. 
The closure marks a brilliant closure to a brilliant film. We find Sharad travelling in a train possibly with wife and little daughter along when a blind beggar walks in singing a song. Sharad's eyes follow him till the end of the compartment, with that sad expression on his face, probably trying to draw comparisons between the beggar's way of rendering music and his own, still-born career in music and the film closes on this note.