Though not as popular amongst filmmakers as Sarat Chandra Chattopadhyay, yet Rabindranath Tagore had been a quiet staple for Bengali filmmakers from a relatively early time. In the silent era the first Tagore adaptation had been presumably Manbhanjan in 1923 by Naresh Chandra Mitra followed by Bisarjan in 1928 produced by the supremely famous Madan Theatres. One of the earliest adaptions of Tagore was done by the bard himself – Natir Puja in 1932 though there is some controversy as to whether Tagore directed the film, or he directed the play which was sort of staged and filmed. Subsequently, the interest in Tagore's stories and novels increased with time and most of the notable filmmakers of the '40s and '50s engaged in filmic adaptations of Tagore – Noukadubi (1947, Nitin Bose), Drishtidan (1948, Nitin Bose), Bouthakuranir Haat (1953, Naresh Chandra Mitra), Chirakumar Sabha (1956, Debaki Bose) are some of the prominent examples.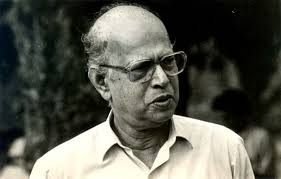 However, the first film based on a Tagore story to move shores and to make an international mark is none other than Tapan Sinha's Kabuliwala. It was a major breakthrough for Tapan Sinha himself as a filmmaker of considerable repute. But adapting Tagore stories to films have their own caveats even today. Not only there is a strong public sentiment to the extent of almost cynical surgical procedures to dismember any aberration, forget deviations, but in those times the script needed to be sent to Viswa Bharati for necessary permissions as well. In his memoir Tapan Sinha recollected – "Mr. Charuchandra Bhattacharya was an influential member of the Viswa Bharati Music Board. He was a very conservative Tagore expert. I sent the script of Kabuliwala to him and he returned it with a 'No'. I wanted to have a meeting with him to discuss…After about fifteen minutes of reading the script I could see tears trickling down the cheeks of the old man. He wailed – 'Very good, very good'. I told him – 'Please write this "Very good" on the script and sign it.' After this I came back along with the necessary permissions." Sinha did run into further problems at the time of shooting and was accused of diluting the message inherent in the Tagore original. For its music Sinha roped in Ravi Shankar who had earlier shone as a brilliant composer for Satyajit Ray's acclaimed Pather Panchali and Aparajito.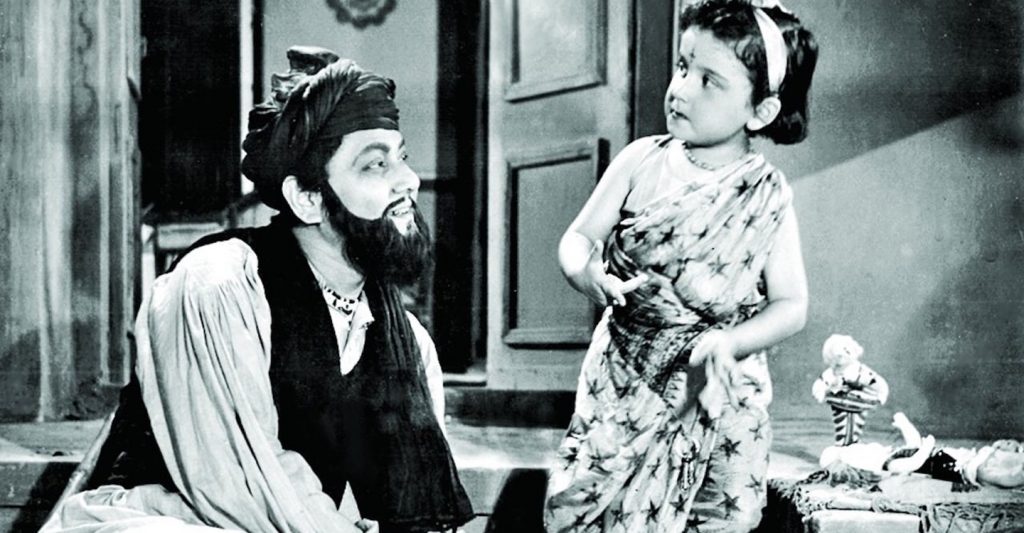 Kabuliwala remains, till date, a holistic successful film. For the role of Mini Sinha introduced four-year-old Tinku Tagore who happened to be the younger sister of Sharmila Tagore. Tinku as Mini and Chhabi Biswas as the Afghan trader Rahmat were the two highpoints of acting in the film. Their simple communication pattern notwithstanding their socio-economic diversity is so universal that it touched everyone's heart, even to this date. The film was a big hit at the box office and in the 4th National Film Awards, it bagged the President's Gold Medal for the All India Best Feature Film as well as the President's Silver Medal for Best Feature Film in Bengali. However, what topped all these was Ravi Shankar being awarded with the Silver Bear Extraordinary Prize of the Jury for his music in Kabuliwala at the Berlin Film Festival.
In spite of the rave reviews and awards at festivals, Tapan Sinha received two sharp critical comments from two stalwarts of Indian cinema whom he considered as his well-wishers. After having watched the film Satyajit Ray called up Sinha and criticized him for compromising on the technical side of the film including Chhabi Biswas's horrendous makeup. Raj Kapoor who was part of the Indian delegate at Berlin also voiced similar concern and lamented that had it been a technically sound film, Kabuliwala could have bagged the Golden Bear at the festival! These criticisms leveled against the film are justified, and yet, Chhabi Biswas's Rahmat remains the quintessential Kabuliwala to generations of Calcuttans till the time the Afghan traders were easily seen roaming the city streets.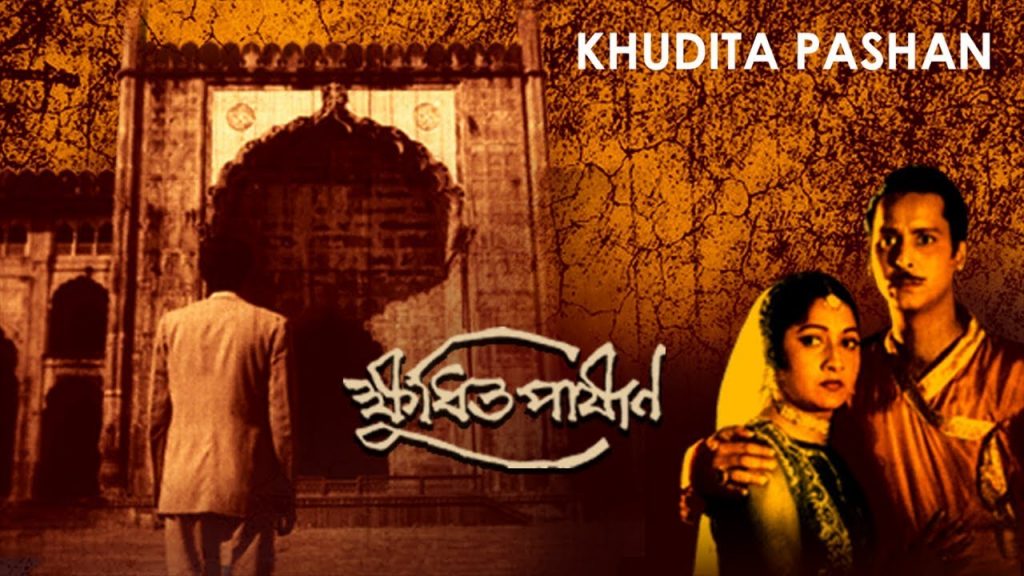 In three more occasions Tapan took up Tagore's stories – Kshudhito Pashan (1960), Atithi (1965) and Kadambini – a short film within Satabdir Kanya (Daughters of this century) in 1996. Tagore's 'Kshudhito Pashan' was a nonlinear story with ample time-shifts and travels across different space and time – in dreams and hallucinations. In Kshudhito Pashan, Sinha could eloquently blend the past with the present, a transition to a recreated time and a fall back to a regular mundane life. In tune with the narrative of the film, Kshudhito Pashan had elaborate night sequences seeped in mystical shadows and classical music. The location for the 'haveli' was a difficult scouting proposition. Ultimately help came from Satyajit Ray who frequented Sinha in those days. Based on their discussions Ray suggested Sinha to go for miniature sets like in Hollywood and eventually drew a detailed sketch by the very next day for the art director to build upon it.
For the music, Sinha had Ali Akbar Khan, another stalwart of Indian classical music. Ali Akbar blended Rabindra sangeet with Indian classical music sung by the great Ustad Amir Khan. Like Kabuliwala, Kshudhito Pashan was a runaway hit as well running houseful for months from May till the Durga Puja in end September in 1960. The box office success was followed by All-India Certificate of Merit at the 8th National Film Awards in 1961.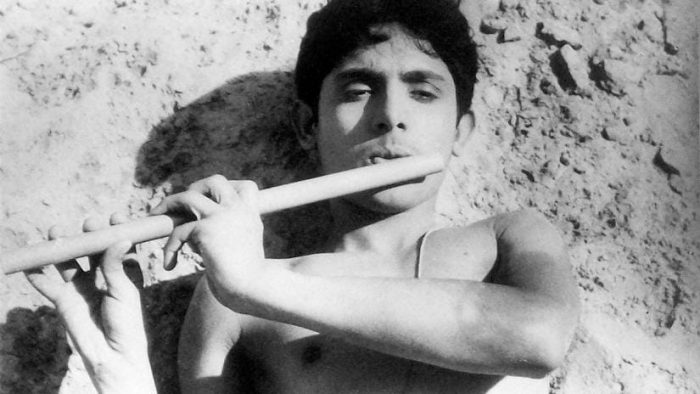 In an interview Tapan Sinha once commented, "Atithi had a spirit of freedom which was excellently depicted by Tagore in a very small space. This film brought a change in me and I have henceforth decided to depict and worship the freedom of man. And gradually all the windows of my room were open so that I didn't get any chance to look through only one window. I had a global perspective to depict a 'man' as a 'man'. He has to fight his own battle and to win and be example to others. It doesn't matter whether he is literate or illiterate, whether he is handicapped or healthy it is his life in the end which matters."
Atithi's Tarapada was an extension of Tagore himself. It was a very dear film to Sinha as well for the universal theme of the freedom of human mind and its relentless desire to break down the shackles that were imposed by the society at large. Atithi was selected in the competition section for Venice film festival. Ray again came up with his advice of curtailing the ending of the film citing that a foreign audience wouldn't approve of the original. Though it couldn't bag anything at Venice, the film was adjudged All India Certificate of Merit for the Second Best Feature Film.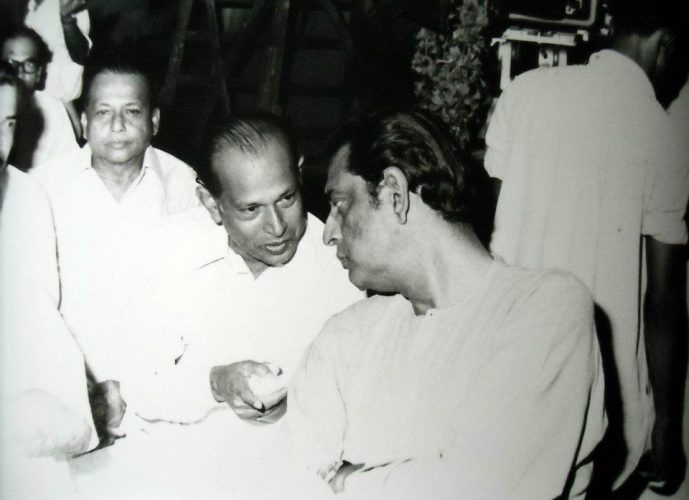 There were two calculated risks take by Sinha in Atithi. Firstly, it was his first film devoid of any stars. Rather, most of the actors were either newcomers or at best amateurs. Secondly, once again pepped by Ray himself, Sinha first composed music of his film. He continued this for all his subsequent Bengali films at least. Music played a crucial role in the film. Not only as the background score but more importantly it depicted an inherent lyrical characteristic that complements Tarapada's sublime restlessness. Whereas Tagore ended the story with Tarapada assimilating in nature from where he originated from, Tapan intensified it by having Tarapada fuse within a crowd of people in a fair.
In dealing with the stories of Rabindranath Tagore, Tapan Sinha could successfully take Tagore to the common mass, and yet keeping a very high aesthetic benchmark to emulate. These films are popular even today and are continuously referred in most critical discussions on adaptation of Tagore's stories in cinema.