Kiske Liye (Who is This Woman's Day for?) is a five-minute silent film with a poem used as a voice-over that asks, again and again, why and for which women do we celebrate International Women's Day every year. Is it for women who are already celebrated as achievers in different fields of human endeavour? Or, is it for those women who have risen from the debris of their lives spent in poverty, oppression, domestic violence, sexual abuse and more to become free individuals who have learnt to fight for themselves? No.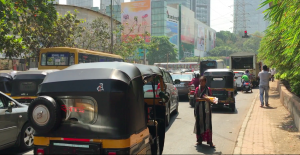 In response to what triggered the idea of making this reverse interpretation of International Women's Day, director-writer Monalisa Mukherjee says, "It was around Women's Day when social media was buzzing with posts of people doing charity shows, dinners and campaigns. I was passing by this bridge (where I shot this film) and saw pregnant Kali (my protagonist), a street vendor, sitting quietly. I wondered if she had any idea about the world claiming to do so much for marginalised women! I got off and approached her. She had no clue about either Naari Divas or Women's Day! This is when the thought of 'Kiske Liye' was born." This is her debut film produced under the banner of LittleLambFilms by her filmmaker husband Bouddhayan Mukherjee and is available for viewing on MovieSaints.com.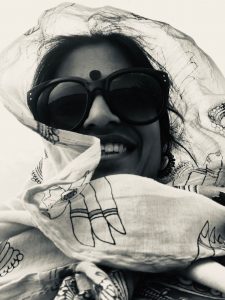 The scene opens on a street of Mumbai littered with waste, sack cloths, wooden sticks to focus on the face of a young girl fast asleep on her makeshift bed. As the day dawns and the sun begins to go up, we see a young girl, malnourished, very thin with almost a skeletal frame, wake up, wash her face with water collected in a bucket lying amidst the debris, and then wash the faces of the toddlers she looks after, on her own, brush her teeth and tend to her daily chores. She goes to a public toilet to relieve herself,  then takes her bath by drawing a makeshift curtain with an old bed sheet that covers the lower half of her body and settles down to cook for the toddlers she takes care of.  
Monalisa has not shared the girl's name with us. But does it matter when she is just a drop in the ocean among thousands of such "little mothers" living on the streets of India's globally lit cities and villages whose names are as anonymous as we want them to be?
We have no idea whether she is the mother or an elder sister or just takes care of these small children she may not be related to at all. She goes about her chores silently, cooking rice on a make-shift fire as she chops onions and tomatoes, and feeds the children out of a single thali. Before setting out to make an earning out of water sprays attached to a bottle, the girl lights a lamp in front of a tiny temple in an alcove in the same street, ignoring a young boy passing by. As she stops at traffic signals to try and sell her water sprays, she halts from time to time to sit on a parapet to rest. When she comes home, she finds the lamps still burning in her alcove-temple.
The director could easily have titled the film "A Day In The Life of a Street Teenager" but does not. She chooses to put her comments/questions/ critique/ taunt on the visual frames to point out again and again that International Women's Day means nothing to this young girl and the Day also is not even aware of her existence. The questions are placed strategically to match the visual frame. For example, when the girl is taking her bath, the question voiced over is –"Whose honour needs the shield?" When the girl is eating from the same plate as the small kids she has cooked for, the question is – "Whose hunger?" Followed by "Whose chirps?"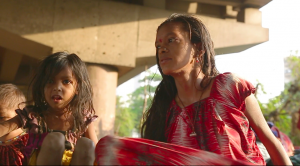 Then there are some caustically framed questions – "For whom do you do the candle vigils?" Or, "For whom do you gather on the streets?" "For whom are these speeches so stark?" while the protagonist and her little kids move about silently, or, one small kid puts a tiny biscuit into its mouth looking straight into the camera while in another, two little girls have fun over a small photograph one holds in her little hands
All this while, the voice-over of the director raises one question after another about whether International Women's Day is for young girls like her. Asked whether she had chosen a professional actress with workshops for the film, Mukherjee says, "The protagonist knew that we will be shooting her. I asked her to simply carry on with her daily chores and ignore the camera. She did it so wonderfully!"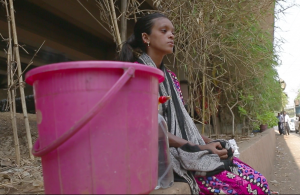 Did it ever occur to you to find out why women across the world celebrate International Women's Day on March 8th every year? If you do not know the story, there is no reason to feel embarrassed, because you are one among millions of Indians who do not have an inkling of why this date is so important in the lives of women. 
On March 8, 1908, women textile workers in New York struck work and assembled in tens and thousands on the east side of the city for a demonstration. Their demands were – (a) higher living wages; (b) working hours shorter than the 16 hours they were putting in daily; (c) better working conditions; and (d) the right to vote. This democratic exuberance and militancy among these working women led to the Communist International that year to select the date – March 8 – to celebrate the cause of the working women in the world. Since then, various women's groups and associations have been observing March 8 as International Working Women's Day. In 1975, the United Nations declared and adopted it as International Women's Day. 
India is a classic example of the jarring anomaly between the subjects and organizers who celebrate International Women's Day every year with a lot of sound and fury and fun on the one hand and the more than 1,50,000 street children in Mumbai among whom, 50% are female on the other who are not aware of such a day nor are affected in any way about its existence. 
The exploitative society we live and work in, offers a micro sample of a few affluent women who are free from the responsibilities of housework and child rearing because they can afford domestic help. But does this individual, privileged freedom raise the status of the thousands of street girls who do not have the least idea where their next meal will come from? 
Asked what inspired her to make a film on street children focussed on this growing girl, Monalisa Mukherjee said, "I have always felt them to be much stronger than me or the likes of me. They spend their lives in the open, out there… Danger, threat, mishaps are part of their daily life. They deal with things on a daily basis which are my nightmare."
The Indian Constitution under Articles 15 and 16 clearly proclaim (a) prohibition of discrimination on grounds of sex, and (b) equal opportunity to women in matters of public employment. Equality between the sexes therefore, is presumed as a constitutional right. The question is – does this happen in real life? As the film Kiske Liye so clearly underlines, this is violated in principle, covertly, overtly, directly and indirectly. Monalisa has not shared the girl's name with us. But does it matter when she is just a drop in the ocean among thousands of such "little mothers" living on the streets of India's globally lit cities and villages whose names are as anonymous as we want them to be?