Abhijaan makes its entry into the theatre circuit with limited screening avenues which has been ailing Bengali cinema for a long while. It is a rare instance of a biographical fiction film where the actor whose life is being visualized on film himself appears in the lead role. Soumitra Chatterjee who committed himself to Bengali cinema for 60 long years and became a living legend in his home state, is as candid, as natural, as spontaneous as he always was, even as himself.
Director Parambrata Chatterjee who has scripted the film jointly with Padmanabha Dasgupta has thrown up a unique frame by showing an oncologist-turned-filmmaker, Sanjoy Sen (Parambrata Chatterjee) coming down from London to make a film on Soumitra Chatterjee's life on screen and off it. The multi-talented actor is also an editor, playwright, poet and painter. At home he balances the roles of being a husband, father and grandfather.  
It is not easy to encapsulate sixty years of an actor's life within two-and-a-half hours of screening time. But Abhijaan – the title picked from one of Soumitra's personal favourites among his Satyajit Ray oeuvre – takes your breath away. The film journeys through the highways, lanes and gullies of the man's life from the time he shifted from his suburban home to Kolkata in search of his dream of becoming an actor. His participation in the Leftist movement in West Bengal, his theatre ambitions, his coffee house addas, his editorial venture with Ekshon magazine offer very interesting insights into the life of the great thespian. The Coffee House as a cultural space is established well.
The film is divided into several sections with sub-plots interwoven seamlessly. One is the track where Soumitra is being recorded live by Dr. Sen  and the other covers his evolution as an actor. The younger self of Soumitra is portrayed incredibly well by Jisshu Sengupta. The third track, which offers a very solid diversion from the main subject – Soumitra Chatterjee  is when the script digs a bit into the guilt-ridden past of Dr. Sen's personal life. This throws up an excellent diversion as it underscores the truth that this "journey" is not Soumitra's alone but also of Dr.Sen's who is forced to face the dark truths of his past. He unburdens himself to the old man who has begun to like him and opens his heart out to him.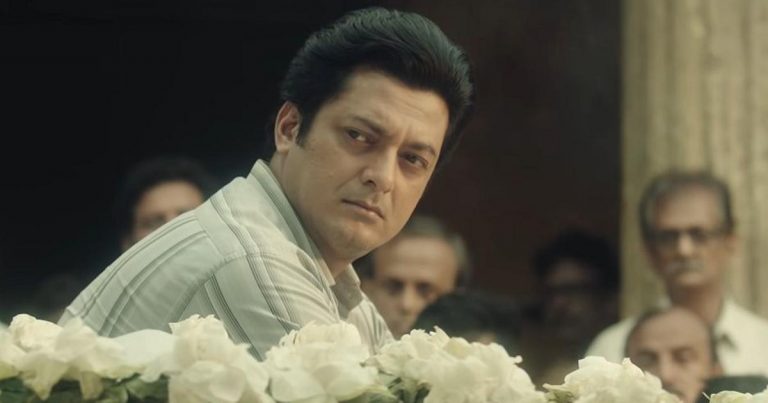 The very innovative and imaginative strategy Parambrata has worked out is that instead of taking short cuts by using original clips of Soumitra's films, he has actually picked other actors to recreate the scenes from chosen films. In those sequences Jisshu portrays the younger Soumitra while a galaxy of stars from Bengali cinema enact the other roles. These are recreated mainly in Black-and-White, and in colour for Feluda and Sonar Kella as the original films were also in colour.
Among the scenes recreated by other actors, are films like Saat Paake Bandha, Jalsaghar (in which Soumitra did not act but was on the sets of the film), Sonar Kella, Aranyer Din Ratri, Abhijaan and some more. The stellar actors who play other famous actors in Bengali cinema is another unique element of the film. It reminds us in a flash, of that famous party scene in Ray's Parashpathar that had cameos by a host of well-known actors at that time. So, we see Dulal Lahiri stepping into the shoes of Chhabi Biswas, Q (Koushik Mukherjee) as Satyajit Ray, Paoli Dam as Suchitra Sen and Prosenjit Chatterjee as Uttam Kumar. The location shooting on the sand dunes of Rajasthan as they worked in Sonar Kella is touching with the sounds of the desert dotting the dialogue between the director and his actor.
Paoli Dam as Suchitra Sen does more than justice by imitating one of the most inimitable actresses in Bengali cinema. Tridha Choudhury as Sharmila Tagore is typically coy and delicate. Rudranil Ghosh rightly deserves a pat on the back for giving a wonderful exposition on Robi Ghosh. Basabdutta Chatterjee as the young Deepa, the girl Soumitra marries, seems distant but the older Deepa, played by Dolly Basu who does not have any dialogue, is more convincing. Subhashish in a wonderful cameo as the once-famous actor Robin Majumdar waiting for a bit role in a room assigned to junior artists is outstanding. Padmanaba Dasgupta as Anup Kumar brings in a rare touch of humour in a scene. But it is Prosenjeet who is an absolute miscast as Uttam Kumar.  Tuhina Das too, does not quite come across as the exotically beautiful Waheeda Rehman. Biswanath Basu as a blink-and-you-miss-it as Jahar Roy is excellent.
The political ideology of the actor is a recurring question in the interaction between Dr Sen and Soumitra. His belief in the leftist movement and how it has followed a trajectory independent of his career as an actor, give us insights into the mind of the thespian. Soumitra even adds at one point that as an actor he did not need to be an active political activist to advertise his Leftist beliefs. He lived and believed in his convictions but it was acting in mediocre films that brought him the bread and butter for the family while he sought to fulfill his creative hunger through the out-of-the-box films by Ray, Sen, Majumdar, Sinha and so on. There is one touching scene between Soumitra and his adult son Sougata, cinematographed partly in the dark. When Sougata is playing a tune on the violin, he is said to be good at it. His father comes and sits beside him and smiles affectionately.
His grandson Ronodeb's sudden and critical accident that leaves him almost paralysed shows up his weeping mother (Sohini Sengupta) and a helpless and vulnerable Soumitra in the face of this unexpected tragedy. But it brings him closer to Sanjay Sen who uses his medical expertise when Ronodeb's condition turns for the worse. Parambrata as Sanjay Sen balances his three roles of director, actor and screenplay writer with the harmony the multi-faceted emotions the character demanded such as his arrogance, his rude manners with his girlfriend (Tanushree Chakraborty) and his very awkward making up with the old friend who he had wronged.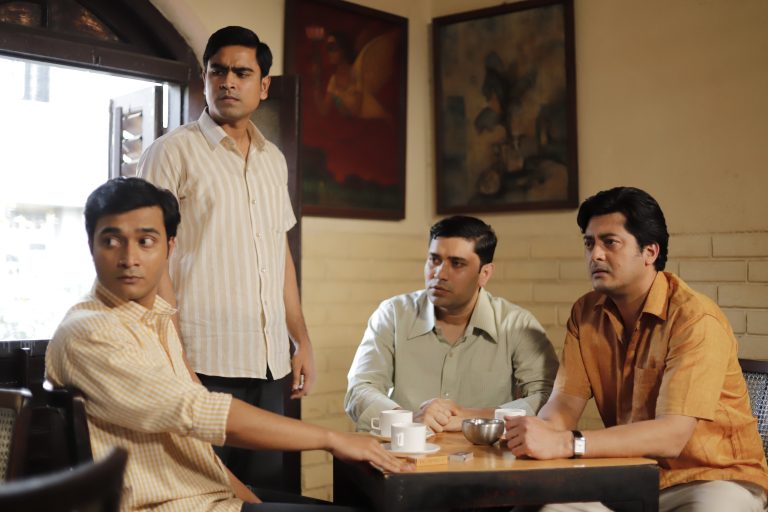 Prabudhha Banerjee's music is intriguing, mysterious and versatile, changing with the changing moods of the film. The use of the Tagore number in the end sounded very sad, reminding us that the actor on whom such a great film is made, did not live to see it himself. The cinematography (Abbu Prabhakar)  graphs a massive display of muted colours walking through the thespian's study, his living room with a table covered with every kind of book across a flood of subjects, the coffee house with its bronzes and browns, the narrow lanes Soumitra walks down with Nirmalya, and so on. The sound design, with the disturbing ring of the telephone, the clicking of Sanjoy's videocam, the shots we see as picture-within-picture where we can see both the recording as well as the actor himself at the same time, are really good. This also juxtaposes close-ups and mid-shots within the same frame and the same scene.
Editing a film like this with multiple tracks that trace history, time, spaces, life and death at the same time,  or, film shoots, stage scenes, addas, from one cut to the next without losing track must have been a big challenge for Sumit Choudhury which he has faced it with triumph written right across the film.  The research must have taken months together if not years, but it did what it sought to achieve, bringing Soumitra Chatterjee alive for the Archives through the history of Indian cinema.
The garden scene in the end when Sanjoy is leaving India, the shooting over, he bends to touch the feet of the older man as the actor hands him a black leather-covered diary as a parting gift and refuses the last envelope of cash Sanjoy brought as Soumitra's fees. "I do not need it now. I was in financial straits when you came down but now, it is okay."  The film closes on that philosophical note on life and death and all that reaches beyond.