My journey began many years ago at Kala Bhavan, Santiniketan which essentially changed my life forever. Inadvertently Art became a way of life for me! I don't even remember when I started giving my clothes a unique look, or painting the walls, floors, fences, patios, furniture of our house, covering up cardboard boxes with fabrics to use as furniture, or designing and making outfits, costumes, jewelry for myself and my daughter. If I have time, I try my best to come up with handmade gifts.
Even though I majored in Textile Designing, my inclination was towards creating art with my newfound medium. With hardly anyone working in the field during that time in India, there was not much to draw inspiration from. I delved into my own explorations creating Paintings Thru Weaving. With a reasonable body of work, I held my first solo exhibition 3 years after I graduated, at Academy of Fine Arts in Kolkata.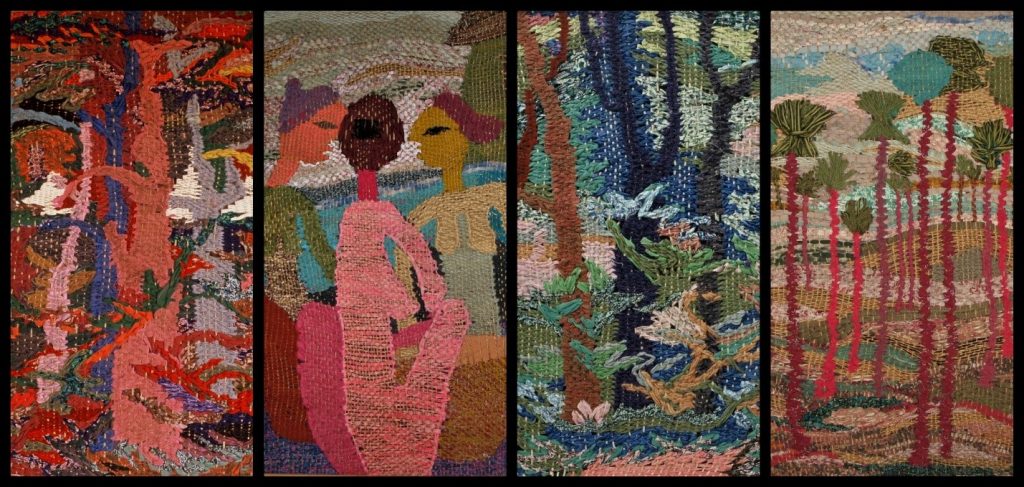 After moving to US, I was introduced to floor looms at a nearby art center which eventually inspired and led me to complete my MFA in Fiber Art. It was then that I realized that the possibilities are endless and yarns and fabrics can take me a long way.
Gradually my world of Art became an adventure in the home studio. Weaving, dyeing, printing, shibori, embroidery, painting, quilting and many other techniques started to get integrated together with the usage of a variety of materials like yarns, fabrics, twigs, paper, ceramics pieces, copper strips, reeds, plastics etc. I became convinced that as much as I loved to weave on a loom, I loved to get my hands dirty with dyes and paints on fabrics. And with that evolved my mixed media fiber art.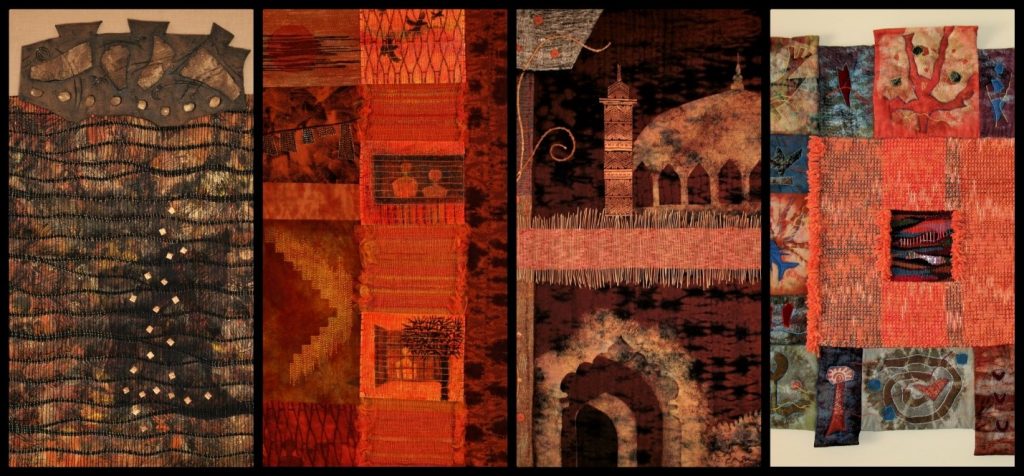 With the advent of the internet and exposure to more and more art though innumerable visits to museums and art galleries, inspiration opened up new horizons.
Color and texture became the main components in my work, woven together with my life's experiences, my surroundings, my feelings, and the intimate spaces of my mind. Unlike starting a painting on a blank canvas, I would start with a preliminary subject and composition in mind but with a stack of previously dyed, printed, painted, woven fabrics and work them into an assemblage. Along the way I would create new fabrics as required. The whole process might end up getting very involved and complex.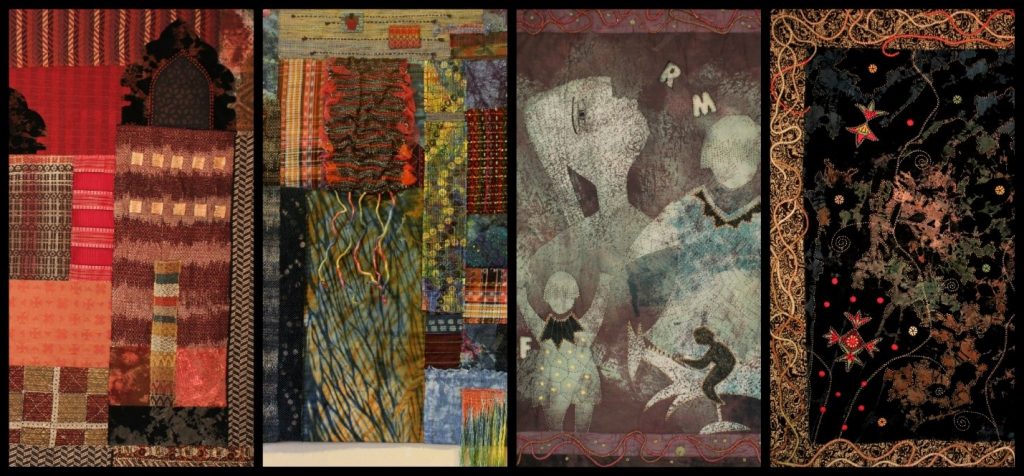 For the love of both painting and weaving I started painting on textured paper, cutting them up and weaving with the strips. I call them Painted Weavings. These are a simpler body of work, not so complex in technique.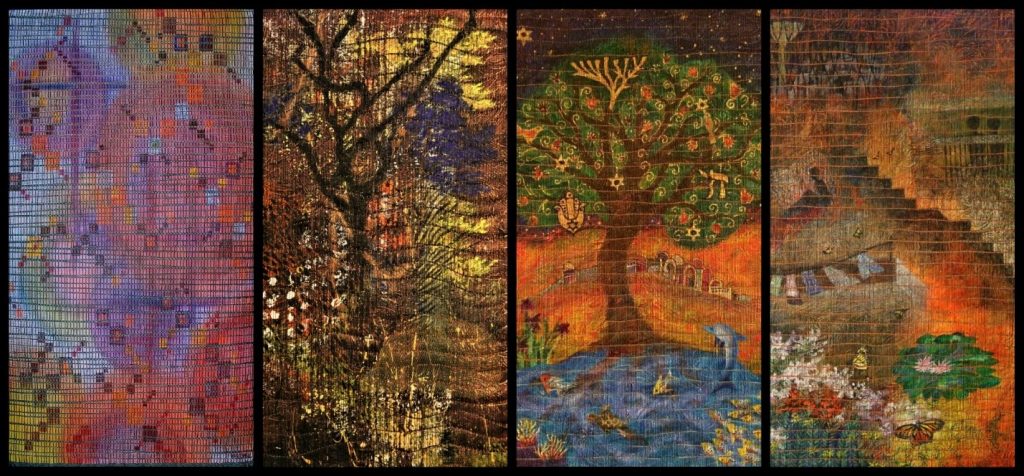 I have to honestly admit that I am a hoarder, and being a mixed media artist justifies that to some extent. I cringe at every non-recyclable object that we throw into that trash bin. As a result, I have almost stopped buying any more materials and try to use what I have accumulated, anything from discarded fruit netting to Styrofoam forms, boxes, etc. besides all kinds of salvaged fabrics, yarns and other materials. With that in mind I often take apart failed work and upcycle them to give them a completely new life!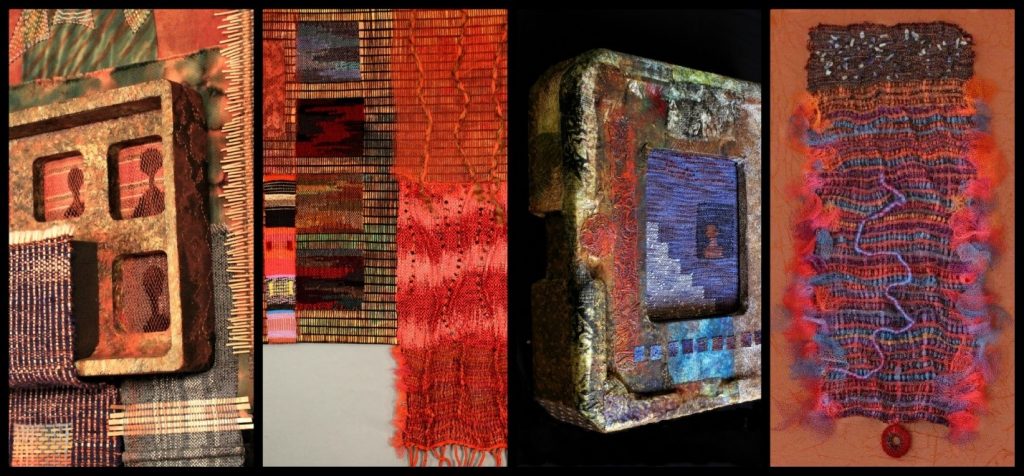 I have had a lifelong fascination for jamdani and ikat. Recently I started exploring translucent weaving using the two techniques in a contemporary way to create installations where the weavings interact with lights and shadows. This is a new approach for me and sparking new ideas every day.
Here are some recent weavings which illustrate that weaving is pure fun for me! No pre planning, it's entirely playing with scraps of yarns, materials, all that get saved in my sanctuary. The magic created by the intersection of the warp and weft all gets brewed into sheer magic which never ceases to amaze me!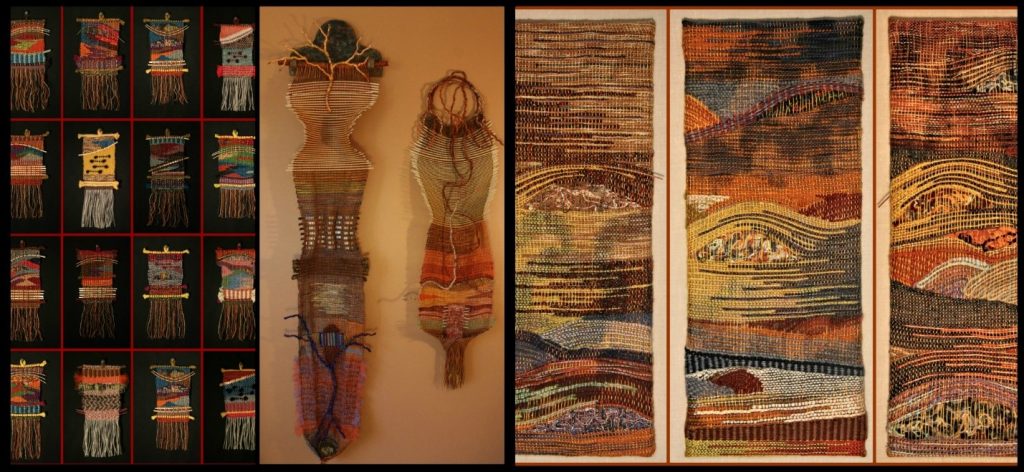 One constant element in my work has been my bonding with my roots. By now I have spent more than half of my life in the US. In spite of that, images, corners, moments, people, landscapes, experiences, cityscapes from India show up in my subconscious more than ever. The soul searching continues…
For more of my work please visit www.boisalibiswas.com