All You Who Sleep Tonight by Vikram Seth
All you who sleep tonight
Far from the ones you love,
No hands to left or right,
And emptiness above –
Know that you aren't alone.
The whole world shares your tears,
Some for two nights or one,
And some for all their years.
Vikram Seth is a master of the gentle cadence. The quietness of his verse is often so intense that one has to hear carefully to seek his voice. And his poems are often short, finishing to tell their tale, before the reader is done reading them. And in that strange hiatus, lies the understanding of the immense lightness of his being, his understanding of love and loneliness, his knowledge of the scar and his attempt to bring balm to it.
'All you who sleep tonight' is the final poem from his eponymous collection.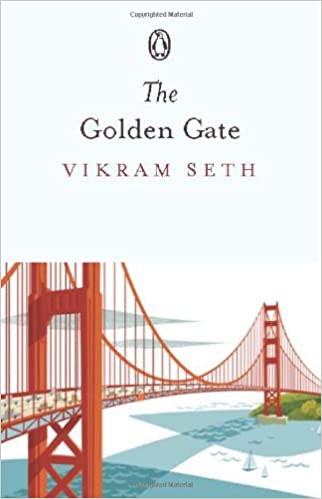 I remember the early 1990s when I had discovered 'The Golden Gate' first, and then in breathless anticipation, 'All You who Sleep Tonight'. I devoured both like they were crime thrillers. 'The Golden Gate', was an incredibly moving novel, written completely in metered, rhyming 14-line stanzas, without a single false beat, and spinning out a tale of losing love and finding oneself, with the gorgeous San Francisco as a backdrop. The complete fulfilment of its hero in his love for a man made critics wonder about its
autobiographical content. But, there was, of course, no quibbling as to Vikram Seth's incredible control over his craft.
When I read "All You Slept Tonight", I was struggling with my poetry at that time, trying to figure out my voice, if there was one at all. What I was getting were the classical styles – epics, sonnets, narrative poetry – rich structures full of symbols and allegories. And I was lost. And then, I read Vikram with his soft shimmering style, his heartbreaking simplicity – he came as the girl with gentle brown eyes and a smile which reached you like a sun-drop. He became my path-finder. And made me the poet I am
today.
As you read, and re-read this beautiful poem of just 8 lines, and let its lines seep into you, you feel he's addressing you, your loneliness, and telling you – don't feel alone, because the whole world is in the same state. Until a realization seeps in – is he talking about the whole world, or is he talking about his own loneliness? And then you come to the last lines, and you realize the emptiness in the depths of his own soul. And how, in spite of it, he is still reaching out, still giving his hand to save your drowning soul, though he has possibly not been able to do so himself. But he is cajoling you to let go of your loneliness, and become one with the night – and find sleep and serenity. The immensity of this poetic maestro lies in the gentle grace of his generous soul.