The huge canvas in front of them loomed like a spiralling pall of smoke. One had to look at the painting on the reverse – from bottom to top. Painted by an unknown artist, — a horse crossing a high over-bridge. The animal is seen raising its head, neighing with its hooves, trying to reach the sky. The viewer could almost feel the fluidity of movement, the vigour and energy oozing out of that single action made by the horse. A small crowd had gathered in front of the painting which was one of the exhibits in an art gallery. It was not a Husain canvas nor was it an Amrita Sher Gill. But the painting had that impact upon those assembled there that it left all enraptured.
Annapurna and Anupam had strolled into the gallery because there was nothing else to do – out of a sense of ennui or boredom. But the visit was about to change their lives forever.
"Annapurna, let us ask the artist more about his works."
Anupam and Annapurna were more than just friends. They were lovers in fact, without any of their families knowing about their affair. Since Kolkata is bursting to its very seams with such pairs of lovers, given any time of the day, their affair has since gone unobserved. Anupam, the scion of a family of lawyers, is himself a student of Economics at St. Xavier's College. Annapurna, is pursuing Political Science at the same college. Anupam is thin, tall with a fringe of hair always hovering around his temples like a bunch of flowers from a bougainvillea tree. He loves listening to music, especially instrumentals. He takes regular sarod lessons at the Sangeet Research Academy in Tollygunge.
Annapurna is mid-height, slim, sporting a tanned complexion which she often attributes to their roaming around together in the mid-afternoons after College hours. She loves dressing up herself with junk jewellery. Her favourite is a pair of danglers which Anupam had gifted her on her birthday, from Fabindia.
As they were busy staring at the painting and weighing out the options of whether to approach the artist at all, someone tapped Annapurna's shoulders from behind.
"Do you like my work?"
"So this work has been done by you. Hello, I am Anupam Gupta. And here, she is my friend, Annapurna Das. We study in the same college."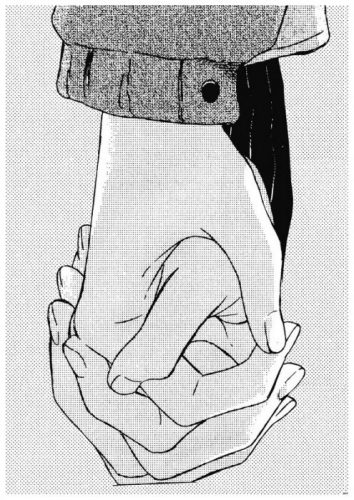 Anupam had extended his hand in a gesture of greeting. But the artist, disregarding his gesture, folded his hands in an act of 'Namaskar'. He smiled broadly and threw a knowing glance towards Annapurna. Even through her dark complexion, the blush on her face was perceptible to everyone gathered there.
"You see, I've crossed your age many years ago. So I know what it means when a boy and a girl stroll together at this time of the day. I am Amit Patel and yes, this is my painting that you see hung there."
Amit Patel was a man of wheat like complexion, medium height with the hint of a smile always hovering around his mouth. A breeze of positive energy swept all those who came into close contact with him. Some called this a sense of confidence, while others condemned it as being a sense of mock disdain. He smiled at the baffled look from these two youngsters. He was a man of the world and knew genuine feelings of respect and admiration when he saw them.
"Do you want to buy my painting? You see, it is up for sale. In this world, except for the air that we breathe, everything else comes at a price. You – you have good features on your face. Want me to make a quick sketch?"
Amit asked a stunned and surprised Annapurna.
Anupam became ecstatic.
"Yes, yes, please. Her birthday is approaching soon. I'd like to gift her, your sketch of her profile."
"Young man, why would you give her my portrait? The idea was mine. So, let me give this to her myself for her upcoming birthday."
Anupam bowed his head in front of Amit Patel. Inwardly he was calculating the amount of money that he had in his recently-opened account at the bank. If he could purchase this painting and give it to his girlfriend, Annapurna, as her birthday present, it would save his face from the humiliation that he was encountering right now, in front of a handful of people.
As Anupam bowed his head and began to sweat profusely, Amit Patel looked at him with amusement in his eyes and a warm grin near the corners of his mouth. He knew the people who were true appreciators of his art when he saw them. Amit Patel was a much-travelled person. Still he felt that the Mona Lisa was a painting which's hyped unduly. According to him, Botticelli's Birth of Venus has much to offer the viewers than this 'petit' work from Da Vinci. But for that matter, he had always ridden against the tide all through his life. Being a non-conformist had its advantages, he felt. People always tended to take him seriously.
In the meanwhile, Annapurna and Anupam were taking up their bags from where they'd left them and were about to leave the place.
"Hey…. You please wait for a while."
Amit called them from behind their backs.
"Won't you invite me for your birthday? You see, I'm here for another week. I really want to bless you both. It is quite clear that you love each other. And moreover, young lady, don't you want me to hand over the portrait that I'll make of your beautiful countenance?"
It was now Annapurna's turn to blush crimson. She mumbled in hushed whispers into Anupam's ears.
"Actually sir, Annapurna is telling me that since you want to bless us both, why don't you become the witness for our marriage? We're looking for a person who'd be willing to be by our side and also whom we'd remember all through our lives."
Anupam had the eager expectation of a person who's about to hear his name being announced at a prize ceremony. Amit Patel's eyes were searching for something else altogether in Anupam's eyes. He was trying to gauge whether this guy, who was professing his love for his ladylove, really harboured genuine feelings for this stand-alone girl. He had heard and read about many such affairs which had gone awry, the moment they decided to tie the knot. But no. The twinkling eyes of this guy had sincere love and affection for the girl, Amit Patel noticed.
As the three of them sat to have a cosy conversation over steaming tea in earthen cups, Amit quickly did a sketch of Annapurna's profile. Anupam gritted his teeth as he noticed that the beauty of his girlfriend's lustrous hair was not lost to the discerning eyes of the artist. Outwardly, he expressed his happiness because a person like Amit Patel had agreed to become witness to their nuptials.
"Young girl, don't do anything for which you may've to repent afterwards. After all, both of you are students. Listen to me, and wait for a few more years before taking the plunge. Enjoy life to the fullest – as much as you can – for the moment. Duties, obligations, etc. etc. will be there for you later! Life is like quicksilver. Any attempt to bind or capture it, is futile."
Amit Patel left Kolkata soon afterwards. Despite leaving the place, he carried cherished memories of the city which had always been close to his head and heart. He, as an artist, loved the charm of the city where the old and the new mingled with an equal elan. He loved the warmth of the people here and the enthusiasm of youngsters like these two, who were the lifeline of the country, he staunchly believed.
Anupam and Annapurna had listened to this seasoned artist that day, with the result that they were married to different persons, years later. Annapurna became a lecturer of a renowned city college and Anupam held the chair of a high brow multinational company, as its head. Unfortunately, their paths never crossed each other after those years.